Pride 2020: An engineer's view
After joining as a trainee engineer in March, Aidan has quickly settled into his role. We talk to him about his life, job and why he thinks pride is important.
Tell us a bit about you
Hey, my name is Aidan and I'm a 22-year-old transgender male . This means although I was born with a female body and raised as a girl, I identify as a male and live my life as a man. I came out back in 2015 and was lucky enough to start hormone replacement therapy in December 2017 and have top surgery in January 2020. Being transgender is a big part of my life and I'm proud of it, but that's not all I am.
I'm a Cub Scout leader and have been part of the Scout movement since I was two years old. I'm a sporty person, competing in the London Youth Games 2010 and 2012 in Kayaking Sprint and Kayak Slalom, and also enjoy the challenge of rock climbing. Sport aside I'm a big fan of Doctor Who, board games and the theatre (on and off stage).
Having joined Openreach at the beginning of March, I'm currently training to become a Fibre Network Delivery (FND) cabler. Even before I started, I was met with nothing but support - and it's been like that at every stage. I've found that whatever your background is, or however long you've been with the company, everyone just wants to help each other as much as they can and get the job done. I'm so proud to be part of a company that's willing to support everyone.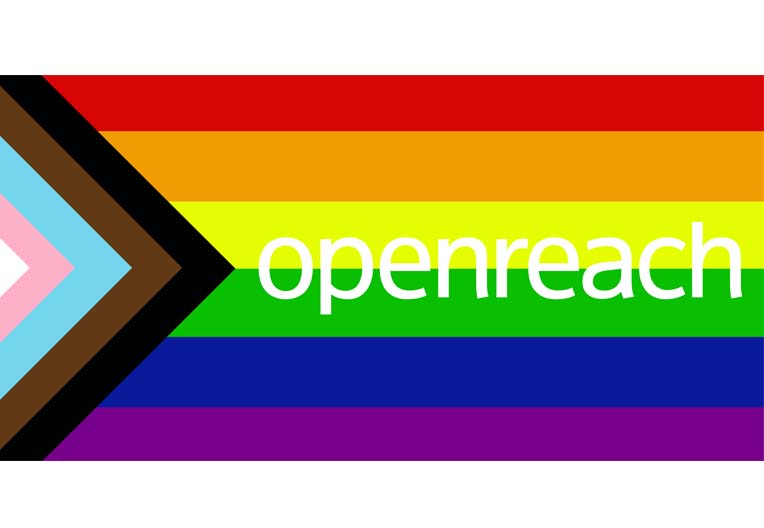 Why is pride important to you?
Having the ability to show the world that being different isn't something to be ashamed of helped me to accept myself and learn how to be proud. I went to my first Pride in London back in 2016 and it was one of the most amazing experiences of my life. I was surrounded by so much love and acceptance and that allowed me to feel more confident in who I am as a person and express myself without shame.
How will you celebrate pride in 2020?
Due to the cancellations of pride events this year because of COVID-19, my original plan to go to Pride in London and Trans Pride Brighton have been put on hold. Instead I've been spending Pride Month signing petitions and sharing resources to help educate people on the struggles that LGBTQ+ people still face today. There's still a long way to go until we live in a world where everyone can live their truths without fear of discrimination, and I'm determined to help be a part of that change.
"I'm so proud to be part of a company that is willing to support everyone."
Taking Pride at Openreach: Pride Network
It was great to hear from Aidan, and thank him for taking time out from his busy role to share with us at the Openreach Pride Network.

We're run by LGBTQ+ people from across the company together with their active allies and sponsored by our executive team. It works to help grow a diverse Openreach that reflects all parts of the vibrant and diverse communities across the UK.

Our LGBTQ+ colleagues and customers are a vital part of what makes us Openreach and something we're passionate to continue to build as we know we can only succeed if all our people, from all walks of life, can bring their full selves to work and thrive.
Some of the things our Pride network is doing this year
Active Allies – Building a network of people who advocate, support and stand up for our LGBTQ+ colleagues. Bringing people together equally and fairly with complete acceptance

Education – Teaching us all how we become as inclusive and diverse as possible and how our LGBTQ+ colleagues can thrive in a company that's there for everyone
Policy – To make sure all policies and procedures support our LGBTQ+ colleagues
Pride – This year its virtual but we're showing all our colour to celebrate our diversity while staying honest with Pride history, through internal events and communications, to remember and champion the campaigners responsible for progress in our community
Local networks and Hubs – working with our Gender and Ethnic Diversity networks to create local support hubs for our colleagues to engage with. Allowing peer support and creating paths to more learning and insight.

Your Pride
Whilst the traditional celebrations have been put on hold this year, however you decide to mark pride, together we can continue to support and celebrate our incredible community.
Related Articles
17 Jun 2020

Meet a true pioneer. Suzanne tells us what it was really like for women in engineering #backintheday to celebrate International Women in Engineering day 2020 #INWED20

28 Feb 2020

Over the last few years we've put a lot of effort into improving our business. We've upped our investment in skills, training facilities and hiring, all to make sure that we can build the best possible network, with the highest quality service, to everyone across the UK.

News
Fibre
Fibre first
Broadband

11 Nov 2019

Experts at the Centre for Economics and Business Research have studied the link between Full Fibre connectivity and the nation's future prosperity.