Ultrafast Full Fibre broadband for developers
Connect your residential or commercial properties to brilliant broadband on the best network
Important Information
A change to building regulations will commence from the 26th December 2022. These changes will mandate the installation of a gigabit-ready telecoms infrastructure during the construction of new homes. This change is government mandated and will affect all new homes obtaining planning permission from 26th December 2022.
Homes that have secured planning permission prior to 26th December 2022 are not required to adhere to this regulation but Openreach recommends a gigabit capable Full Fibre connection for every new build home. The Openreach FTTP (Full Fibre) network is already fully compliant with the changes to building regulations by meeting the definition of 'Gigabit' ready.
We're connecting new residential and commercial properties to our next generation ultrafast full fibre broadband network

We've already made Ultrafast Full Fibre broadband available to more than eight million homes and businesses and want to reach 25 million premises by December 2026. As part of these plans, we'll work with you to build a full fibre, network to new residential or mixed residential/commercial sites giving your development access to broadband speeds of up to 1Gbps, our most reliable connection ever, and access to over 650 service providers including big names like BT, Sky, TalkTalk and Vodafone.
Ultrafast Full Fibre broadband makes sense for you and your development, and it's easy for you to sign up and see how things are progressing on our Developers portal.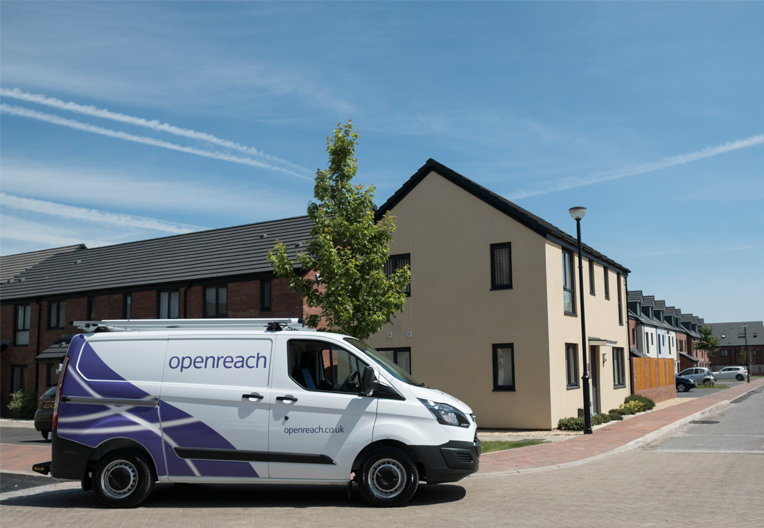 Information on how to register your residential or commercial property development for fibre broadband.
The benefits of Ultrafast Full Fibre broadband
Better for homes and businesses
Our Fibre to the Premises network offers speeds of 1Gbps max.
The biggest UK full fibre network
We've already connected more than 8m homes and businesses and want to reach 25m by December 2026.
Biggest choice of service providers
Choose from the widest range of phone and broadband providers.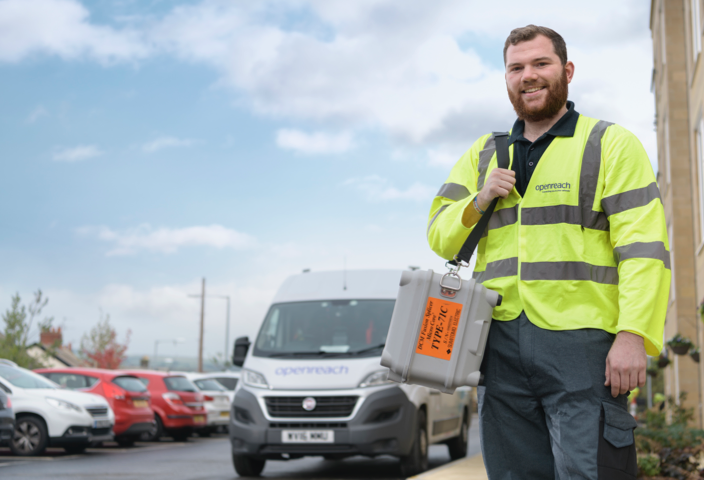 Rolling out Ultrafast Full Fibre broadband
Get speeds of a maximum of 1Gbps all the way from the exchange into your home or business.
Useful resources
How to self-install Openreach equipment

Watch our video for step-by-step instructions on how to install Openreach's fibre to the premises (FTTP) equipment.

Find out more

»

Guides and handbooks

Our downloadable guides and handbooks tell you everything you need to know about installing Openreach fibre and copper equipment at your new development.

Find out more

»

Contracts and policies

If you're a developer and you've asked Openreach to bring fibre broadband to your site you'll need to read our contracts and policies. Download them here.

Find out more

»
Related articles
27 May 2021

At Openreach we know the importance of rural connectivity and how vital it is to many communities and businesses. Find out about the five ways we're rising to the challenge of delivering Fibre broadband to rural areas of the UK.

26 May 2021

The Centre for Economics and Business Research's new report for 2021, Ultrafast full fibre broadband: a platform for growth, confirms digital connectivity's crucial role in helping us through Coronavirus and in changing how we work and live for the better.

18 Mar 2021

Our Scotland partnership director, Robert Thorburn, talks about the impact of the last year on life in Scotland, particularly in the Highlands and Islands, and what's next for the digital network.