We know you need brilliant broadband. And it's our job to make that happen.
Our Fibre First programme doesn't just mean we're building new networks - it means we look to build with fibre whenever we start a project. Read about how we're bringing fibre to homes and businesses, and the areas across the UK where we're extending our network.

Our Ultrafast Full Fibre network already covers 4.6m premises
We built new digital infrastructure to four and a half million premises by the end of March 2021. And we're planning to hire more than 2,500 new engineers in the 2021 calendar year, up-skilling our army of engineers at the same time.

"Openreach is a fibre business and no-one is more ambitious when it comes to building Fibre to the Premises. Through our Fibre First programme, we're building a network that delivers more than just speed. It will provide a future proof, consistent and dependable broadband service, that supports Britain for decades to come."

Clive Selley
Chief Executive of Openreach
There are three ways we connect you to our broadband network
Copper network (ADSL)

Basic broadband access uses a copper phone line connected to the exchange. Check with a communications provider if you can upgrade to FTTC / FTTP.
FTTC
Fibre to the Cabinet increases basic broadband speeds by connecting powerful fibre optic cable to the cabinet, then copper wires to your home or business.
FTTP
The future is Fibre to the Premises (FTTP), also known as Ultrafast Full Fibre, where pure fibre optic cables connect you straight to the exchange.
Installing Ultrafast Full Fibre to your premises
Have you recently ordered Ultrafast Full Fibre? Watch our video to find what to expect from us and what you can do to get ready to be connected.
Why Ultrafast Full Fibre?
Get better performance, impressive speeds
and fewer drop-outs with fibre connected
straight to your home.

Fibre optic cables are powerful and
resilient, so you can always
rely on being connected.

You're ready for
anything online

Be unstoppable on everything from phones,
tablets, laptops, VR headsets – even
your home's heating controls.

Full Fibre turbocharging the UK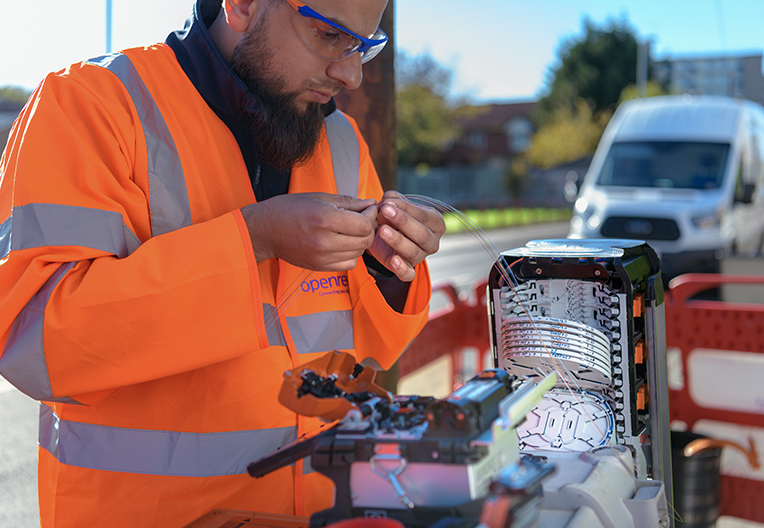 The UK's fibre future is within reach
Read our Blueprint for a Full Fibre future and the Cebr's research report to learn more about our commitment to delivering great connectivity to communities across the UK.
Our Fibre First locations
Locations where we're bringing fibre to homes and businesses
FTTP Fibre First Build Programme
The above map currently shows Openreach's FTTP plans for our Fibre First Towns, Cities and Boroughs and Rural Market Towns and Villages Build Programme. It does not show FTTP deployment related to other programmes such as BDUK, new sites/retro new-sites, and other smaller scale programmes or infill.
Openreach has exercised its best efforts to ensure that the map accurately reflects plans at the time of publication. Openreach will update the map on a rolling basis, including to reflect additional locations in later phases of network build or changes to existing plans which may become necessary due to unforeseen operational reasons (particularly where build is yet to commence).
For more information on the exchanges and locations in our Full Fibre Build Programme please click here.
Read more about our 'transparency' approach here.
*Programme Build Complete refers to the exchanges where build has been largely completed but does not mean that services will be available from this date.
We're speeding up your broadband with our Fibre First programme. Hear from the cities, towns and boroughs that are already getting faster speeds.
Salisbury is the first location in the UK where we're aiming to upgrade an entire city network in a single year. Find out more about this ambitious project.
Be the first to know about our fibre plans
Follow us on Twitter and Facebook to see our latest news and find out where we're building our fibre network
In the meantime, we'd love to help you make the most of your existing connection. We've built a Fibre to the Cabinet (FTTC) network that covers 96.83 per cent of the UK – that's 28.6 million homes and businesses. At the moment, only 15.7 million people are using it, which means you could be missing out on faster broadband.
Contact your broadband provider to see if you can upgrade to fibre, or use our fibre checker to see if we already cover your area.
Related articles
29 Jul 2020

Over three million more homes and businesses in the hardest to reach parts of the country to get ultra-reliable, gigabit-ready Full Fibre broadband by the mid-2020's.

02 Jun 2020

During the early days of the lockdown there was concern from some as to why our engineers were still outside working, we needed to quickly and widely communicate how essential the work they are doing is.

22 Apr 2020

Many of our people are classed as #keyworkers by the Government. We have interviewed some of them to find out what their working life is like now. The first in this new blog series features Jamie, a Senior Engineering Area Manager.