Life at Openreach

is different every day
Working for Openreach
Life at Openreach is about a lot of things: connecting people, solving problems, meeting challenges, and pulling together as a team. We're always trying to be better in everything we do, and all our teams work together to help us deliver on our ambitions.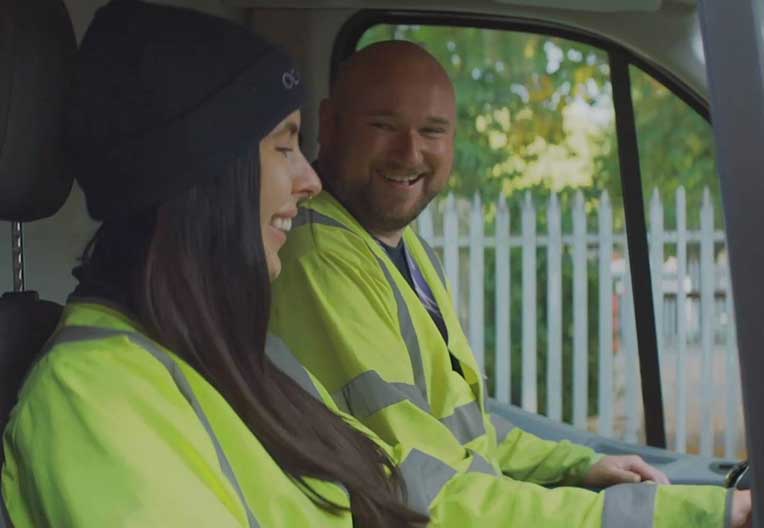 Whether you're splicing fibre or crunching data, life at Openreach is different every day. We're all working towards the same goal – to help communities by connecting people – and we all support each other.
Working for us comes with loads of benefits and perks. Alongside competitive salaries and generous holidays, we've got all kinds of extras for you to explore.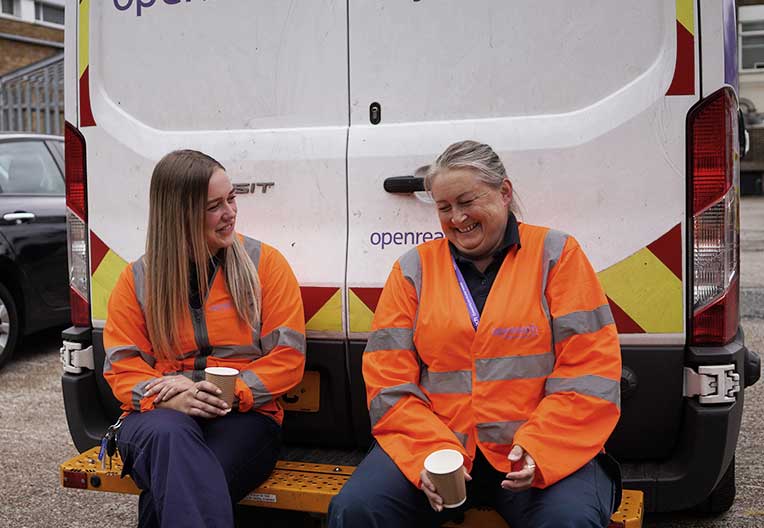 Our locations
We want to make sure that when our people come to work, they have everything they need to feel, and do, their best. Our Better Workplace programme is our commitment to upgrading all of our hub offices.
We're making sure they're all spaces that are accessible, secure, and designed for collaborative and flexible working. Not only that, but we're providing the services and facilities that our team members have chosen and we're redesigning our buildings around those needs.
When we come together, we can do amazing things – and we have our main offices in five amazing cities.
Belfast is a port city and evidence of its maritime history can be still be seen everywhere. Once one of the UK's key shipbuilding cities, the Titanic was built in Belfast Harbour, and the area – now known as the Titanic quarter – has since become a thriving bustle of businesses, waterfront apartments, and cutting-edge research. It's also a city surrounded by nature – some of which is so spectacular that much of HBO's Game of Thrones was filmed in the area.
Often known as the country's 'second city', Birmingham is a vibrant and historic metropolis at the heart of the UK. As a city of nearly 3 million people, it's brimming with culture – whether you're a foodie, a theatre buff, or a lover of live music, there's always something going on. It's famous for its extensive network of canals – originally created to aid the transport of industrial goods, they're now almost exclusively devoted to leisure. You can relax by fishing, canoeing, paddleboarding, or by enjoying one of the many excellent riverside bars and restaurants.
Bristol is a city synonymous with music and the arts. From Banksy to Massive Attack, Bristol's diverse mix of cultures and bohemian spirit produces some of the UK's most innovative and influential artists. It's also famous for its spectacular architecture, with the Temple Meads train station and the Clifton suspension bridge, both designed by Isambard Kingdom Brunel, being masterpieces of Victorian engineering. It's a city that many people go for a visit and stay for a lifetime.
As a city, Glasgow is a fascinating mixture of the old and the modern, as legacies from its Victorian past blend seamlessly with exciting new developments. It's renowned for its stunning architecture, including many masterpieces by Glasgow-born architect, designer, and artist Charles Rennie Mackintosh, and its world-class galleries and museums. It's also known as the UK's friendliest city, so whether you're taking a walk in one of the many city parks or trying a dram of local Scotch whisky, you'll never be short of a conversation.
As the UK's capital city, London is full of places that have long since become iconic. But London's much more than Big Ben and Trafalgar Square – it's a truly global city, where over 12 million people from all over the world come together, exchanging ideas and cultures to create something unique. There's over 2000 years of history in London and you can see it everywhere you go, while at the same time knowing that you're in a city that's always at the forefront of innovation, whether in finance, technology, fashion, or music.