Women in Engineering – a pioneer's view
Meet a true pioneer. Suzanne tells us what it was really like for women in engineering #backintheday to celebrate International Women in Engineering day 2020.
Back in the day
Twenty-seven years ago, I was our first female field engineer manager in the UK. I'm now a champion for diversity when recruiting and I've brought some fantastic new engineers into the business.
I've been with the company a total of thirty-four years now. When I started, I had to get the cleaners keys off them to get into the women's toilets because they were using them for storage – there had been no women in the field exchanges until I arrived in engineering.
Championing more women into engineering
My patch was Liverpool and I'd just started my family. Working and getting up with little kids in the middle of the night was tough but I made it work – you adapt. I then moved into the control team – it was all men again except for the boss's secretary.
I went on to recruit more women and Liverpool is now the most diverse engineering workplace, I'm really proud of that. The new female recruits had excellent customer and keyboard skills but no field engineering experience, so we took them out and showed them what the equipment and network was like. Those original women have progressed well in their careers, like Maria who is now a general manager.
"I went on to recruit more women and Liverpool is now the most diverse engineering workplace, I'm really proud of that."
Overcoming barriers
In the early days, I'd have to explain to various people I wasn't the boss's secretary or from human resources, but I was actually the boss, that has changed over the years.
The woman who encouraged me into the engineering profession told me I'd have to work three times as hard as the men to prove myself. I really had to know my stuff so as not to be shouted down or ignored. That, I'm happy to say, for the past fifteen years is no longer an issue.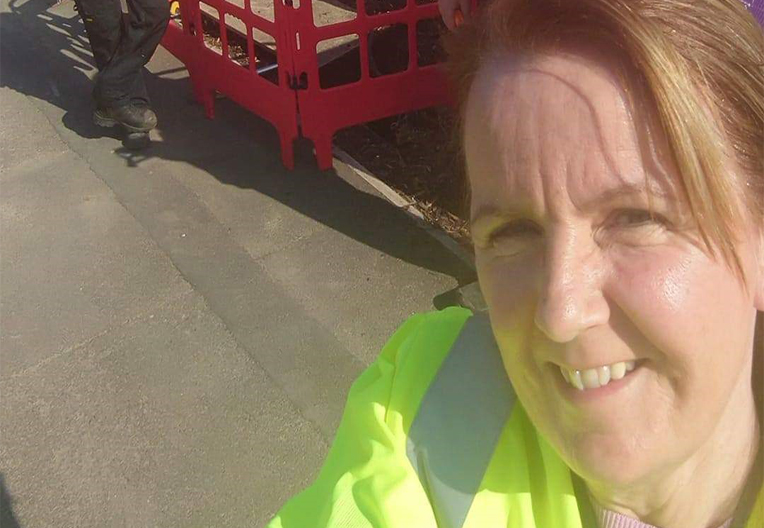 Career progression
When I was at school, I wanted to be a PE teacher, but I ended up becoming a policewoman. I was attracted to the profession because it meant helping people, like we're doing now in the Openreach chief engineer's office, building our Full Fibre network out to very rural communities.
I support local schools with careers advice, it's hard to afford university now so apprenticeships like engineering gives people a career with progression without the debt.
Solving engineering challenges to reach rural communities
It's my teams' job to find an engineering solution to bring world-class connectivity to the most challenging places. We're building in both rural and ultra-rural areas – no matter how tough we find it; we don't walk away.
What we're doing is building to premises in an exchange location, sometimes, frustratingly we can't connect a couple of homes or so because of local community objections to us digging up private roads or landowners refusing to grant us wayleaves. We ourselves put no restrictions on build – we just go find a way and do it.
Obviously, this kind of fibre build is vastly more expensive than connecting cities, which is commercially most attractive, for this build we're led purely by the local communities need for the connectivity. From an engineering planning perspective, we start with the community and we end with the connectivity.
My team gets to test out all the latest technological innovations, which we find pretty exciting. Rural build is a new way of building and we're reaching communities that no-one else has got close to before. We're now putting headend into cabinets - they're normally in the exchanges. In rural communities their homes are often far away from the actual exchange.
My advice to new managers
In a typical day, I'm up early having a call with the chief engineer at 7:30am. Every day we get to discuss the difference we're making to rural people's lives and it's one of the reasons I love my job so much.
My advice to new managers is, don't take no for an answer when you're looking to reach your goals, the sense of satisfaction you get when your team delivers for customers and achieves a target is euphoric. I believe in leading from within (not old style, from the top) – you've got to empower your people. I'm there to serve them, remove their barriers. We have a great camaraderie.
Suzanne Rutherford
Chief Engineers Office
Related Articles
20 Feb 2020

Last year we celebrated International Women's Day with a complete take-over on our website. We then celebrated International Women in Engineering Day by launching a new series of blogs interviewing inspirational Openreach women. The first featured was Kim Mears, our MD of Strategic Infrastructure Development. Kim has since gone on to be awarded an OBE for services to the UK Communications Industry.

01 Jun 2020

Working full-time for Openreach and volunteering as a special constable, read how Ami fits it all in and the impact the coronavirus has had.

25 Nov 2019

Ex-RAF high flyer, Cheryl Burgess, who now works on Full Fibre broadband delivery, shares her story and career advice as part of our blog series for #BalanceforBetter - the International Women's Day campaign.