We've placed 15th in The Sunday Times list of '25 best big companies to work for'
Over the last few years we've put a lot of effort into improving our business.
We've upped our investment in skills, training facilities and hiring, all to make sure that we can build the best possible network, with the highest quality service, to everyone across the UK.
"90% of staff agreed that they can make a valuable contribution to our success."
Thousands of our people responded to The Sunday Times survey, which asked all about what it's like to work at Openreach – and we're proud to have placed 15th. The results of the survey recognised us as a company that promotes wellbeing; provides good benefits and fair pay; and has a high level of employee engagement - with 90% of staff agreeing that they can make a valuable contribution to our success.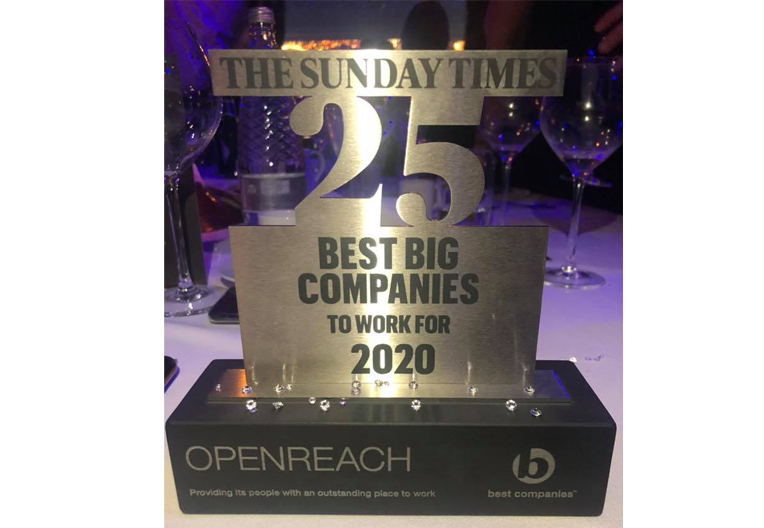 Openreach employs more than 34,000 people, who install, support and maintain our national network of cables, fibres and connections. Without them, we wouldn't be able to link tens of millions of homes and businesses in the UK to our customers' networks.
We're really pleased with this achievement and we're determined to continue to make Openreach an even better place to work. If you're interested in working at Openreach, visit our Careers section to find out more.
Kevin Brady
HR Director
Related Articles
28 Jan 2019

Openreach is hiring 3,000 new trainee engineers – our biggest recruitment effort ever. They'll help us keep driving the UK's digital revolution.

News
Jobseekers
Recruitment
Careers
Leadership
Press
Media

29 Oct 2019

Laura talks about her journey from graduate to Regional Partnership Director in five years as part of our blog series for #BalanceforBetter, the International Women's Day campaign.

News
Engineer role
Our engineers
Careers

05 Nov 2019

We're pleased to support the This is Engineering campaign, led by the Royal Academy of Engineering, to encourage more young people from all backgrounds to consider engineering careers.