News

|

Engineer role

Our engineers

Careers
What do you see when you picture an engineer?
We're pleased to support the This is Engineering campaign, led by the Royal Academy of Engineering.
We want to help challenge and change the perceptions of engineering. So we're supporting the This is Engineering campaign, led by the Royal Academy of Engineering, to encourage more young people from all backgrounds to consider engineering careers.
"Don't be put off by stereotypes. Choose a career that suits your interests and abilities"
Thanks to some of our inspiring women role models, who volunteer their time for school career fairs and champion diversity, more women like Kirstine Inglis, are being attracted into engineering.
We want to ensure people who wouldn't normally identify with the perceived face of engineering, don't allow that to stop them considering working for us. You can check out our current career opportunities here.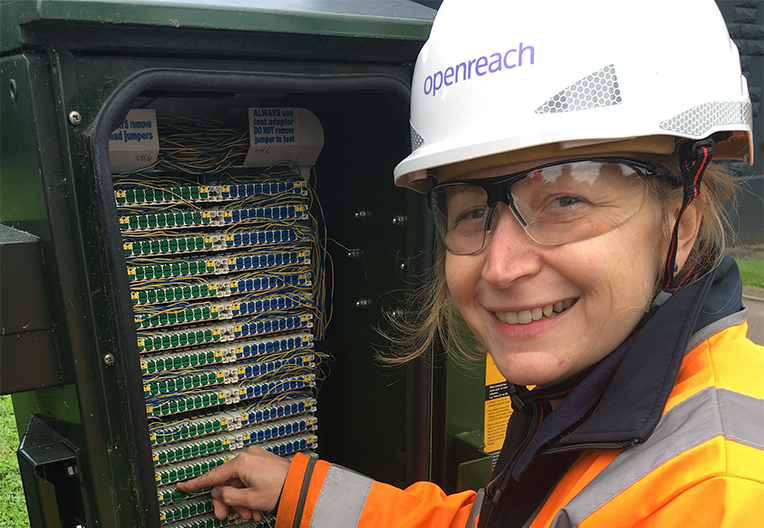 Kirstine is based in Perthshire, Scotland and this is her story:
"Previously I was the assistant operations director for a Christian outdoor activity centre. I was looking for a new opportunity working in the local rural area and a career with good progression potential. That and the training to become an expert in the field attracted me to apply for a trainee engineering position with Openreach".
Kirstine has completed her initial training and works on fixing telephone lines and some broadband faults.
Openreach is a workplace that encourages work/life balance and being part of the community; three paid volunteering days are available for all staff to take each year. Kirstine is an active member of Killin Mountain Rescue and an Elder in her local church.
"What I like most about working for Openreach is the variety and constant opportunities to learn.
"It has been fascinating to see how the customers and the public respond to a female engineer. So far, the response has been overwhelmingly positive, if a little surprised at times. It presents some difficulties mainly relating to my height rather than gender. The company is working hard to accommodate this, bringing in new lighter and better fitting kit".
Kirstine Inglis
Engineer
Related Articles
13 Nov 2018

Openreach engineer Sarah Calam talks about what it's like to work in a traditionally male-dominated area, and how engineering is a viable career for young women.

28 Jan 2019

Openreach is hiring 3,000 new trainee engineers – our biggest recruitment effort ever. They'll help us keep driving the UK's digital revolution.

07 Mar 2019

We're proud to support International Women's Day, Balance for Better campaign