Zoe Shepherd - In Plain Sight video star
If you're a woman thinking of applying for a new career in engineering - I say go for it!
The advice I give to new recruits is this: throw everything into it, don't hold back, and don't be afraid to ask questions. You'll be supported all the way and starting a new career with Openreach is really rewarding.
When I started getting into engineering as a completely new career, I was afraid that I'd be looked down on - that people would treat me as less of an engineer because I'm a woman. I want to let other women out there know that there's nothing to be afraid of. All the men I've worked with in Openreach have been incredibly supportive and I've never felt - or been treated - like I was different to any other engineer.
How I started at Openreach
I joined Openreach in August 2018. Before that, I worked a series of office jobs, and I found myself getting fed up with the grind. Eventually, I thought maybe I wanted to do something completely different. My last office job was as an allocator for a team of electrical engineers. It was talking to one of the engineers there and listening to how much he enjoyed his job- being out and about and meeting new people - that made think for the first time that a career in engineering could be what I was looking for. When he told me about the tangible satisfaction that the job gives you, particularly when you see a happy customer's reaction to having their problem solved, I began to feel that engineering really was for me.

Not long after, I saw an Openreach ad on Facebook asking for people to apply for trainee engineering positions. It was like a sign - I didn't hesitate, and I clicked the link to send in my CV. An hour later I had an invite to a situational judgement test, which is an online questionnaire where they give you questions like, 'You have a difficult customer, how would you deal with it?'. If you answer, 'take a swing at them', they'd realise the job's probably not for you - LOL!
" If you're a woman interested in applying for a new career in engineering, then don't hesitate. You won't regret it."
The interview process
Not long after, I got an invite for a video interview and once I'd passed that I was asked to an assessment centre where I had two more interviews. This was pre-covid, so my interviews were face-to-face at Adastral Park, which is our Research and Development facility.
One interview focuses on you as a person and the other asks what you could bring to the job. This is where I discovered a lot of skills are transferable, such as problem solving, being a good communicator, being a people person, and working well in a team. After the interviews, I completed a hands-on skill session where I had to replicate some cabling. You copy what's on the other board, so it doesn't require prior knowledge but tests your attention to detail.
I think the most important things you need are being a go-getter and always wanting to give your best. Openreach take on people with no previous engineering skills but who have a good attitude because they can teach you the engineering skills if you're the right person for the job.
I was given my start date the very next day!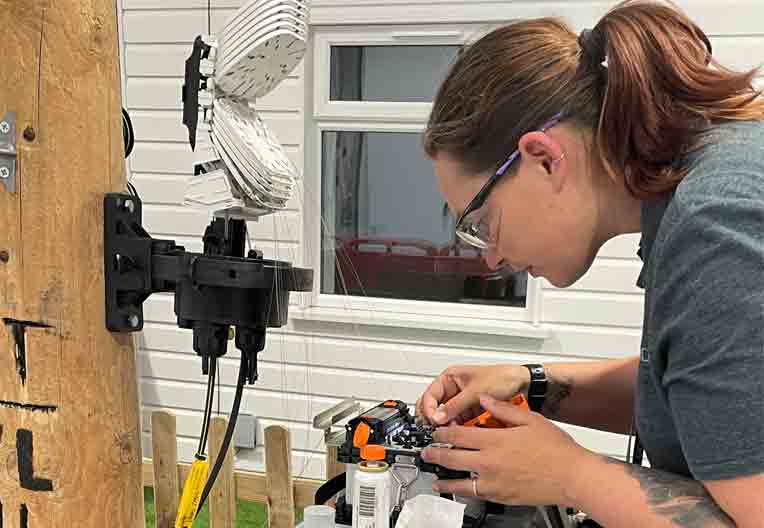 How my career has developed- and how yours can too
My first week was at Yarnfield regional learning centre and then I did the rest of my nine-week training in the Peterborough centre. Afterwards, I continued my training on-the-job with an experienced engineer buddy. You get to have a go yourself, but your buddy is there for support and to answer all your questions.
I've moved around into different roles over the past three years and gained lots of skills. I started on copper service delivery, then moved to fibre broadband service delivery, and now I'm a trainer in the same Peterborough regional learning centre I was taught in.
From the intake of 80 people I started with, some went into service delivery - where you're out working in people's homes on behalf of their service provider (e.g. BT, Sky, TalkTalk, Zen… to name a few of our 650+ customers) - and others went into network build, where they work in teams of engineers building the fibre network.
The people I now train go off into all sorts of different roles. There's civil engineering - which is where you lay new duct after digging up roads - cabling teams who deliver and recover cable, and office-based work such as network planning and design. You can cut your own career path once you've got your foot in the door because there's such a wide variety of roles you can move into after doing your initial training and on-the-job experience.
So, I'll say it again: if you're a woman interested in applying for a new career in engineering, then don't hesitate. You won't regret it.
Zoe Shepherd, Engineer Trainer, Openreach
Related Articles
07 Mar 2019

We've unveiled a £485,000 investment in a national fibre training school for Scotland to educate the country's next generation of digital engineers bringing vital broadband services to communities across Scotland.

25 Feb 2019

Highlands and Islands MSP Rhoda Grant has been out in the field with our engineers to see the progress on the roll-out of high-speed broadband in her constituency.

Performance
News
Business

20 Feb 2019

A new data analytics tool, Qlik Sense, is helping us to reduce the time taken to install business fibre connections.