Rhoda Grant MSP connects with high-speed broadband
Highlands and Islands MSP Rhoda Grant has been out in the field with our engineers to see the progress on the roll-out of high-speed broadband in her constituency.
She visited Inverness telephone exchange and local fibre street cabinets and learned how our engineers are working to identify and fix some faults before they affect people's services.
She also visited a small deployment of, more reliable, Fibre-to-the-Premises (FTTP) on the outskirts of the Highland capital and heard about the challenges and benefits of rolling out the technology in Highland landscapes.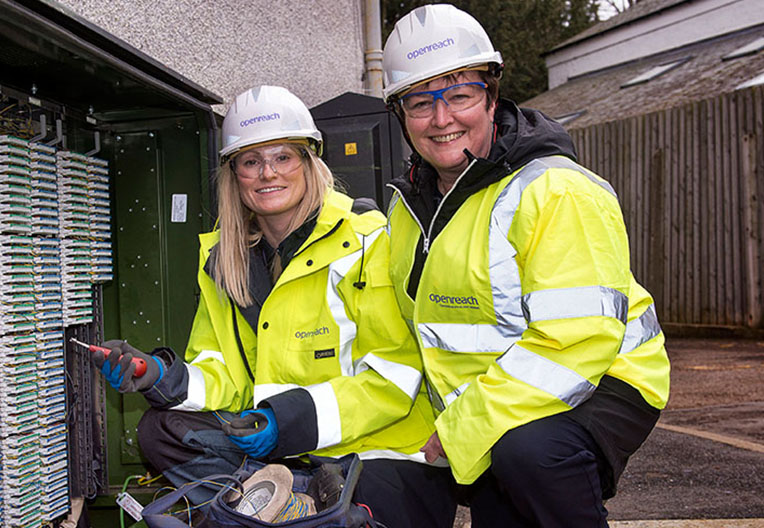 According to the independent website Think Broadband, 79 per cent of premises in the Highlands and Islands are now able to connect to broadband at a speed of 30Mbps and above.
"Good connectivity is absolutely vital for a strong local economy"
Ms Grant said: "I'm regularly contacted by constituents about broadband, so it's been useful to see today at first hand the progress that's being made. Good connectivity is absolutely vital for a strong local economy and, with around 14 per cent of Highland households still only able to get a broadband speed of less than 10Mbps, I'm determined to make sure that progress continues at pace."
We have been working closely with the Scottish and UK Governments, local authorities and other partners since 2013 to bring fibre-based broadband to communities which were not included in any upgrade plans by commercial companies.
The Digital Scotland Superfast Broadband partnership rollout has brought fibre broadband to dozens of communities in the Highlands and Islands and includes small deployments of FTTP in areas where it is the best technical solution.