From trainee engineer to the prestigious Chief Engineers Office, Kerry's story
It was daunting, but worth it
My partner Becky (Weller) has worked for Openreach for some time and loves her job. So, when I saw the recruitment advertisement for trainee engineers online 4 years ago - I decided to apply. Becky is in Suzanne Rutherford's team, Suzanne is known as a true pioneer when it comes to women in engineering. Even so I did still associate engineering with blokes.
When I found out I'd got through I felt happy but nervous because I had no previous experience in engineering. I also assumed I'd be the only woman in my trainee group. As it turned out there were three other women besides me.
I'm no different after all
On my first day of training I was put at ease immediately because we were all in the same boat, most of us had never done any engineering before. It was a level playing field and gender didn't make any difference. The only hurdle was getting out of my own head before starting, I had to get over my fear of the unknown to apply and turn up. I'm so glad I did because it's the best career decision I've ever made. Four years on and I've worked my way up to the Chief Engineers Office which is a prestigious place to be and I'm very proud of it.
"Going into something completely different is daunting, becoming a trainee engineer was right outside of my comfort zone."
Being different isn't a barrier
I'd tell anyone to consider applying, no matter whether you think you fit what an engineer looks like or not. I was never treated any differently by my peers or my trainers – everyone was treated the same. Openreach values diversity so being different to the stereotype of an engineer is no barrier.
The initial 6 weeks training creates a close bond amongst the team of trainees. My trainee group stayed in contact through WhatsApp. When we were new starters, we were based all over the country after our training finished. We supported each other through our learning on the job phase – we helped each other out a lot in those early days.
I believe we all need to step outside our comfort zones to get ahead.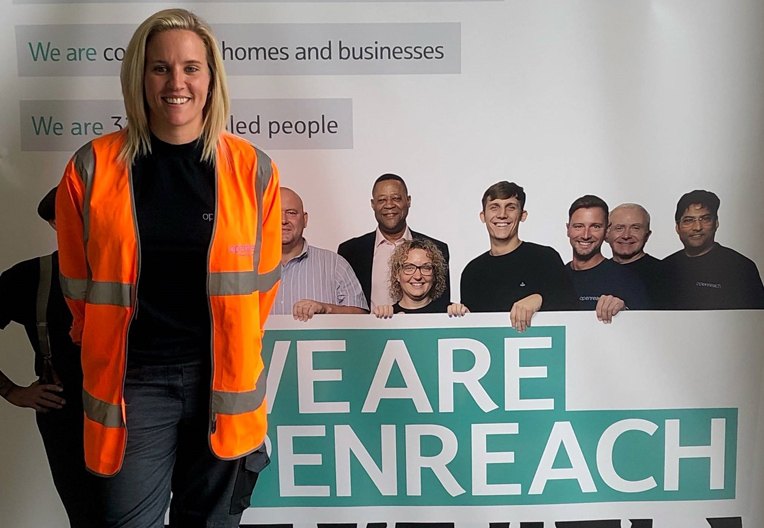 Every day's different
My work in the Chief Engineers office is very varied – I work in exchanges and out in the field - helping build the Full Fibre network into rural areas. I also do computer-based work on spreadsheets and trackers and work with suppliers and partners.

Before joining the Chief Engineers Office I was in Service Delivery, first as a copper network engineer and then as a fibre engineer, installing fibre broadband into homes and businesses. I moved onto a management role by covering for a Full Fibre team manager in Liverpool.
Pushing myself out of my comfort zone
The manager I covered for had heard I was a hard worker who went above and beyond, so he contacted me to see if I wanted the opportunity of covering his leave for 6 months. I'd never managed people before so again it felt daunting, but I pushed myself out of my comfort zone and took the opportunity. I'm so glad I did because it gave me a view of the management side of the business. I'm now able to help educate my colleagues "on the tools" what this side of the business is all about.
There are so many different parts of engineering, you find that out once you become an employee after your initial training. Not everyone's out in the field and there are plenty of opportunities to progress and move into management if that's what you want.
When I became a manager, my team had never had a woman manager before, but they were all great and very welcoming – I was managing fifteen Full Fibre engineers and they all helped me step up into the role.
Career progression
Now I'm in the Chief Engineers Office and working on the rural Full Fibre build I can't say enough how supportive the team are here. It's more like a family. I can't say one thing to fault them, everyone's always available to help and every day I'm learning something new.
I'm also proud to part of the team finding solutions to get Full Fibre connectivity out to rural communities – they're often the ones who need it the most. Especially since the pandemic and so many people needing to work from home or just keep in touch with family and friends.
Anyone thinking of applying – I say go for it – if you don't take risks, you'll never know what could have been.
Kerry Smith
Fibre Technical Delivery
Chief Engineer
Related Articles
18 Dec 2020

Openreach has announced the creation of more than 5,000 new UK-based engineering jobs to be filled during 2021.

29 Jul 2020

Over three million more homes and businesses in the hardest to reach parts of the country to get ultra-reliable, gigabit-ready Full Fibre broadband by the mid-2020's.

17 Jun 2020

Meet a true pioneer. Suzanne tells us what it was really like for women in engineering #backintheday to celebrate International Women in Engineering day 2020 #INWED20