Sir Vince Cable connects with our engineers in Twickenham
Sir Vince Cable MP has visited our engineers in Twickenham to see first-hand how new, future-proof full-fibre broadband technology deployment is changing the lives of his constituents.
Hitting the streets
After meeting with our CEO, Clive Selley, at the Kneller Hall Exchange, Sir Vince went out onto the streets and met engineers to learn more about Openreach's deployment of Fibre- to- the- Premises (FTTP) or "full-fibre" technology into homes and businesses in the area.
We're currently building FTTP at a rate of 13,000 premises per week in the UK. This quick build rate is making a big difference to people living and working in this part of London.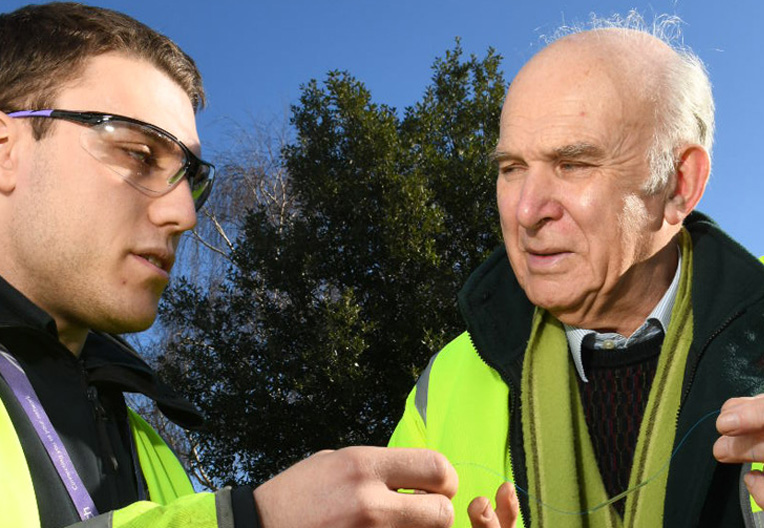 What's a Full Fibre connection?
Full Fibre broadband connections can deliver download speeds of up to 1 gigabit per second - – enough bandwidth for a family of four to all stream ultra HD or 4k quality movies or TV simultaneously, without interruptions, waiting or buffering. Downloading a typical HD film would takes less time than it takes to make a cup of tea.
Sir Vince Cable said, "It was particularly interesting to hear about the next generation of broadband and the difference that a reliable, resilient connection will make to homes and businesses in the area."
"I was delighted to meet the engineers who are rolling out Full Fibre in Twickenham"
Related Articles
31 Jul 2019

We're building at a massive scale. Every 30 seconds we pass a home or business with our new future-proofed full fibre network.

Fibre first
Clive Selley
News

09 May 2019

We now intend to reach an extra one million premises within our original timeframe, meaning four million homes and businesses will have access to a full fibre to the premises (FTTP) service over our network by the end of March 2021.

25 Feb 2019

Highlands and Islands MSP Rhoda Grant has been out in the field with our engineers to see the progress on the roll-out of high-speed broadband in her constituency.