COVID-19: Keeping care homes connected
Highest-risk premises, like care homes and hospitals, are being kept connected by engineers who volunteer to attend these appointments.
As a frontline engineer, I'm one of the team who visits homes and workplaces to install and fix telephone and internet connections. My patch is North London.
Coronavirus and me
After flying back from holiday in February I was feeling unwell and was flagged at Luton then put into quarantine for two weeks. That was the same week the UK went into lockdown.
My manager was great, really supportive and caring. He regularly checked in with me and said not to come back to work until I was ready. One of my team-mates helped me too by dropping off food and phoning for a chat. As a gamer and full-on nerd, living through that without internet would've be my worst nightmare.
High-risk premises
After returning to work I volunteered to be on the list of engineers who'd enter high-risk premises – for instance, when someone vulnerable needs service and there is no other way to provide it. I was called up recently to fix the internet connection for a care home where we were advised there were likely cases of people infected with the coronavirus. The home was on tight lockdown. They have things like a full wash station and a scanner to read your temperature at entry.
"I was in quarantine myself and as a gamer and full-on nerd, the thought of living through that without internet is my idea of hell!"
I started out early that morning to pickup my PPE kit. My manager, a health and safety advisor and another engineer were onsite too. The other engineer did the necessary work outside while I worked inside. The health and safety advisor ensured we followed all the safety procedures throughout. It took about an hour to fix the fault and around two hours for all the health and safety procedures like washing and disposing safely of our PPE kit.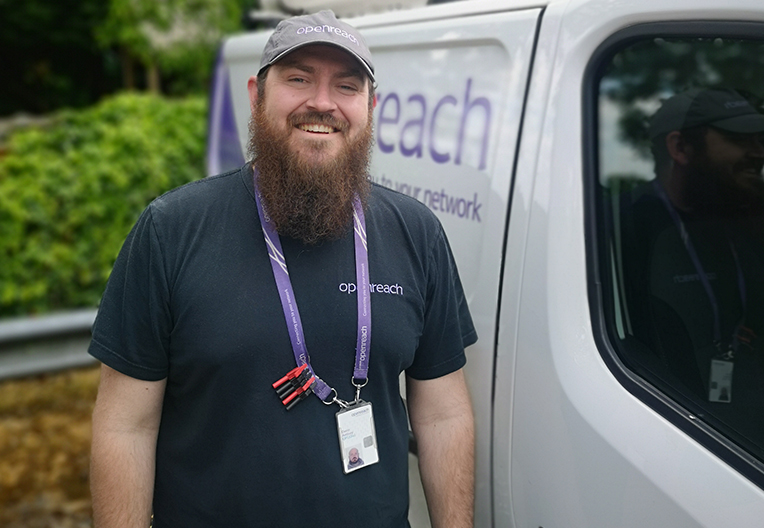 The thing going through my mind was how hot I was getting inside the PPE suit. I didn't feel like I shouldn't be doing this work because the procedures were so carefully planned.
I live alone so there is no-one to infect at home. I know that's not the same for other colleagues, so I knew if I volunteered it meant they didn't need to.
Keeping connected
I've only been in the UK for two years; I grew up in a very small town in South Africa. My immediate family are still there, I also have close friends based in Thailand and Bermuda. So, the internet is vital for me to keep in touch with family and friends.
The biggest change for me has been the difference between how long days are in summer and how short in winter. There's no daylight savings in South Africa. I don't mind the cold here though, which is good because as an engineer we do a lot of work outside.
I have a bachelor's degree in public relations. After leaving Uni I worked for a traditional boys' school doing marketing and events. Then I was a test driver for VW for a year before moving to the UK.
Facebook helped me to become an engineer
On a train journey scrolling through social media, I saw a link on Facebook to the Openreach trainee engineer programme. I applied and three weeks later went for an assessment day in Bradford. The next day I went to visit family in Cornwall as the following day was my birthday. The best birthday present I got was an Openreach manager calling to say I got the job.
The training was very good and the main thing I like about the job now is that no two days are the same.
My experiences with the public have been good but I have been told a couple of horror stories from colleagues. We're very reliant on people being honest and helpful so we can continue to do our jobs safely.
I'm really glad I saw that Facebook ad. Since joining Openreach I've found a long-term career I really enjoy.
Devin Astbury
Engineer
Related Articles
04 May 2020

Many of our people, such as Simoné, are classed as key workers by the Government. Simoné, who works as a night shift fibre engineer, shares what her working life is like since COVID-19.

30 Apr 2020

Andrew, an operations manager, talks about how conspiracy theories peddled on social media are adversely impacting his people.

29 Apr 2020

In our series looking at days in the lives of key workers - we spoke with Robert in Scotland, one of our engineers who responded to an arson attack in Glasgow.