5G conspiracies: impact on our engineers
In our series looking at days in the lives of key workers: we spoke with Andrew, to hear how life has changed since COVID-19 and the impact of conspiracy theories.
I'm the operations manager for the fibre specialist repair team based in East and South London.
My primary focus is the welfare of my 26 team members – they're out in the field getting vital fibre broadband services back up and running.
We're in a heightened safety environment so I have daily calls with my team. It's a chance for us all to talk. The team will let me know of any issues or just how they're feeling.
The great thing is that many of my team are reporting how members of the public have been making an effort, from a safe distance, to come say thanks to them for the work they're doing.
Unfortunately though, it has got crazier recently for them due to some members of the public worrying about the 5G conspiracy theories.
"Making sure my team is safe is my number one priority."
My team are out there fixing fibre broadband faults so essential services stay connected and they're getting approached, sometimes aggressively, by people wanting to know if they're installing 5G kit.
It really worries me as my people have enough to deal with without taking abuse while they're working.
It got particularly scary when one of my guys rang last week to say he'd been approached by two men who were intimidating him, saying he'd better move on or they'd get more people to come and move him.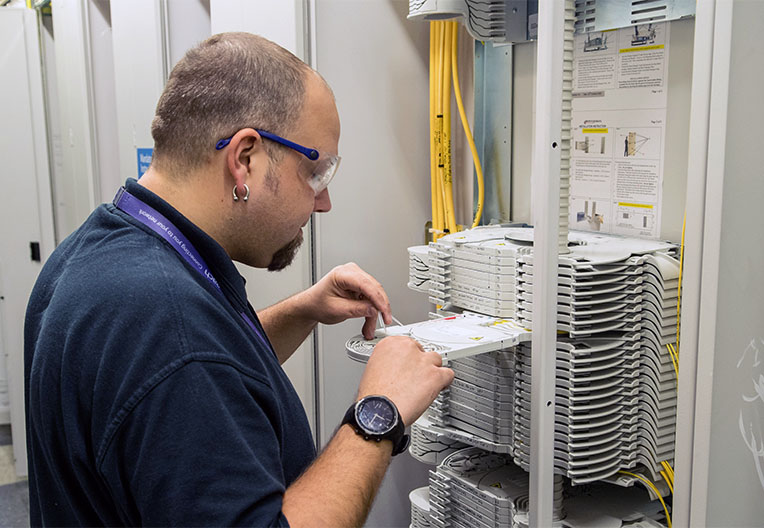 I've told my team that they're to work in pairs only now, observing social distancing guidance wherever possible.
We've realised that sometimes if someone wants to believe a conspiracy theory they don't listen when you try to explain the truth to them, they believe what they want to believe.
It's a very stressful time for our people already, they have their own concerns about their own health – then they have the worry about taking home illness to their families and elderly parents. The guys understand as key workers that they're vital to keep our infrastructure working for the NHS and other essential services - which is why they feel they need to take that personal risk to do this vital work.
It's like they are running a gauntlet on the streets of London though – hoping people are following the guidelines. The pavements are only so wide and not everyone crosses the road to maintain social distancing around where they're working. When we need to enter business or home premises for essential works, we have to trust that people are being truthful about their health and obviously it's a lot of additional worry for them.
My working hours are now in separate shifts with my wife, she is also still working as a key worker for a local school for disabled people, so one of us is always home to take care of our two-year-old daughter.
When this is over, I'm looking forward to having a family day out and my work team and I getting back to having breakfast meetings together.
Andrew Goodman
Operations Manager
Related Articles
29 Apr 2020

In our series looking at days in the lives of key workers - we spoke with Robert in Scotland, one of our engineers who responded to an arson attack in Glasgow.

22 Apr 2020

Many of our people are classed as #keyworkers by the Government. We have interviewed some of them to find out what their working life is like now. The first in this new blog series features Jamie, a Senior Engineering Area Manager.

04 May 2020

Many of our people, such as Simoné, are classed as key workers by the Government. Simoné, who works as a night shift fibre engineer, shares what her working life is like since COVID-19.