Coronavirus: how it's changed the night shift
Many of our people, such as Simoné, are classed as key workers by the Government, she tells us how the night shift has changed since Coronavirus.
I'm a fibre engineer in the London night team, we work 7pm to 7:30am. Our job is to respond to faults within our telecommunications network. We fix anything broken that's causing loss of service within the network cables, underground, or in the street.
In the beginning, working nights was something I had to adapt to - but now I wouldn't want to go back to doing day shift work. I really like working nights.
Since the virus, the main change is previously we always worked in teams. Now we always have to really focus on being the correct distance apart. Before, in a pair, one of us would hold the equipment and the other would do the repairs – now the other person guides from a distance so the job takes longer to complete.
"I'm the only woman working in my team of 22. Before this I was a dental technician."
I live in rural Essex, there's only five houses in my street. We don't go out to the shops, all my neighbours club together and we get one internet shop delivered fortnightly for all of us. I do the online ordering; my neighbours send me their shopping lists. So, on a personal level, broadband connectivity is really helping us stay safe at home.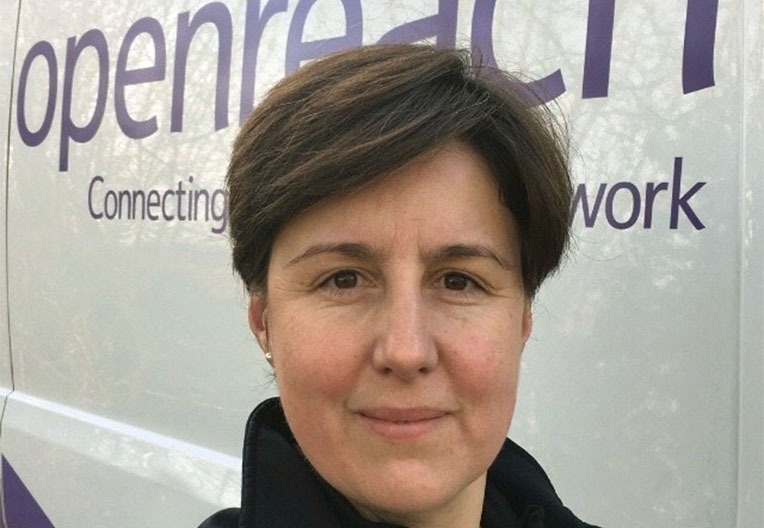 I joined Openreach 18 months ago after seeing a post on LinkedIn which took me to the Openreach website, where I saw this career opportunity and how to apply for it. Before this I was a dental technician, so I was completely new to engineering - but that didn't stop me from being successful with my application.
I like to help girls see engineering as an excellent career option, that's why I volunteer to take A-level female students out for the day and show them what we do, obviously this was before the lockdown.
I think as women we sometimes put up our own boundaries, thinking a career like engineering is not for us – but I'm so happy I applied and have this new career. It's an incredible team, I feel very supported.
Simoné Jansen van Vuuren
Fibre Engineer
Related Articles
30 Apr 2020

Andrew, an operations manager, talks about how conspiracy theories peddled on social media are adversely impacting his people.

29 Apr 2020

In our series looking at days in the lives of key workers - we spoke with Robert in Scotland, one of our engineers who responded to an arson attack in Glasgow.

22 Apr 2020

Many of our people are classed as #keyworkers by the Government. We have interviewed some of them to find out what their working life is like now. The first in this new blog series features Jamie, a Senior Engineering Area Manager.