News

|

FTTP

Fibre for developers
Full-Fibre for new housing in Pembrokeshire
Openreach engineers in Pembrokeshire showed Stephen Crabb, MP for Preseli Pembrokeshire, how they connected a social housing development to ultrafast Full Fibre broadband. The future-proof service can carry speeds of up to 1 Gbps – 21 times faster than the UK's current average
Mr Crabb said: "I was particularly interested to see how Openreach are working with new housing developers, such as Morganstone who are building a new site in Milford Haven on behalf of Pembrokeshire Housing Association, to ensure that new homes being built have the connectivity that people would expect. I would urge other developers to follow suit and work with Openreach as soon as possible in the building process so that our new homes will be able to meet our future digital needs."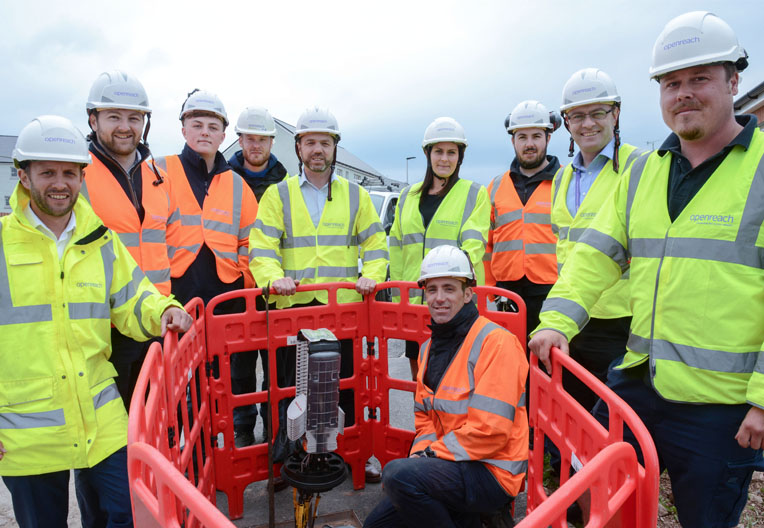 Openreach installs full-fibre networks free of charge to all new housing developments of 30 or more homes and we've cut prices by more than three quarters for smaller sites, where we'll co-fund the work. Developers can learn more here.
The visit was hosted by Connie Dixon, Openreach's partnership director for Wales, who said: "We want full fibre to be installed in all new developments in Wales, and all residents having access to a competitive retail market through our open network. To make this happen we're working hard to build closer relationships with developers large and small, and to show how we can help them create future-proof networks in their new developments - and why it matters."
Openreach are currently recruiting 6 more trainee engineers across Pembrokeshire – on top of the 20 engineers already recruited over the last 12 months – to help deliver Wales' fibre future. You can learn more about a career at Openreach here.
Fibre broadband is already widely available in the constituency. According to the independent website Think Broadband, nearly 90 per cent of premises across Preseli Pembrokeshire are now able to connect to broadband at a speed of 30Mbps and above – enough to stream six HD movies simultaneously. You can check if fast broadband is available for you to order here.
Related Articles
07 Mar 2019

We've unveiled a £485,000 investment in a national fibre training school for Scotland to educate the country's next generation of digital engineers bringing vital broadband services to communities across Scotland.

25 Feb 2019

Highlands and Islands MSP Rhoda Grant has been out in the field with our engineers to see the progress on the roll-out of high-speed broadband in her constituency.

Performance
News
Business

20 Feb 2019

A new data analytics tool, Qlik Sense, is helping us to reduce the time taken to install business fibre connections.