Helping you find the right connection
Whether you're confused about connectivity or just need to check what's available at your address, we're here to help.
Below we explain the different ways we connect you. You can find out about our latest technology, FTTP, where we're cutting out the cabinet to deliver lightspeed broadband direct to your door.
Openreach engineers build and maintain the UK's communication network, and have done for many years. Our network is used by over 640 Communication Providers which you can choose from to get your broadband. Enter your postcode into our fibre checker to see what connection is available in your area.
Confused by connectivity?
There are three ways we connect you to our broadband network
FTTP
The future is Full Fibre to the Premises (FTTP), where pure fibre optic cables connect you straight to the exchange to your front door.
FTTC
If you've got a fibre package from your Communications Provider today, it's likely you're connected via FTTC. Fibre to the Cabinet increases basic broadband speeds by connecting powerful fibre optic cable to the cabinet, then copper wires to your home or business.
Copper network (ADSL)

Basic broadband access uses a copper phone line connected to the exchange. Check with a communications provider if you can upgrade to FTTC / FTTP.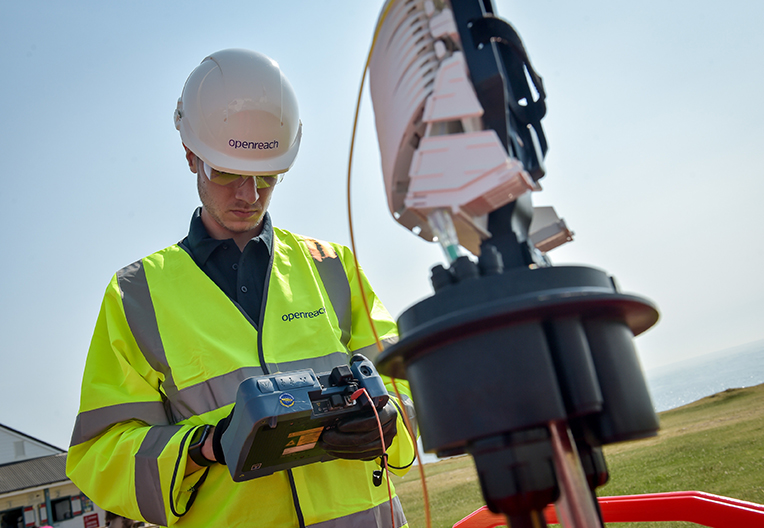 Find out how we use fibre optic cables to connect homes and businesses to our network across the UK.
Why Fibre to the Premises?
Get better performance, impressive speeds
and fewer drop-outs with fibre connected
straight to your home.

According to the national Infrastructure Commission, Full Fibre has five times fewer faults than copper connections.
You're ready for
anything online

Be unstoppable on everything from phones,
tablets, laptops, VR headsets – even
your home's heating controls.

Better performance and impressive speeds.
We're speeding up your broadband. Find our how we're bringing Full Fibre to homes and businesses across the UK.
Your fibre options
Get faster broadband with fibre connected straight to home. And find out how Openreach is building the fibre network across the UK and see if you can get connected.

Find out more

»

Get faster internet speeds to your business with a fibre connection. And find out how Openreach is building the future of broadband by growing the fibre network.

Find out more

»

Openreach plans to connect four million homes to the fibre broadband network by the end of March 2021. Find out how to get your residential or commercial development connected.

Find out more

»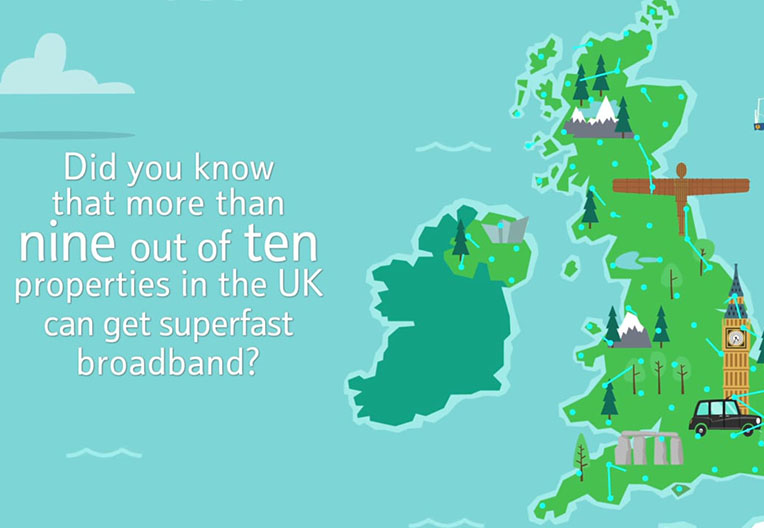 Community Fibre Partnerships
Help fund fibre broadband in your own community
Community Fibre Partnerships: we share the costs with your local community to help you upgrade to fibre.
Related articles
12 Sep 2019

I'm proud to say that we've been keeping Scotland connected for more than 100 years and we're fully invested in its future. We don't just build in cities. Openreach is the only organisation truly tackling the delivery of fibre network in urban and rural areas – with impressive results.

27 Jun 2019

We're modernising the way we deliver phone and broadband services across the UK - moving from existing analogue and copper technologies to faster, more reliable, fibre broadband.

Fibre first
News
Richard Allwood

18 Jun 2019

We want to play the leading role in helping the Government to achieve its target of a fully fibred UK by 2033. And as the Chief Strategy Officer at Openreach, my mission, and that of my team, is to define the future direction of the business, and therefore help turn the Government target into reality.