News

|

Diversity and inclusion
Black History Month – Our Stories & Special Event
October is Black History Month - a time to celebrate the rich and varied contribution that black people have made to the UK and to focus on how we keep moving towards a fair and equal society.
As Black History Month begins, we're reflecting on what we're doing to make Openreach a more diverse and inclusive place to work – thinking about what we've done well and about what we can do better.
One of the key things that we've learned is how important it is for everyone to have a voice and for people from diverse backgrounds to tell their own stories.
As part of Black History Month, two of our collegues shared their experiences with us. Read Charlene's and Janet's stories here.
Our Ethnic Diversity Network (EDN) also organised a fantastic event at our Judd Street HQ, catered by a Black-owned business, Afrinape. First, a fireside chat with senior leaders, hosted by EDN committee member Stephen Adubofour, followed by an inspiring talk by an external speaker - author and restorative justice advocate Lee Lawrence.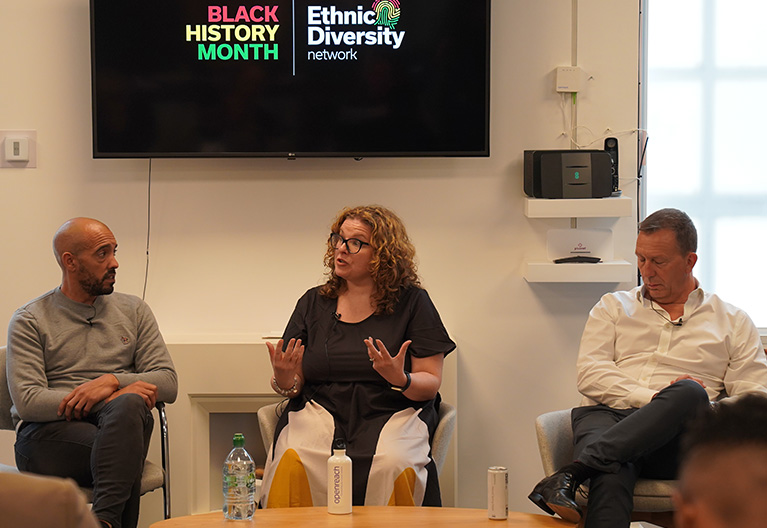 The Fireside Chat
The fireside chat – the EDN's first live face-to-face event for Black History Month – featured a panel of senior leaders: Zane Bowen, who looks after the Transformation and Change team in Fibre Network Delivery (FND); Jo Koroma, Director of National Infrastructure in FND, and Peter Stewart, Managing Director of Service Delivery.
Host Stephen Adubofour, a Project Manager for FND Fibre Cities, directed the conversation expertly, using a mixture of his own questions, those from the studio audience, and those watching the livestream.
The conversation opened with a reflection on the death of George Floyd and how that had acted as a catalyst for protests around the world – for people calling for the need for change.
It's that need that inspired the theme for Black History Month 2022 – Time for Change: Action Not Words.
What exactly, Stephen asked, did that mean to the panellists?
For Jo Koroma, it meant putting learning into practice.
"we've done a lot of learning, a lot of listening, and it's now about what can we do differently… we're looking through our processes and thinking 'where can we remove bias?' So, for example, we're just about to start trialling the 'Step Ahead' program, which is a different way of promoting people into management positions."
For Peter Stewart, it meant taking charge of the changes you can make.
"Ensuring that where you can have influence - whether it's recruitment, whether it's how you build your team, whether it's when you're doing roundtables, or as a leader – you're actually taking that personal responsibility."
For Zane Bowen, it meant following through until real change could be seen and felt.
"We've got a good plan – the Open to Everyone Diversity and Inclusion commitments. Now, as a community, we want to see those things begin to make a difference. For me, it's now about having the courage of our convictions."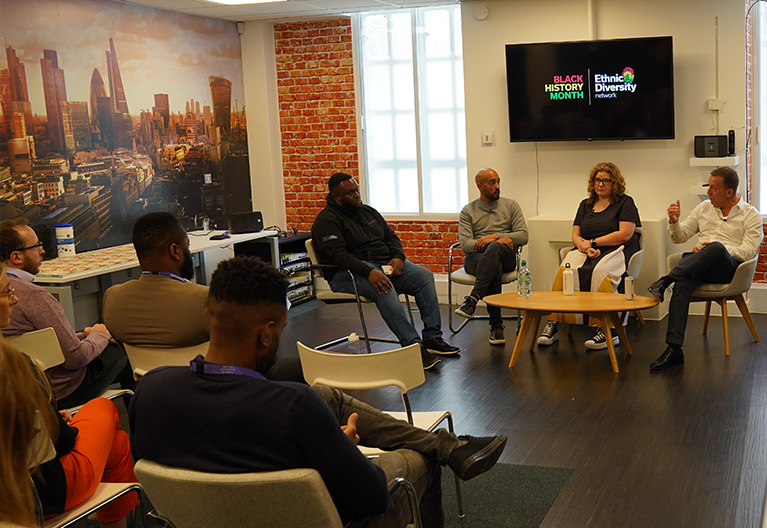 And that was just the beginning.
Over the course of an hour, the panel discussed topics ranging from what Openreach has been doing to affect change specifically for Black people within the business, to exactly what our Open to Everyone commitments mean, to how to balance targets and numbers with peoples' experiences.
The engagement in the discussion from all involved, from panel members to the people sending in questions from the livestream, made it a huge success. It may have been the EDN's first live event at Judd Street for Black History Month, but it's surely the first of many.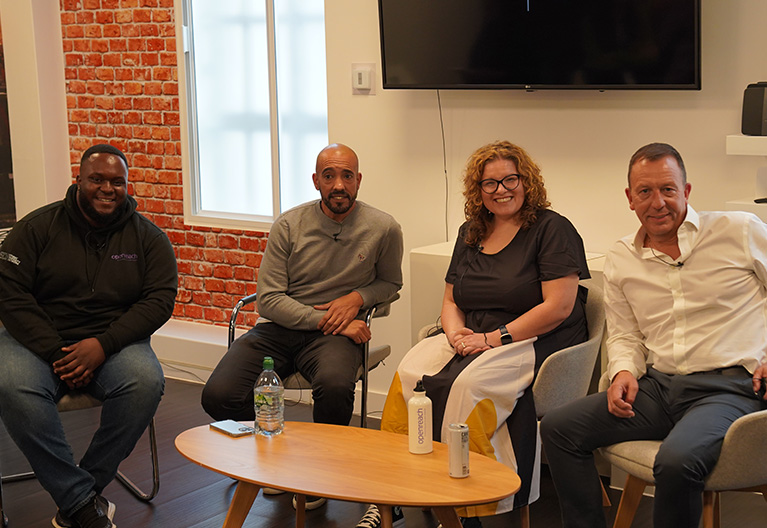 External Speaker – Lee Lawrence
For the second talk of the day, the EDN organised a genuinely inspiring external speaker – Costa Book Award winning author and restorative justice advocate Lee Lawrence, who came to share his story.
Lee was just 11 years old, and two weeks into secondary school, when his mother, Cherry Groce, was shot by the Metropolitan police – in her own home and in front of her family.
She was rushed to hospital, and as Lee contended with rumours of her death coming from the radio and reporters taking photographs of his family's distress, Brixton's Black community demanded answers.
Why had an innocent Black woman, answering her front door at 7am, been shot by a police officer?
When the Metropolitan Police weren't forthcoming, the community marched to Brixton Police station to protest, and began what was to become the Brixton Uprisings of 1985.
When Lee was able to go to the hospital, he found his mother had survived – but was paralysed from the waist down. Lee pledged to look after her and became her carer for the next 26 years.
The officer who shot her was tried and acquitted of all charges.
In 2011, Lee lost his mother. Cherry Groce passed away due to the injuries she'd sustained in 1985.
Losing her brought back it all back – pain, the trauma, and the injustice.
"She died on Easter Sunday with her family around the hospital bed. And I didn't know where that energy was going to go."
The only glimmer of light was the prospect of an inquest into her death – at last, a chance for Lee and his family to get some answers about what had happened that day.
"I decided to put all that energy into that process. But it came with its challenges. We were denied, on three separate occasions, legal aid to actively take part in the inquest process. The man who shot my mum, the Metropolitan Police, and Hertfordshire Police had teams of lawyers, all paid for by taxpayers' money."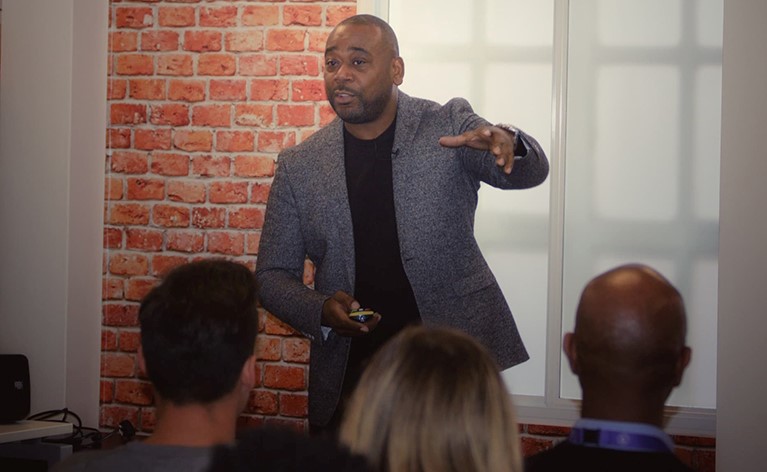 Lee's commitment to achieving justice for his mother was undimmed. He organised a petition which gained over 100,000 signatures and presented it at Downing Street. As result, the Lawrence family were awarded access to legal aid, giving them a voice at the inquest.
The result of the inquest was unanimous – 12 jurors returned a verdict of multiple serious failures by the Metropolitan Police and that those failures caused Cherry Groce's death. The verdict was followed by a public apology by the Met's commissioner.
For Lee it was bittersweet.
"I said to the Commissioner, the only way we will accept that apology is if it comes with accountability."
Despite the verdict of the inquest, and their public apology, the Met refused to accept accountability. Lee and his family battled in the High Court for two years before the Met finally accepted accountability. When the judge suggested mediation, Lee's solicitor told him that he should be the one who spoke during the sessions.
"He said, 'Lee, I think you should do the speaking at mediation because I don't feel I'm going to be able to communicate your story and your family story in the way that you can."
Lee found that in mediation, and the process of restorative justice, he could give his family a voice. He could get in front of the Met's representatives and make them see him and his siblings, not as the adults they are now, but as the children they were when it happened.
During the sessions, Lee's powerful way of communicating his story, through words and photographs, got through to the Assistant Commissioner.
"He got up, tears in his eyes, and he said this: 'I would hate for my mum to go through what your mum went through.' Simple but powerful words for us, because that was the very first time that we heard a human response to what happened to us."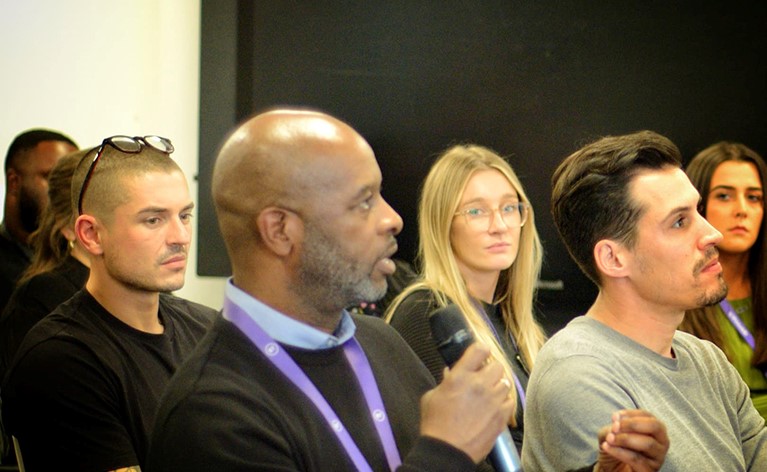 Now Lee is committed to helping prevent people from going through what his mum went through, and what he and his family went through too.
In 2016, he started the Cherry Groce Foundation, which is dedicated to training, support, and advocacy.
"I'm proud to say that we've just launched our education program too - going into schools, telling them about story, and teaching them about the tools around restorative justice, mediation, and conflict resolution. We're enabling young people to feel empowered to have their voice heard."
His mother's legacy, and the courage of the Black community who stood up against such a terrible injustice, has also been honoured by a memorial in Windrush Square, Brixton. Designed by Sir David Adjaye, the Cherry Groce Memorial Pavilion serves as a tribute to Cherry, the community, and the hope that restorative justice can offer.
And, in memory of his beloved mother, Lee wrote a book, The Louder I Will Sing, which won the Costa Book Award for Biography in 2020. Lee had a purpose in mind when he wrote the book - to make sure people knew that his mum wasn't just a story in the news.
"My mum was always known as this woman who was shot by the police, and I thought was very important for people to understand that she meant a lot more than that to us…she loved music and she loved to dance. She was my biggest inspiration and my hero."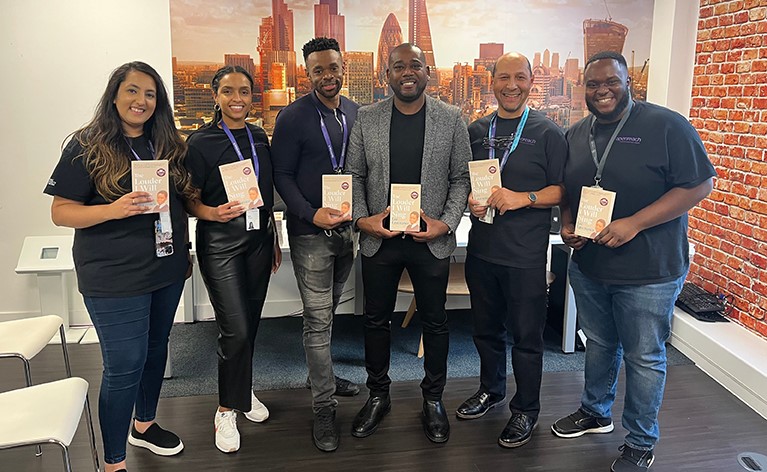 Charlene's Story
20 Oct 2022
Charlene's background was in retail and beauty, until she decided that she wanted a career change.
"I was living in Wales and saw an advert for a job as an Openreach engineer. I filled out the application form, but then sadly I lost my grandmother and ended up moving back to London. I was still thinking about Openreach though, so I applied again and was accepted."
She found that she had a passion for engineering – and perhaps that was no accident.
"I've always been a fiddler – when I was 16, my mum had an old cable box and I fiddled with it to the point where we were getting the cartoon and movie channels. When I was applying for Openreach, I found out that my granddad, on my dad's side, had been a BT engineer. I think it was meant to be!"
She joined Openreach in November 2018 as a Service Delivery engineer, working on the copper network.
"My journey with Openreach has definitely had its ups-and-downs. Especially in the first six months – I really struggled. I had some male engineers tell me that it wasn't a job for women. And, as a Service Delivery engineer you work solo, you're on your own. That can be difficult for women – especially if you're working rurally, where there aren't any toilet facilities. When I first joined, I didn't see many engineers who were women, and even fewer who were women of colour."
Despite a tough start, Charlene believes huge strides are being made at Openreach.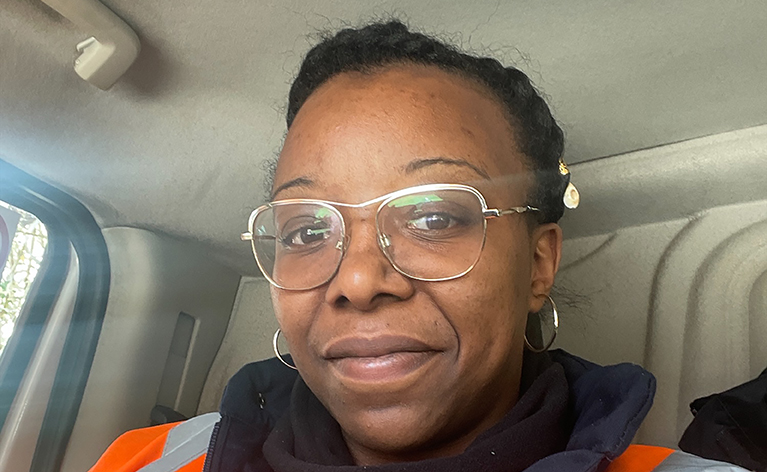 "Openreach are definitely adapting to make the job attractive to different people – to make it more diverse. There's much more recognition of the issues women face and Openreach are working to make things easier – things like providing sanitary towels and managers being flexible in the work you can pick up at certain times."
One of her passions is career development, and the opportunities for progression at Openreach are something she really values. She's aiming to become a clerk of works – a supervisory role that involves carrying out site inspections and making sure builds are following the right specifications and standards.
"I pushed to do a lot of things. I shadowed surveying teams and a Precision Testing Officer (PTO), and I did my underground (UG) qualifications as soon as I could. In July 2022, I moved from Service Delivery to Chief Engineers, which means I'm working on the fibre network. I volunteered for a lot of projects – helping with rodding and roping, splicing, running hydras in the exchange. One of the best things about Openreach is that, if you want to progress your career, they'll back you. I've experienced it myself – I've done my fibre foundation course and I'm on the career pathway for a clerk of work."
She's also seen a change in something else that's important to her – representation.
"We're seeing more and more women become managers and team leaders at Openreach. And more women joining as engineers. Not only that, but since I've been here maybe half of all the new female engineers have been black women. So, the more people can see that engineering is a job that anyone can do, the more people apply. Openreach are working to make the job much more inclusive – like providing uniforms with hijabs for female Muslim engineers."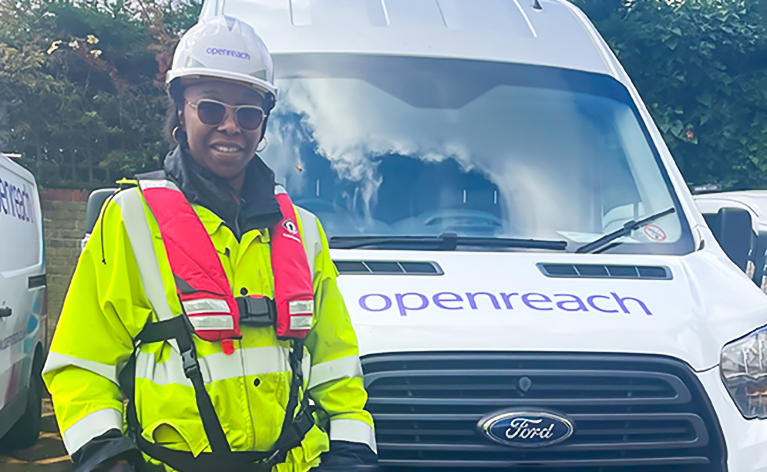 A fundamental part of being an engineer is travelling – to different areas and to customers' homes. Dealing with that can be a challenge that each engineer experiences differently.
"Some areas are far less diverse than others and can be more ignorant. My mum is of mixed heritage and my nan's white. I think that the stigma that she and my mum suffered made me stronger. I can brush off other peoples' ignorance as their problem, not mine. I'd inform my manager to make sure they're aware, but I don't ask to be moved out of an area. But, if any engineer feels unsafe, your manager is obligated to move you to another area where you do feel safe and comfortable to work."
Charlene's a big believer in asking questions. It's part of her nature to be curious, but she also believes it's crucial to improving diversity and inclusion. She's glad that we celebrate Black History Month – but like our first interviewee, Janet, she's keen to point out that she's black every day.
"Black History Month is nice – I want to show people what black culture is like, because it's not just one thing. It's diverse in itself - African and Caribbean. I come from a really mixed family, and we all look different. Most people would look at me and assume I'm black, not mixed heritage. And I like that – because if they asked me there'd find out there's more to it. People should ask questions, as long as they're in good faith. The Allies programme at Openreach is amazing – it's a safe space to ask questions and improve your own learning."
Janet's story
03 Oct 2022
In September 2020, we introduced a Reverse Mentoring programme, to connect senior managers with colleagues from diverse backgrounds and life experiences. Janet knew immediately that she wanted to be a part of it.
"They were interested in anybody who'd be willing to share their lived experiences with a senior manager within Openreach – so they could understand some of the issues that, as black people, we go through and some of the challenges we face. By giving them a better understanding, we can hopefully help to improve things in the business."
Without knowing exactly what the programme would entail, she put herself forward, applied, and was accepted. A few weeks later, she found out who her mentee would be.
"We'd never met before, but I knew of them. I started to doubt whether I'd be able to help them – for me, it was really daunting. I'm just being honest here- I just felt 'Oh my gosh'. I was really nervous, but I thought 'I'll just see how this goes'."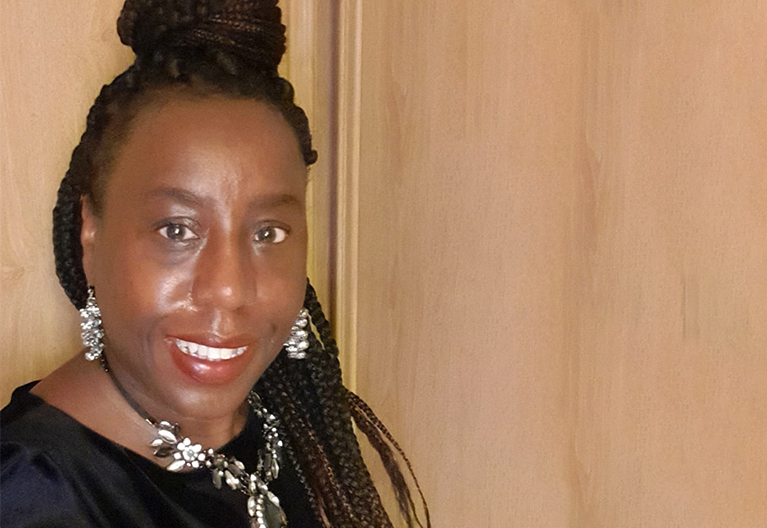 She wasn't left alone in the experience – there were joint calls with the other members of the Reverse Mentoring cohort, and our dedicated Diversity and Inclusion team was there to support them all. The thing that convinced Janet that she'd really have a chance to affect change, however, was the initial phone call with her mentee.
"It was about just getting to know each other and building a rapport. And she was absolutely lovely. She put me at ease within the first few seconds of our call, and by the end, I felt like I'd known her for ages. I knew then that we'd have a really good partnership in the programme."
This connection was crucial, because Janet was adamant that for this to be of value, they'd need to trust each other.
"I wanted her to be free to ask me anything – any questions at all. We made it a safe, confidential space, on both sides, which meant we could explore everything. We talked about my life, where I grew up, my family. We talked about my experiences of working, both inside and outside of Openreach, and I was able to explain the barriers that I've faced – the microaggressions and biases. Just breaking it all down, honestly. And she was honest with me too – that she'd never seen it like that before. And that's why the programme was valuable – because, if you haven't lived it, there are so many things that you won't see."
Initiatives like the Reverse Mentoring programme are only worthwhile if the senior managers – and the company at large – not only listen, but also apply the things they've learned. Janet believes in the journey we're on at Openreach, while recognising the need to remain focused on change.
"I made a very good friend in the programme – my mentee and I are still in touch regularly. I'd recommend anyone to give it a go if they get the chance. And there's been a huge difference in the last two years. The company isn't there yet, but I can see the transformation in that time. I feel like the business has listened and is listening."
Janet's time in the Reverse Mentoring programme may have come to an end, but she's a keen member and contributor to our Ethnic Diversity Network (EDN), as well as ally to all our Peoples' Networks. She's active on Facebook Workplace, running a food group where people share recipes from across cultures and countries, and regularly posts anything she thinks will raise awareness or inspire debate.
"I love Black History Month. But Black History isn't just a month – I'm black every day, you know? So, I'll post anything that I see in the media where I can say 'This is how this impacted me' or 'what do you think about this?'"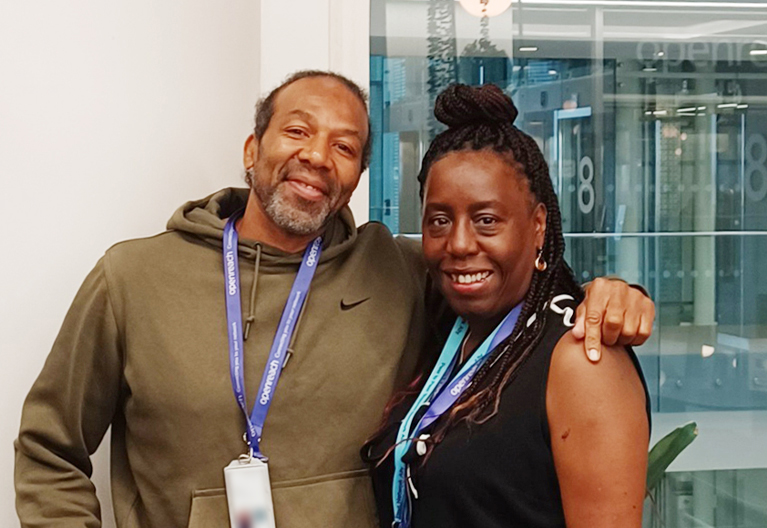 For Janet, understanding is the key. Understanding that people are diverse and that we don't all experience life in the same way. The more we can understand this, the further forward we can move.
"Take an article I posted about the Soul Cap. It's a swimming cap designed for black hair. The standard swimming cap offered no protection to black people's hair and yet it was the 'standard', so it was the only one allowed. Now, the International Swimming Federation (ISF) has approved the Soul Cap, at last. It's a great example of things – of struggles we face – that people might otherwise not be aware of."
Related Articles
News
Diversity and inclusion

06 Jun 2022

Our Pride network is over 850 members strong and as Pride Month kicks off, everyone's really excited to be taking part in something that means so much to so many people.

17 Feb 2021

Where can a 'feel the fear and do it anyway' attitude take you in Openreach? Kerry tells her story about how attitude can take you places you never imagined.

06 Nov 2020

Openreach is backing the ICS's national Service With Respect campaign to ensure our engineers and other service workers get the respect they deserve.