News

|

FTTP

Recruitment

Government
New future-proof broadband for South Wales cave rescuers could save lives
Cavers that come to South Wales are to benefit from a new digital safety net, thanks to the efforts of our local engineers.
The South and Mid Wales Cave Rescue Team's (SMWCRT) depot, in Penwyllt above the Swansea valley, is being fitted with a faster, more reliable and future proof broadband connection which will help further improve its search and rescue capabilities.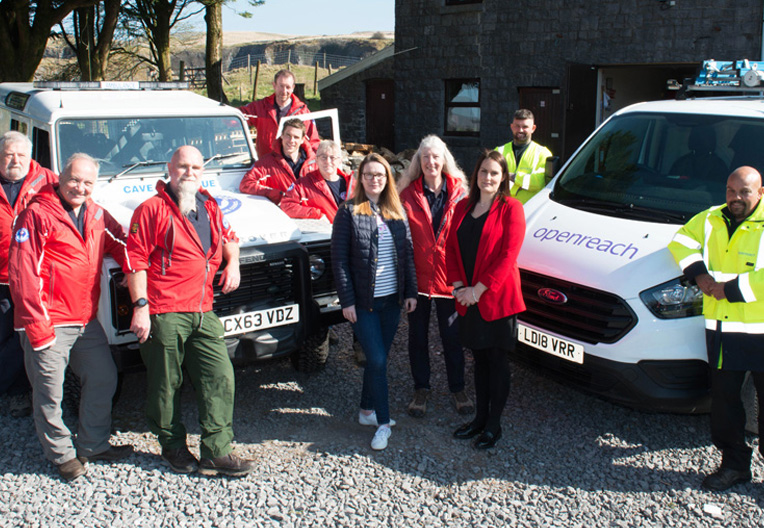 With fibre now being connected directly from the local exchange to their depot, the rescue team will have access to some of the fastest internet speeds in the country and be able to utilise valuable online rescue software. The team expects the connection to enable all of its 180 members to be contacted simultaneously at the touch of a button when their rescue skills are needed next.
The new ultrafast and reliable broadband connection, which has been made possible by building on top of the infrastructure that was developed by the Welsh, UK Government and Openreach funded Superfast Cymru programme, will also mean the team can access vital real-time data, such as accurate localised weather forecasts, which could help save valuable time in a rescue operation, and potentially lives.
Dan Thorne, Chair of the South and Mid Wales Cave Rescue team, explains: "South Wales is an attractive location for cavers with a passion for exploring as it has some of the deepest and longest caves in the UK."
"When we are called out we have to mobilise the right resources, to the right location in a timely manner.
"Some of our rescues last for days and within that sort of time period you need to plan ahead, swapping team members, sourcing food, checking the weather and dealing with our rescue partners. Having fast and reliable access to the internet will help in almost every aspect of planning for a rescue"
Across Wales nearly 95 per cent of homes and businesses can access superfast broadband today. That's better broadband coverage than France, Germany or Italy.
With the largest rural fibre to the property footprint in the UK, Openreach has recruited nearly 450 engineers throughout Wales over the last 12 months to help maintain and further improve the network which includes the roll out of its 'Fibre First' programme in Swansea and Cardiff.