Looking forward to International Women in Engineering Day this Sunday
To date we haven't seen a huge appetite from women to join us and I feel strongly that if more women knew what great opportunities there are in this sector - this would change.
It's not only people who have shown an interest in engineering, maths or physics that work here – Openreach has a wide variety of roles and skills needed to help build our full-fibre future.
Openreach is an engineering organisation with a rich innovation history. As a member of our team here you are driving the UK's digital revolution – I think that's pretty exciting!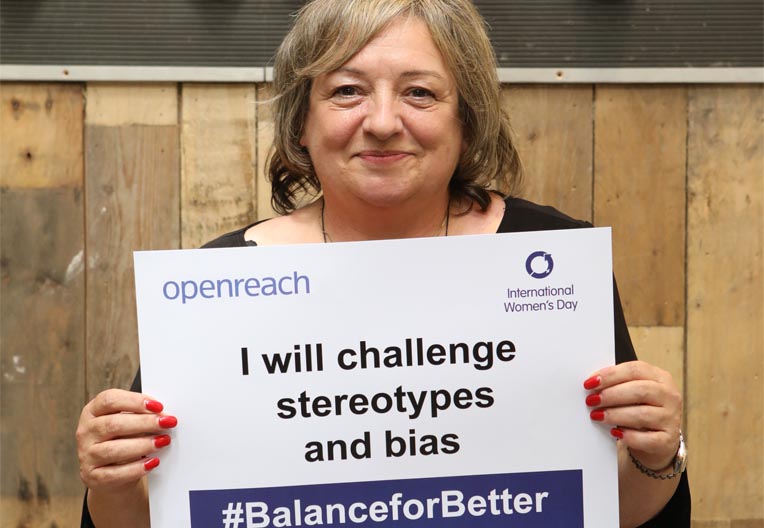 We are the kind of organisation that values diversity and if you have a preconceived notion of what someone who works in engineering is like – think again! I didn't get into this field on a straight path, I started in banking and worked on huge transformation and people roles before I became the Managing Director for Strategic Infrastructure Development.
If you like solving problems and the idea of being part of something that changes the world around us for the better – then don't dismiss engineering and don't dismiss Openreach. I love the fact we are truly making a difference to people's lives, with connectivity being at the heart of how we live and work. Having a balance of different views, skills, experiences and backgrounds is the key to unlocking really powerful problem solving. We are united by our sense of purpose and the drive of the organisation to deliver great broadband for all.
As part of our commitment to building a more diverse workforce, we are proud to show our support to International Women in Engineering Day this Sunday (led by the Women's Engineering Society) and our ongoing support to #BalanceforBetter, the International Women's Day campaign.
Over the past 5 years, the UK saw nearly 58,000 women working as professional engineers, which is more than double the number there were in 2013. However, women still only made up just 12% of those working in professional engineering occupations in 2018.
It has been found that fewer women are considering STEM careers as they aren't being given enough information on what working in the sector involves at a young enough age. For International Women in Engineering day, we're very excited to be launching a series of open-day events in our "Open Street" trainee engineering venues. Our people will also be volunteering in local schools to take children through fun and engaging activities designed to spark an interest in a future career in engineering.
If you represent a women's or diversity group that would benefit from one of our open day events, please feel free to get in touch with us via @WeAreOpenreach.
Find out more about career opportunities in Openreach.
Kim Mears
MD Strategic Infrastructure Development
Related Articles
13 Nov 2018

Openreach engineer Sarah Calam talks about what it's like to work in a traditionally male-dominated area, and how engineering is a viable career for young women.

People
Opinion
Engineer role
Recruitment
Our engineers

20 Jun 2018

Meet Megan, one of our trainee engineers. Find out how training and qualifying as an Openreach engineer was a natural fit for her after leaving the army.

People
Opinion
Engineer role
Recruitment
Our engineers

16 Apr 2018

Hannah explains how a chance meeting with an Openreach team encouraged her to become an engineer. And how she's hoping to inspire her young daughter and others.