News

|

Fibre Community Partnership

Case study
Government grants prove just the business to bring fibre to 'forgotten parish' of Hannington
The rural Wiltshire parish of Hannington, which covers two small villages straddling two exchanges across two counties, was 'land of the lost' as far as broadband was concerned.
Despite fibre all around them, the 7km between the villages and their respective exchanges meant it wasn't commercially viable for any provider to take on an upgrade project.
The result was a 50 year old copper and aluminium connection which struggled to reach 2Mbps, with frequent reliability issues on top. Without a massive investment the parish and its 100+ premises faced becoming even more isolated.
But the residents weren't prepared to let the villages wither and die. Led by the familiar face (or faces) of comedian and impressionist Rory Bremner and management consultant James Ramage, they began to look for a way to boost broadband speeds in Hannington.
It wasn't easy. James explains: "It took about a year of research and option analysis to establish options and realistic costs. There were so many dead ends. We looked at many different options and providers, but had to abandon technologies like satellite and microwave as they were either unreliable or tied us into a monopoly provider. The 4G radio broadband was an option for some but not all in the parish due to geography, and data usage being expensive."
The best option
In the end it became clear that a pure fibre connection was the only realistic option – so they contacted Openreach to get the ball rolling through its Fibre Community Partnership scheme. An initial survey put the community contribution of getting a new fibre infrastructure in place eye-wateringly close to £150,000. Subsequent design changes managed to reduce the cost to £137,000 in the end.
Undaunted, and aware of how important a proper broadband infrastructure would be in the future, James and Rory rallied everyone together as they needed to.
"We sent out emails and flyers to see how much support there was in the village," says James. "We got about 40 replies immediately from people saying they'd like to be involved and were prepared to help with funding, but the numbers involved still seemed too much of a stretch."
That's when things started to turn in James and Rory's favour.
"We'd started talking to Openreach about Fibre Community Partnership and, as things progressed, we realised that we'd be entitled to new Government voucher funding to help businesses get a gigabit capable fibre connection (FTTP). Whilst Ultrafast Fibre is above and beyond what most residential users need – whilst government funding was available to install it we thought why not take advantage."
Meeting the deadline
With over 100 users, including nearly 30 businesses, across Hannington and Hannington Wick, it seemed the gigabit vouchers, along with a grant that was available to local charities at the time, would cover the vast majority of the funding needed. James and Rory rallied everyone together. They needed to get enough commitment from local businesses, residents and charities to make the project economically achievable – and then make sure everyone who'd committed applied before fast looming deadlines.
The parish has over 100 premises split across the two villages served by two different exchanges. And all of this meant it would be one of the biggest and most complex Fibre Community Partnerships ever delivered.
"The Openreach open access network means we can choose our broadband package from a variety of competing suppliers."
Two projects, one parish
Project 1, covering Hannington Wick will cover the 19 premises there, with the £31,000 needed from the community being made up of a £19,000 grant for a charity in the area, and gigabit vouchers for four local businesses. This made it easy for everyone to get on board.
The larger village of Hannington was trickier. Project 2 covers 81 premises – and needed a contribution from the community of £106,000. Fortunately there were a significant number of businesses eligible for gigabit grants so the funding shortfall in the end was relatively small and James and Rory are confident will be covered by local fundraising.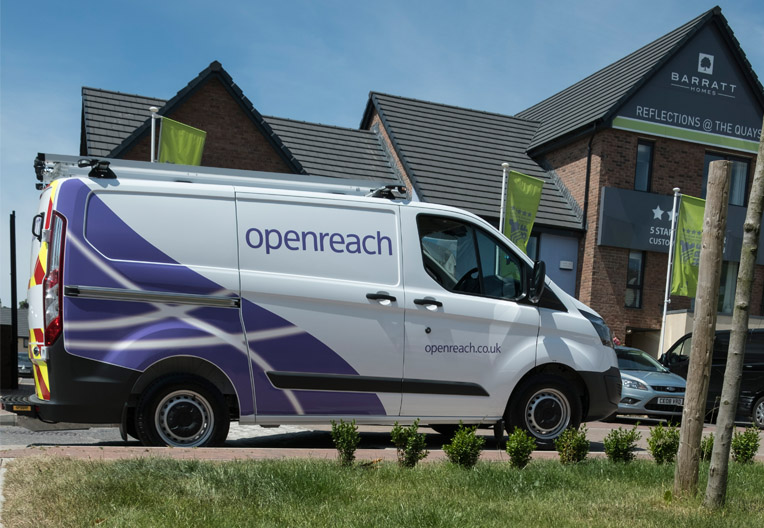 And it can't come quickly enough.
"It will make such a difference," says James. "At the moment I have two broadband accounts, just to cover myself because the connection is so unreliable".
Finally Rory adds: "The new full fibre infrastructure is going to take us from being among the slowest in the country to being in the top two per cent for speed. It's a game changer.
Businesses can work more efficiently online and residents will finally be able to use services reliably we have all come to expect – such as iPlayer to stream our TV. As well as modernising the infrastructure, the Openreach open access
network means we can choose our broadband package from a variety of competing suppliers. It's future-proofed the parish, largely at no cost to us – Brilliant!"
Our dedicated team at Openreach is focused on helping communities understand what we can do, as well as to support them to bring faster broadband to parts of the UK not already covered by existing rollout plans.