News

|

Rural

Home customer

Fibre Community Partnership

Case study

Development

FTTP

Business

Fibre
Superfast fibre puts Classlochie Farm on the map
The remote development is now an ultrafast hub thanks to a Fibre Community Partnership.
As a rural new-build development, Classlochie Farm by Loch Leven suffered from unfortunate timing. Only two properties existed when Digital Scotland – a project set up to help deliver the Scottish Government's aim to make Scotland a world class digital nation by 2020 – began planning for its Superfast Broadband programme. So when 12 new homes were built beside the two original properties, the new village found itself in the five per cent of Scotland with no solution planned or being explored.
But splendid isolation wasn't an option for residents and, with community lead Andrew Mitchell, they began to look into other ways to get connected.
Community leader searches for ways to connect the village
Andrew explains: "Depending on usage and weather, broadband speeds ranged from a slightly useable 1.5Mbps to, sometimes, a completely unusable 0.3Mbps."
"At the time, we had at least 5km of copper between us and our cabinet. And although a new fibre-enabled cabinet was just 900 metres away we were advised that it wasn't technically or financially feasible to connect us."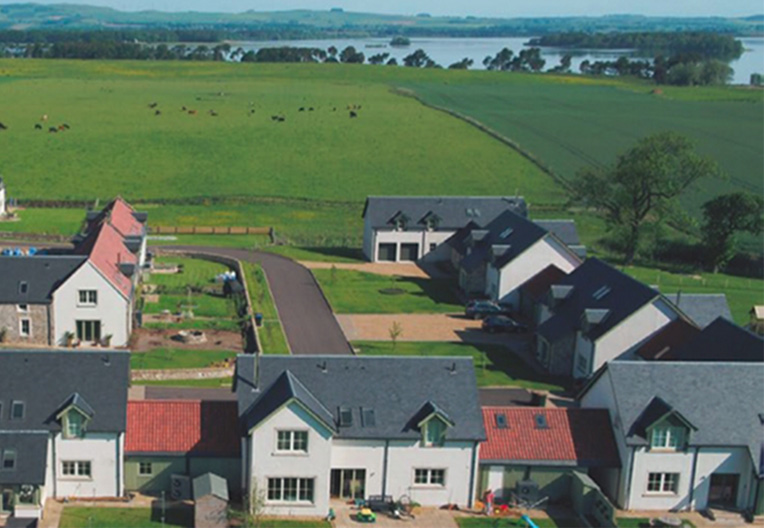 Undaunted, the residents looked into alternative solutions, including 4G mobile and leased lines. In his role as community leader, Andrew had to understand individual positions and effectively "sell" the proposition one-to-one and in group gatherings. He says: "Each resident had varying levels of interest and different motivations or no motivation at all. Even with just 14 properties, it was still very tricky to get a consensus."

In the end, a fibre community partnership (FCP) approach through Openreach provided the best outcome, with private connections in to each individual home and freedom to choose from a range of suppliers. There would also be no ongoing maintenance of a local network with the FCP being "fund and forget".
The benefits of faster fibre
With the new fibre network in place, everyone in Classlochie Farm has taken up a fibre connection – with half opting for ultrafast speeds of up to 330Mbps and half going for 76Mbps.
"Now we've been enjoying ultrafast broadband, it's clear there have been tangible benefits for every single stakeholder – from increased productivity and sales for businesses run from home to enjoying ultra-high definition video content. And it's had an impact on every family." Said Andrew.
"We're now able to work from home, when either we couldn't at all before, or not very effectively. This has so many positive tangible benefits, from reducing car journeys and carbon emissions to spending more precious time with the kids."
Extending the benefits beyond the village
Gigabit capability puts the small rural community of Classlochie in the fastest 2-3 per cent of premises in the UK. The partnership with Openreach has also led to a significant investment in wireless broadband for others in the area, and the very exciting prospect of a £300k investment in a 5G mobile testbed at Loch Leven.
Andrew says: "With support from the Perth & Kinross Council Rural Broadband Fund, Classlochie Digital CIC expanded the benefits of our Fibre Community Partnership beyond the 14 houses directly connected with FTTP, and are connecting other broadband not spots with fixed wireless solutions."
The point-to-multipoint solutions, means they can connect those within line-of-sight over 5 to 10 kilometres at superfast and ultrafast speeds.
On the back of this, a new Department of Culture, Media and Sport 5G testbed project is being planned for the area. The project will bring in key local stakeholders to the 5G consortium, including: Perth & Kinross Council, Historic Environment Scotland, Kinross Estate, Scottish Natural Heritage and the RSPB. They're aiming to create an ultrafast (>100Mbps) free visitor wi-fi experience and service across a wide Loch Leven tourism and recreation area.
So from being an isolated not-spot, Classlochie is now an ultrafast hub – extending the benefits of high speed connections to the surrounding areas.

Communities interested in partnering with Openreach
Wherever you are in the UK our fibre community partnership model can bring fibre broadband to homes and businesses by building a customised solution to meet your needs.
You can get upgraded to superfast or ultrafast speeds.