News

|

Gfast

FTTP

Fibre first
Openreach is extending the Gfast network, bringing ultrafast speeds to new locations
Fast, reliable broadband for more homes and businesses
Today we announced an extension to our Gfast ultrafast broadband footprint with a plan to make faster, more reliable broadband available to just over a million homes and businesses. The multimillion pound investment will not only boost local productivity and competitiveness but will also help to reinforce the UK's position as the leading digital economy in the G20.
What's Gfast?
The Gfast ultrafast speeds will allow you to download a two-hour HD film in just 90 seconds, a 45-minute HD TV show in just 16 seconds, or a nine-hour audio book in just three seconds.

Veeqo, an ecommerce company based in Swansea, is currently benefiting from Gfast. Watch their story.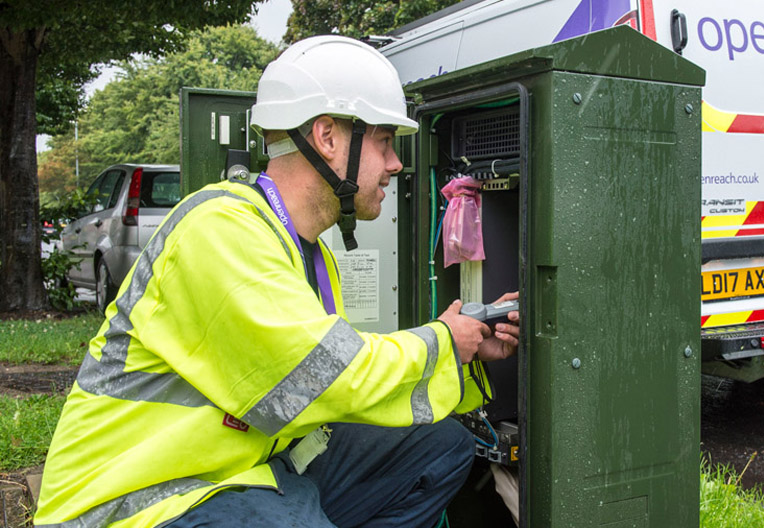 London, Leicester, Manchester, Worthing, Stoke and Blackpool are among the 81 locations which make up the next phase of our build programme over the next nine months. This means we're adding to the existing 250 locations where the ultrafast technology has already been deployed.
Kim Mears, MD for strategic infrastructure development, said: "Currently, the UK is a world leader in digital infrastructure and services, but as the digital revolution rushes forwards and the demand for data continues to grow, we need to sure we stay ahead of the curve. That's why we're investing in faster, more reliable network infrastructure."

"We need to be sure we stay ahead of the curve. That's why we're investing in faster, more reliable network infrastructure."
How does it work?
The new Gfast network builds on existing infrastructure and changes the way broadband signals are transmitted from existing street cabinets to boost speeds up to 330Mbps (seven times today's UK average), without the need to dig up roads and install new cabling. Find out more about Gfast technology in the animation below.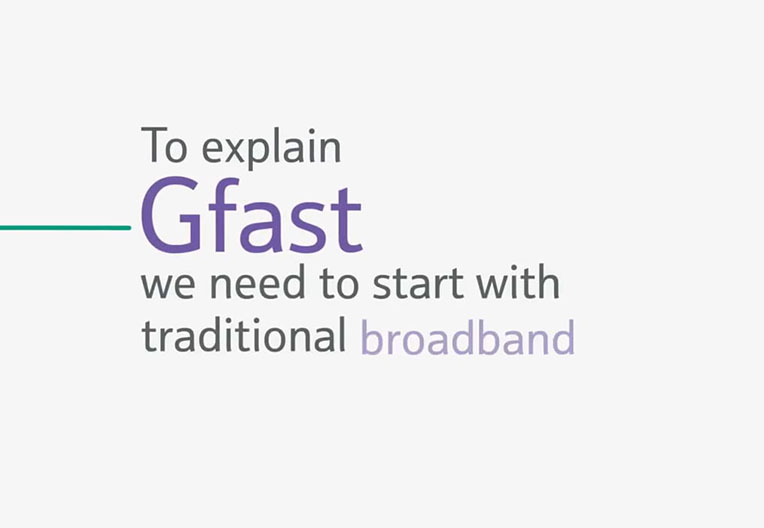 Ultrafast broadband speeds can be delivered using both Gfast and Fibre to the Premises (FTTP) technologies, and this latest announcement complements a wider investment programme in future-proof FTTP networks, which is on track to reach three million homes and businesses by the end of 2020.
We plan to reach a total of 5.7 million properties using Gfast, and want to extend our FTTP rollout to 10 million premises by the mid-2020s if the conditions are right to invest. Find out more about Openreach's ultrafast broadband work.

The full list of 81 new locations being announced by Openreach today are:
Acomb, Addiscombe, Aintree, Ascot, Bargoed (Cardiff), Barking, Barnsley, Beckenham, Beulah Hill (Croydon), Blackpool, Bootle, Bradford, Broadwell, Canonbury, Chingford, Colchester, Colindale, Dalton in Furness, Daubhill, Deal, Dover, Downloand (Croydon), Earley, Eastbourne, Eastleigh, Enfield, Faversham, Felixstowe, Feltham, Forest Hill, Godalming, Greenwich, Hamilton, Harlesden, Hatch End, Healing, Hendon, Hitchin, Hyde, Kemptown, Kentish Town, Kenton, Leicester Central, Leytonstone, Lincoln, Littlehampton, Llanrumney, Lords, Lower Holloway, Malden, Midland (Birmingham), Mill Hill, Moss Side, North Wembley, Northampton, Oldham, Pendleton, Plympton, Ponders End, Prescot, Primrose Hill, Purfleet, Rainham, Rock Ferry, Rushey Green, Stalybridge, Stamford, Stoke City, Sydenham (Croydon), Teddington, Tewkesbury, Tranent (South East Scotland), Upper Holloway, Urmston (South Manchester), Wallington, Waterloo, Wembley, West Kensington, West Wickham, Willesden, Worthing Central.