Join our civils teams
Help us build our network by becoming a civil engineer
As an Openreach civil engineer you'll be maintaining and building our network.

What you'll be doing
You'll be out on the road, visiting lots of different places and working in all kinds of locations. So one day you might find yourself in a quiet residential cul-de-sac. Then the next you could be on a busy road or operating trenching machines across a field. The type of work you'll be doing will be physical, involving small civil engineering work (so that's things like excavation, backfill, hot and cold-lay reinstatement, frame and cover renewal and traffic management set-up).

A team of people backing you up
You'll work within a team and always have people available for help at the end of the phone – from your manager and team mates, to other Openreach support teams.

Current roles
At the moment we're recruiting Civils Engineers and Civils Field Supervisors.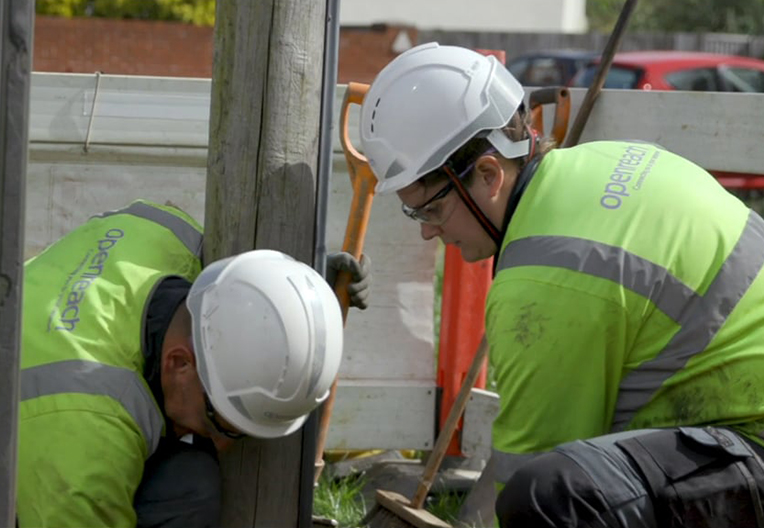 Find out what it's like to be a civil engineer from two of our engineers, Natasha and Dan.
Starting wage is £27,561. Team leaders earn £30,730 while civil gang supervisors get £38,629.
Free and discounted products and services including free broadband, BT TV and BT Sport.
Professional training, with tools, clothing and vehicle provided.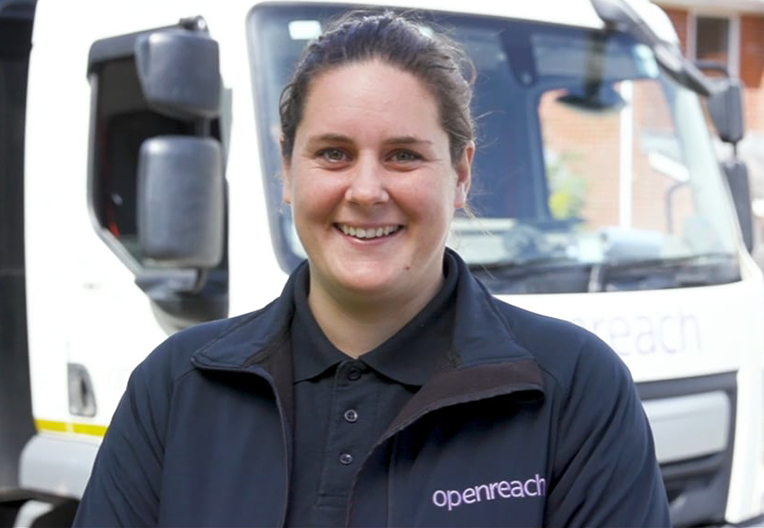 Natasha has found joining Openreach very rewarding and enjoys the variety her job offers.
What makes a great civil engineer?
Openreach engineers come from diverse backgrounds, with varied experience. And whether it's glorious sunshine or bracing British weather, they're out helping us build our network. So we want people who are willing to get stuck in, have the ability to connect with others, and who are happy working outdoors in a physically demanding role.


The qualities we're looking for
If you're the type of person who always sees a job through and takes pride in doing it properly, are prepared to get your hands dirty, able to manage your time and your workload, then we want you to apply.
You'll also need to be open to new technology. Don't worry, we'll always be there to support you – but you need to be comfortable using smart devices and ready to learn as new tools become available.
All we ask is that you're physically fit, are committed to delivering great service and have a full driving licence with no more than six points. If you can drive a vehicle of up to 7.5 tonnes (so you have a C1 + E type licence), that's even better. We don't ask for any formal qualifications.

Your working hours
Our engineers work 37.5 hours a week. That's usually four or five days a week between Monday and Sunday. And once you've got some experience under your belt, there should be opportunities for overtime.

Your salary
Our civil engineers' basic pay is £24,146 a year, plus an annual allowance of £1,000 and 10 per cent on-target bonus. This adds up to annual on-target earnings of £27,561. Team leaders get £27,027 a year, plus the same allowance and bonus, adding up to annual on-target earnings of £30,730.
For supervisors of whole teams, the starting salary is £34,208, plus an annual allowance of £1,000 and 10 per cent on-target bonus. This adds up to annual on-target earnings of £38,629.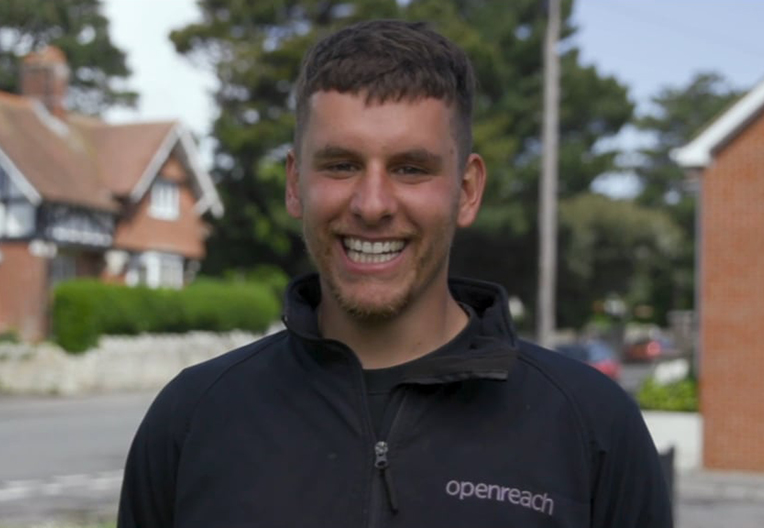 Daniel used to be a carpet fitter but wanted to try something new. He now works as a civil engineer for Openreach.
Other roles at Openreach
See our trainee engineer roles

Wondering if you've got what it takes to train as an Openreach engineer? Find out what we're looking for, how to apply and the salary you can expect.

Learn more

»

Graduate roles

Just finished university? The Openreach graduate programme could be the start of a great career. Find out what people have to say about it, and how to apply.

Learn more

»

See our area management roles

Are you looking for a challenging new position in area management? Find out what we're looking for, the benefits of working for Openreach and how to apply.

Learn more

»
Related articles
28 Feb 2020

Over the last few years we've put a lot of effort into improving our business. We've upped our investment in skills, training facilities and hiring, all to make sure that we can build the best possible network, with the highest quality service, to everyone across the UK.

03 Dec 2019

Societies' needs are changing dramatically and so too is the broadband infrastructure on which future generations will depend.

31 Jul 2019

We're building at a massive scale. Every 30 seconds we pass a home or business with our new future-proofed full fibre network.