Carrying out
major works?
We can help by moving or
removing Openreach equipment
If you're a local authority, highway authority or utility company
There might be times when you come across our equipment or network during your work. It's important that you know how to work with this safely and without damaging it. We can help you by moving or removing it.

If you want us to move our network
If you need our network moved to make way for your project, we can help with:
roadworks – new highways or alterations to existing road infrastructure
bridge works – replacing bridge decks, waterproofing or completely removing or replacing structures
public transport infrastructure – adding to and improving tram, railway and cycle routes
town centre regeneration – new shopping centre projects or regenerating existing sites.
How to contact us
Please fill in this form to tell us more and get a quote.
If you want us to remove our network
First of all, tell us about the work you'll be doing. We'll work out what we need to do with our network and agree the best approach with you. This might involve removing our network kit from public or private land, then reinstalling it after your finish your project.
We can help with removing:

ducting
cables
poles
underground boxes including manholes
overhead wires
cabinets.
How to contact us
Please fill in this form to tell us more and get a quote.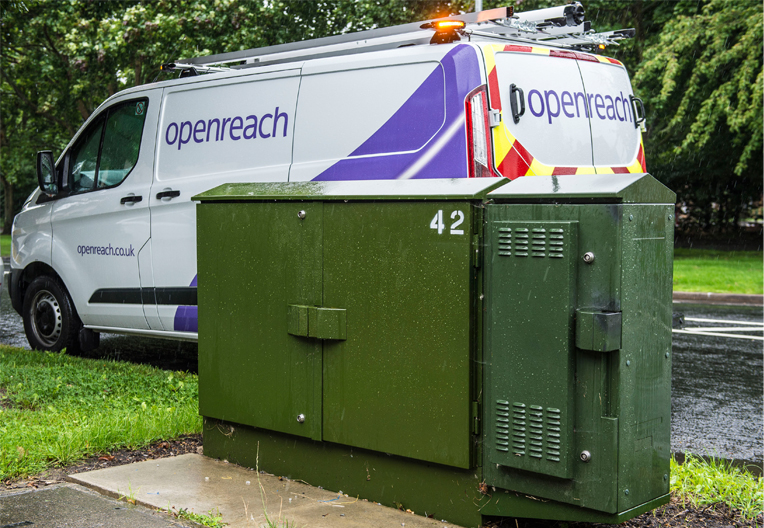 Get help with our equipment
How to ask us to move or remove our kit
Everything you need to talk to us about it, and details on what will happen next.
Working with Openreach kit
Openreach manages the phone and broadband network in the UK. This includes any equipment which takes a service from a local exchange to a property. So that's things like poles, cabinets, drop-wires, brackets or bold fixings, lead-in cables, cleats and master sockets.
If you're working on the outside walls of a building (for example with double glazing, roofing, external wall insulation, satellite dishes, extensions and so on) you might come into contact with our equipment – lines, eyebolts, etc. We understand this could get in the way of your work, so you might need us to move or remove it.
How it works

Get in touch with us before starting this type of work. We'll:
survey the property to check which equipment is there
give you a quote for any work we need to do, like temporarily moving drop wires.
How to contact us
Please fill in this form to tell us more and get a quote.
Useful links and handbooks