Full Fibre broadband could help cut your carbon footprint – here's how
Full Fibre broadband could prove to be a powerful weapon in the fight against climate change.
Growing emissions of carbon dioxide from human activities are driving up temperatures which will impact on all of us. Slashing global CO2 emissions in line with internationally agreed targets will need transformational changes in almost every aspect of our lives. And it turns out that even the type of broadband you use could help to cut your carbon footprint.
So, do we add to the carbon footprint when we surf the internet? Unfortunately, yes. Every web search, email sent or received and every post on Facebook means the consumption of electricity and, therefore, the emission of greenhouse gases.
"Full Fibre is not just faster, more reliable and future-proof, it can also help you be more energy efficient"
When you're typing, your computer is using electricity. When you press send your email goes through the network, using more electricity. And then it ends up being stored somewhere in the 'cloud' – basically giant datacentres which can consume considerable amounts of power. Just 20 emails a day, per user over one year, creates the same CO2 emissions as a car travelling 1,000km. [Source: Energuide]
A study commissioned by energy company OVO reckons Brits send more than 64 million unnecessary emails every day, and that if every adult in the UK sent one fewer "thank you" emails a day we would save more than 16,433 tonnes of carbon a year – equivalent to 81,152 flights to Madrid or taking 3,334 diesel cars off the road. [Source: OVO]
But it's not just what we do on the internet that can affect the environment – it's how we connect to it as well.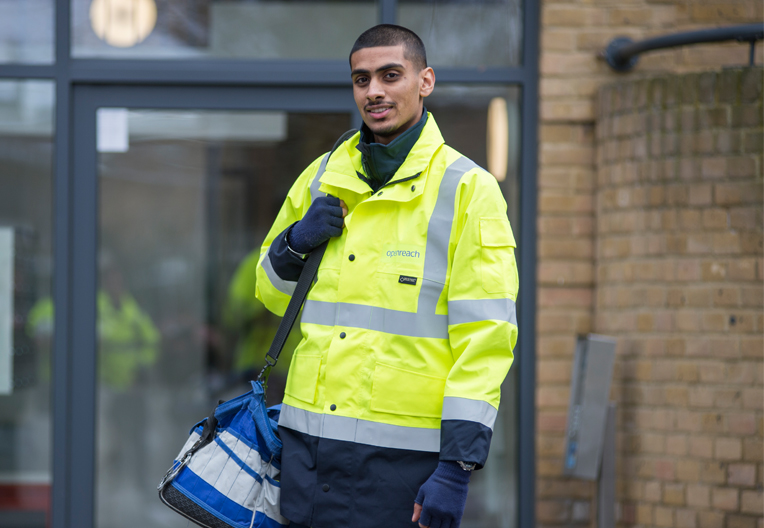 Openreach is on a mission to connect up the country with the latest Full Fibre broadband because we believe it will transform the way people live and work and, in doing so, create a more connected, productive and competitive economy.
Full Fibre is not just faster, more reliable and future-proof; it offers environmental benefits too.
Experts at the Centre for Economics and Business Research (Cebr) took a closer look at the impact of a fully fibred nation. Their special report found that a faster and more reliable Full Fibre connection can give people the same levels of access to everything they can do online in an office, remotely from home. The research suggests that by enabling more people to work from home, a Full Fibre nation could save 300 million commuting trips each year – with three billion fewer kilometres travelled by car. That's a saving of more than 360,000 tonnes of CO2 emissions.
A study by Telework Research Network suggests that if half the UK workforce worked from home just twice each week it would reduce UK transportation emissions by 4%, equivalent to taking 2.5 million cars off the road.[1]

Although cloud computing can sometimes require considerable amounts of power being used to back up data and keep systems cool, this isn't always the case. For instance, some datacentres are built underground in caves to keep temperatures low. Cloud computing can also be a positive force. Full Fibre means data can be backed up securely and archived off-site so not relying on costly, ageing servers taking up expensive office space – which can use vast amounts of electricity for just heating and lighting alone.
Research by the Carbon Disclosure Project found that, by moving to cloud based networks, large companies in the UK and France could cut CO2 emissions in half by 2020, delivering annual energy savings of £1.2 billion in the UK alone.[2]
But that's not all. The all-round better connectivity that Full Fibre brings can enable a vast array of other carbon busting services and applications. For example, doctors can treat patients remotely using video links and monitoring. A study in Sweden found that by replacing physical visits with tele-medicine appointments, a 40–70 times reduction in carbon emissions was achieved.[3]
The fact is that the carbon footprint of IT is huge and growing. But we can still make a difference through small changes – and one of those could be switching your broadband over to Full Fibre. So, instead of watching that kitten video, why not visit our fibre checker and see if you can make that change today?
Richard Brophy
Head of Corporate Responsibility

[1] 'The Shifting Nature of Work in the UK - Bottom Line Benefits of Telework', Telework Research Network (2011)
[2] 'Cloud computing can cut carbon emissions by half, report finds', The Guardian, 7 November 2011
[3] 'Carbon Footprint of Telemedicine Solutions - Unexplored Opportunity for Reducing Carbon Emissions in the Health Sector', Holmner et al., PLOS One, 4 September 2014
Related Articles
News
Fibre
Fibre first
Broadband

11 Nov 2019

Experts at the Centre for Economics and Business Research have studied the link between Full Fibre connectivity and the nation's future prosperity.

Analyst
Opinion
Kim Mears
Government

20 Aug 2018

Openreach is pleased to see a new Government report highlighting the economic impact and value of superfast broadband. Our video shows our work in Wales.