News

|

Charity

Mike McTighe
Openreach supporting our armed forces
Engineer Megan Krajicek shares her military memories
Over the last four years, Openreach's Transition Force programme has supported over 1,500 armed forces people and veterans from all ranks, including those wounded, injured and sick, in their transition from military life into civilian employment.
Helping people back to civilian life
Its mission is to give everybody who leaves the armed forces the advice and help they need to succeed. It provides career workshops and matches them to buddy volunteers who share their experience of transition and give advice and guidance.
"When leaving the military I wanted to look for a career that was sustainable and ever growing … and what better way than to work for a company like Openreach."
Openreach also has 192 active reservists (75 per cent of BT Group's total) and 68 are members of 81 Signal Squadron which is a specialist army reserve sub-unit that provides fixed telecommunications infrastructure and expertise for the UK's armed forces. In recent years, this has included the Falkland Islands, Cyprus and Gibraltar, as well as operational tours to Kosovo, Iraq and Afghanistan.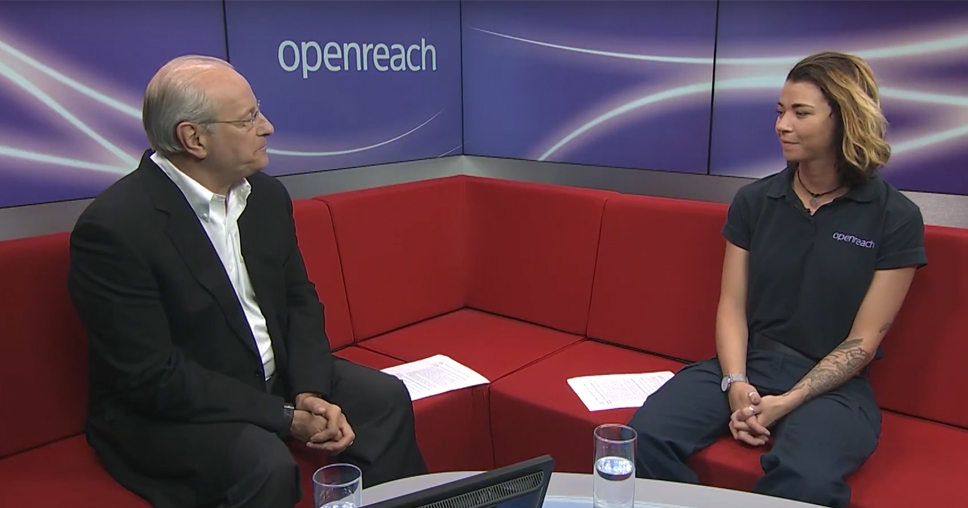 Our chairman, Mike McTighe, speaks with ex-services and Openreach engineer Megan Krajicek about her move from serving in the Army to becoming an Openreach engineer.