Joining the Openreach family
Hannah's trainee engineer story – part 2
What to expect when you apply
After my initial application I was invited to do a situational strengths test. This was mainly about putting things in order of what you thought was best to do for a customer.
The next thing I had to do was a video interview. I did this on my iPhone. Questions came up on the screen and I answered them while doing a selfie style pose and keeping my head in the oval shape.
Then I attended an assessment centre in Leeds on Tuesday 23 January. It consisted of a practical skills test, interview, and English and maths assessments.
The only part I was nervous about was the practical test as I wasn't sure what to expect, but I found that everything was explained really well. It's strange but I felt totally at ease and enjoyed the skills test so much.
Being selected for an interview
I don't tend to get nervous at interviews but for some reason I was so nervous in my second interview. I met Chris who took me to the interview room. He also had someone with him while he was interviewing. Chris was the senior operations manager for the area that I was applying for.
You know that feeling when you're so nervous you don't have any idea what you just said when you get out of an interview? That was me! I could only remember talking a lot.
I honestly thought I'd blown it.
But to my joy, I was offered a position and the support I've received since has been amazing. It honestly feels amazing to be part of. Like an Openreach family.
"The first week is a blur as you do so much and learn loads of new things."
Week 1
I've just completed my first week as an Openreach engineer.
It was really hard leaving my little girl for a week, but it was harder for me than it was for her. I'm so lucky to have my husband and his support. He did an amazing job.
The first week is a blur as you do so much and learn loads of new things. My highlight? Definitely the driving with Graham from Business Driver. He really helped me with driving a van. I also picked up a few tips for when I'm driving my own car too.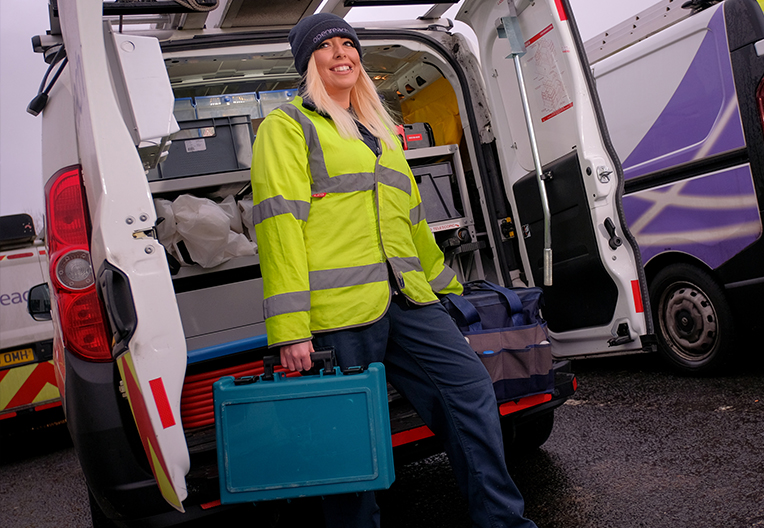 The theory part of the driving with Peter was also really informative and it all made complete sense. It taught you how sensible you need to be when driving and how much you need to concentrate.
I met some amazing people in Yarnfield that I won't forget. Des who looked after us all week was such a character and a lovely guy. The guys in the kitting office were amazing – nothing was too much trouble. Carol from the kitting office even escorted us to the nearest petrol station.
I'm so excited for week two and to continue sharing my journey and feelings along the way.
Hannah Hargreaves, Trainee Engineer, Openreach