News

|

Community

Education
Exclusive lesson for engineering-mad schoolboy Cameron Francis
Encouraging the next generation of Openreach engineers
Nine-year-old Cameron Francis from Glasgow had his wish come true this week when we visited his school to give him and his classmates an exclusive lesson in engineering.
An engineer in the making
Cameron, who is autistic and has been diagnosed with ADHD, wrote to us with pictures of himself in a hard hat asking if he could visit his local telephone exchange, signing off his letter as Cameron Francis, Openreach engineer.
Cameron wrote: "I see engineers in my street and I tell them things that I know about Openreach. They always say, 'You know more than I do!'. My dad Paul is an engineer and so is my uncle Kevin. I would really love it if I could visit an exchange."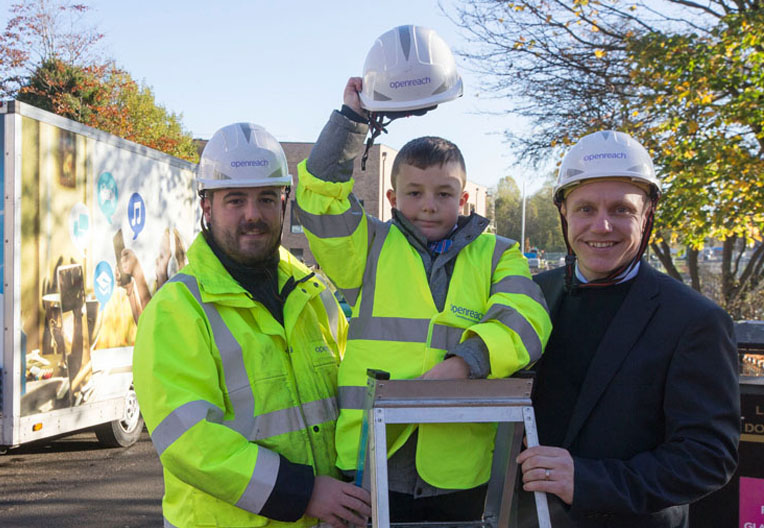 A visit from Openreach
Fraser Rowberry, service delivery director for Openreach in Scotland, wrote back to Cameron after receiving his request: "It's always a pleasure to hear from our budding engineers of the future and it sounds like you'll make a great engineer one day! We'd love to visit your school and tell you and your classmates a bit more about the work we do to keep Scotland connected."
"It was a great opportunity for the class to find out about the engineering work that goes on behind the scenes to connect up communities to fibre broadband and other network services."
After hearing about Cameron's wish, the Digital Scotland team agreed to send their fibre showcase – a portable classroom equipped with all the kit that keeps Scotland digitally connected – to Blairdardie Primary School so that all 30 pupils in his class could learn more about engineering.
The primary school's deputy head teacher Mark Young explained how: "Cameron is obsessed with engineering. All his play is about connecting up the network and he's even been training up his classmates.