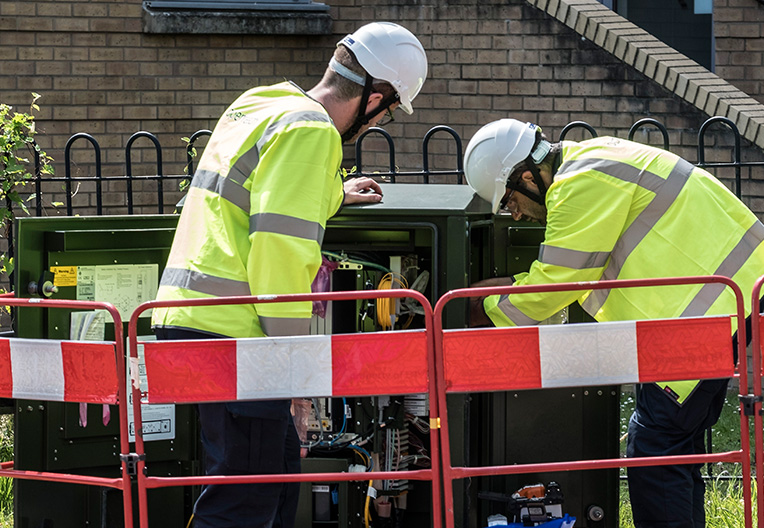 Covid-19 - putting safety first
The health and safety of our employees, partners and the public is our number one priority. To adhere to Government advice on social distancing we've implemented additional safety measures and working practises for our field-based teams.
How to identify and tell us about damaged Openreach apparatus

We want to make sure our street equipment isn't damaged. Not only is that the right thing to do, it's also the law.
As a highway authority you can help us by letting us know if you see anything that isn't right. And if you're not sure if something belongs to us, you can check in this guide.
How to tell us about apparatus in need of repair
Urgent issues
All two hour defective apparatus issues (DAs) must be reported via our dedicated telephone number which can be found in the briefing our Openreach Streetworks Consultant has shared with you. This number is dedicated solely to Highways Authorities reporting new two hour DAs and we need your help to ensure it's only used for this purpose.
Non-urgent issues
Any non-urgent defective apparatus issues should be reported via the noticing systems listed below:
Scotland Aurora
England Street Manager (or EToN until Street Manager has been implemented)
Wales EToN (Electronic Transfer of Notifications)
It will really help if you can provide photos, precise location details - for example a postcode or 12-digit grid reference and it's important that you also add your contact details in the 'comments' section.

Progress updates and escalations

We've also set up a dedicated Highways Authorities e-mail address which you can use to contact us for updates on any existing defective apparatus issues including updates and escalations. The email address can be found in the briefing our Openreach Streetworks Consultant has shared with you.