Community Fibre Partnerships
Partner with Openreach to get faster broadband to your community
Connecting communities to fast fibre broadband
We're working hard to improve our network to get faster fibre broadband to as many people in the UK as we can. But there are some areas which we don't currently plan to upgrade, or areas we've upgraded to fibre where people want to have an even faster internet connection. We know this can be frustrating. But there is another solution – a Community Fibre Partnership.

What's a Community Fibre Partnership?
We work with your local community to build a customised fibre solution to bring fibre broadband to homes and businesses.
We put a joint funding arrangement in place, which means we contribute some of the costs and your community funds the rest. We'll then build the most affordable solution we can to meet your needs. We'll also advise on any grants you might be able to get to help pay for your part e.g. from local authorities or the Government.
If your area already has fibre broadband, you can also use a Community Fibre Partnership to upgrade to even faster speeds.

Want to know more?
Enter your landline or postcode into our fibre checker. If the results indicate you're not part of current fibre plans - or if you have fibre but want to upgrade to ultrafast - and would like to explore a co-funded fibre option with us, register your interest and we'll be in touch.
Communities signed partnership deals with us in 2019/20. 1330 in total so far
Homes and businesses can get fibre broadband thanks to their Community Fibre Partnerships
Communities using Government Gigabit vouchers worth £8.3m to bring fibre to more than 14,500 homes and businesses
Step by step – how to set up a Community Fibre Partnership
Enter your landline number or postcode into our fibre checker to see if you can get fibre, or if we're planning to bring it to your area soon. If the fibre checker says 'we're not quite there yet' that means that we don't have plans to upgrade your area yet. So a Community Fibre Partnership could be a good alternative.

If you're in an area that's already getting fibre broadband (through Fibre to the Cabinet or FTTC) rather than direct to your premises (through Fibre to the Premises or FTTP), you could apply for a Community Fibre Partnership to upgrade this.



Register to let us know you're interested in a Community Fibre Partnership (don't worry, you aren't committing to anything at this stage). We'll then email you a reference number, and details of what will happen next.

Around 24 hours later we'll send you a second email with a link to a website. You can use this to fill in details of the addresses, postcodes and landline numbers of other local people who are interested in setting up the Partnership.


This is when you'll need to start drumming up support in your area. Talk to your neighbours and local businesses about the benefits of fibre broadband. Our 'reaching out to your local community' leaflet provides some advice on how to do this. Or we can get involved directly – just let us know.


At this point we'll give you a ballpark cost to bring fibre to your area. We'll cover some of the costs, so the price in the quote will be what we call 'the gap' i.e. the amount your community will need to pay.

You'll now need to share this with your community. You might also want to talk to other local people or businesses about helping with funding (if you haven't done that already).

You might also be able to get Government funding, including the Rural Gigabit Scheme. This scheme offers vouchers towards the cost of your build of up to £1,500 for residents and £3,500 for businesses.

At this stage, we'll need you to tell us if you want to go ahead, or if you've decided not to take things further (there's still no obligation to do anything though).


We'll give you the firm costs (although these might change once we've done a survey). We'll also confirm exactly which addresses will be covered by the upgrade.

We'll then create and send you a full proposal showing the solution we're proposing.

Now it's time to get the community together to raise the money (we can help you with fundraising ideas).

You'll need to pay 50 per cent of the costs when you sign the contract. Then you'll pay the rest of the balance when we finish the installation. This is usually around a year after you've signed.

Once you've signed the contract it's over to our Openreach engineers to build the infrastructure. Obviously this won't happen overnight – but we'll keep you updated along the way.

As soon as everything's in place, you and the other members of your community will be able to choose a broadband provider and get connected to fibre.
Register for a Community Fibre Partnership
Community Fibre Partnerships

No fibre broadband available in your area? A Community Fibre Partnership could help – you and Openreach jointly fund the upgrade to super or ultrafast broadband.

Community Fibre Partnerships

Find out what grants you could get to help your Community Fibre Partnership to fund the upgrade to faster fibre broadband.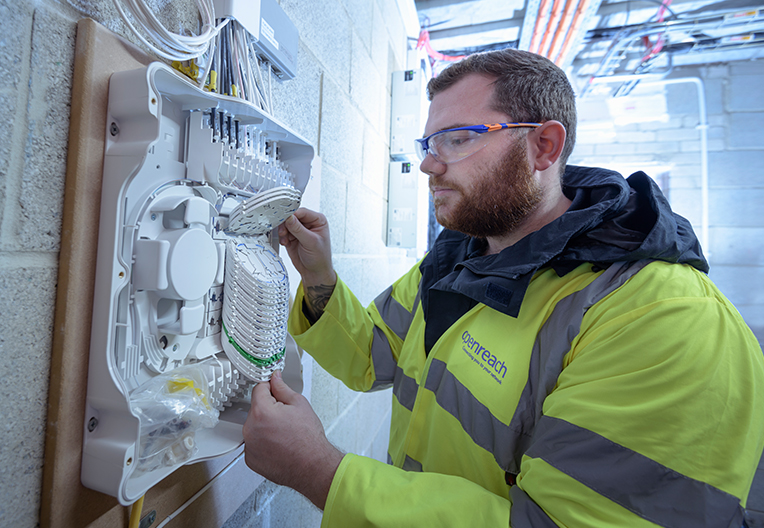 Are you missing out by not having fibre direct to your business?
A faster connection means you can do and sell more.
Community Fibre Partnerships are typically for areas which can't get fibre broadband at the moment, aren't included in our plans to expand the fibre network, or are too far away from a fibre cabinet to get faster speeds. Or they might already have fibre broadband but want to increase the speed, for example by moving to Fibre to the Premises (FTTP).

We partner with a local community to put a joint funding agreement in place to upgrade them to fibre broadband – so we cover some of the costs and the community clubs together to fund the rest. We'll then build the most affordable solution we can, and advise on any grants available to help.

If you decide to work with us, we'll connect you to the national fibre network. This has lots of benefits:

more choice and better value: our network is open to all broadband providers. So you have a huge choice of companies to get your internet service from. And you can shop around to make sure you get the best deal
technology to meet your needs: choose from faster speeds with Fibre to the Cabinet (FTTC), speeds of up to 330Mbps with Gfast or up to 1Gbps with Fibre to the Premises (FTTP)
sustainability: we regularly maintain and improve our fibre network as part of our long-term plans for fibre broadband in the UK.

Fibre to the Cabinet (FTTC) is an optical fibre from the exchange to the green cabinet in your street and then copper from the cabinet into your home providing download speeds of up to 80Mbps. Final speeds are dependent on each property's distance from the fibre cabinet but you can typically expect a minimum of 24Mbps at a range of approx. 1,200 metres from the cabinet. The nearer the property is to the cabinet, the greater the speed.

Gfast lets us get amazingly high speeds from the same copper pipe that was originally used for voice calls. To put it in perspective, in terms of speed, voice uses about 64kbits, while Gfast offers 330Mbps. With those speeds you could have a 4K TV running in every room of your house simultaneously.

Fibre to the Premises (FTTP) is an optical fibre that goes all the way from the exchange into your home or business. It offers speeds of up to 330Mbps. It's sometimes referred to as 'Full Fibre' because the fibre runs from the telephone exchange all the way to the interior of the property.

Gfast and FTTP complement each other. There are some locations where FTTP is the obvious choice, like new-build houses, flats and rural locations, whereas Gfast lets you get a quick footprint of higher speed broadband, as it lets us reuse the copper cable.

Everything we can dream of now, and more... For example you could pick a film just before leaving the house, hit download, and it would be ready to watch on your phone or tablet almost immediately.

Video on demand – Stream ultra-high definition or 4K TV, or catch-up services instantly
Virtual storage – Store photos, documents, music and videos online – in the cloud
HD video calling – Chat with colleagues, friends and family around the world
Gaming – Enjoy and share the latest live immersive experiences
Working from home – Work as effectively as you would in the office
Expand your business – Have a competitive advantage in connecting, serving, collaborating and competing online.

Use our fibre checker to see if you're in an FTTP area. If you are, you'll need to contact a communications provider – some of whom are now offering Ultrafast broadband – to upgrade as it won't happen automatically.


If you're not in a rollout area for FTTP, we can help with a Community Fibre Partnership. And if you own a small or medium sized business, grants of £2,500 are available toward the cost of getting full fibre with us from the Government.

Yes, Openreach provides access to its network to all broadband providers, on an equal basis. This means that wherever we deploy fibre, a whole range of different providers can offer broadband, bringing plenty of choice to consumers and local businesses.

Once you sign the agreement, it'll take around 12 months for us to put your fibre infrastructure in place. Exactly how long will depend on how complicated it is, but we always aim to take no longer than a year.


The exact amount will depend on how much work we need to do, and what type of fibre you want i.e. whether you'd like a full fibre solution all the way up to each property with Fibre to the Premises (FTTP) or if you've asked for a new cabinet with Fibre to the Cabinet (FTTC).

We'll give you an estimate of your costs as early on as we can so you can decide if you'd like to go ahead. You'll only be asked to cover costs above those of our commercial model. When you agree to proceed we'll ask you to pay 50 per cent of your costs when you sign the contract before we start work, and the final 50 per cent when we finish. There are also various grants and voucher schemes available which could help cover your costs.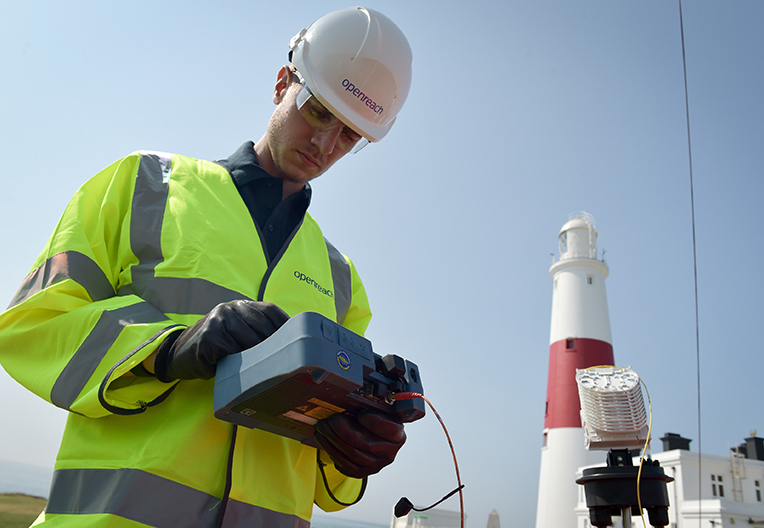 Rollout technologies – see how it's built
Find out what it takes for Openreach to bring fibre broadband to a new area.
Case studies
News
Community Fibre Partnerships

08 Jul 2019

The total number of homes and businesses who have chosen to upgrade their broadband under our co-funding scheme has reached 100,000.

News
Community Fibre Partnerships

13 Mar 2018

People living and working in two Staffordshire communities are looking forward to getting some of the fastest broadband speeds in the country, thanks to an innovative scheme to ensure the county's smallest communities don't miss out on the latest technology.

News
Community Fibre Partnerships

12 Jan 2018

Openreach's Community Fibre Partnerships scheme to deliver the latest Fibre-to-the-Premise (FTTP) technology in Cuckfield.