Interested in becoming an engineer?
Find your passion by training for a career in engineering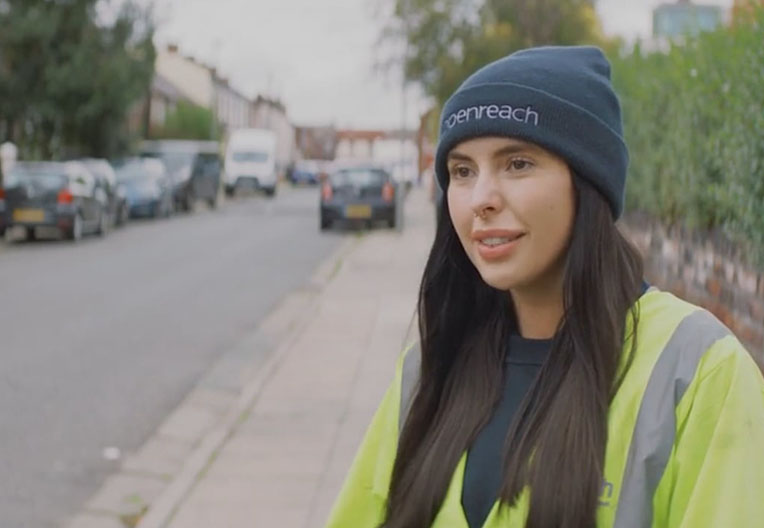 Meet Elle, one of our trainee engineers
Elle says joining Openreach has given her truly life-changing opportunities to learn new things and grow professionally.
We'll equip you with all the skills you need, and professional IT and telecoms qualifications.
You could earn more than £28,000 as a fully qualified engineer.
Including pension, sharesave options, maternity leave, and discounted broadband, BT TV, BT Sports and mobile discounts.
Could you help us create the networks that bring people together?
Keeping families in touch, making sure businesses continue working, helping kids learn and play. It's all in a day's work for our network engineers.
Become a qualified network engineer
Here's an idea of the kind of person we're looking for. If any of this sounds like you, we'd love to hear from you:
● I'm comfortable talking to people at their home or at work.
● I'm great at multitasking and managing my time.
● I get things done, and people know they can rely on me.
● I love that feeling of sorting something out for someone.
● I want to work in a role that keeps me interested. I like finding out how things work and learning how to fix them if they're broken.
● I'm comfortable using smart devices, and I'm always happy to learn about new systems and tools to help me do my job better.
● I'd like a mix of working indoors and outdoors – I don't want to be stuck behind a desk all day and I'm not afraid of heights.
● I'd love a job that keeps me fit and active, and I don't mind if it sometimes involves getting a bit dirty.
What does a network engineer's day look like?
You might start your day in a customer's home reconnecting them to the world. Then you're off to fix a network problem at a local business. Next, you could be unscrambling the innards of a street cabinet on a village high street or bringing new smart technology to vulnerable households to help them stay in touch.
Each day will be different. You'll solve different problems for different customers, in different places, and you'll get to know your patch really well. There is a true sense of community in what we do, so people who connect easily with others and take care to do the best job possible are our perfect match.
Job satisfaction
Working together with your team, you'll be a lifeline for millions of customers and the emergency services too.
Openreach as an employer are proud to be committed to offering equal opportunities and welcome applications from all ethnicities and varied levels of work experience, including those who have worked in the retail and services sectors.
What skills do you need to have?
No qualifications or previous experience are needed to apply. You'll get all the training you need from us, with a manager and specialists at the end of the phone to support you throughout. Not to mention the colleagues you'll be working alongside who'll quickly become friends and even a second family.
Both men and women, from all walks of life, work in this role and we're extremely open-minded about experience. We're really looking for people who feel they might have the skills and attitudes above so, even if you're a little uncertain, we'd love to hear from you and help you find out more.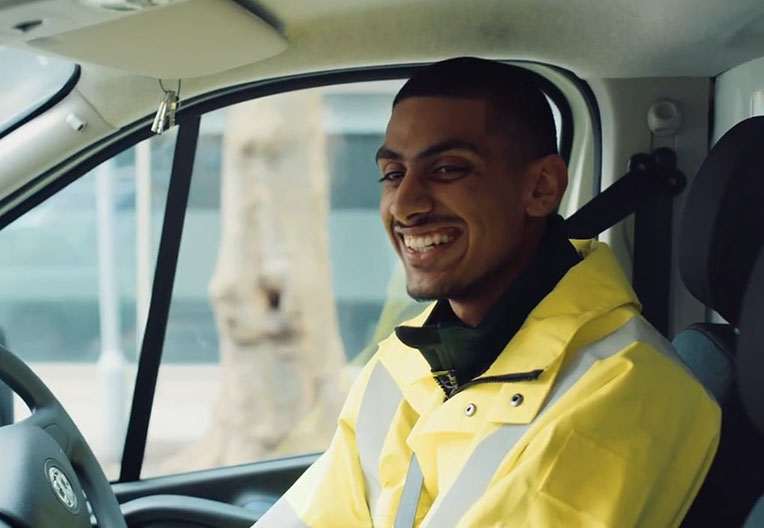 After Openreach fixed his broadband, Arrondeep was inspired to train with us as an engineer
Your working hours
Our engineers work 37.5 hours a week. That's usually four or five days a week between Monday and Saturday. And once you've got some experience under your belt, there should be opportunities for overtime.
A great salary and benefits
The starting salary for one of our trainee engineers is £21,845. If you're based in London or the Scottish Islands you'll also get these extra allowances:
for London: an extra £3,380 a year (if you're in inner London) or £1,670 (for outer London)
for working offshore on the outer Scottish Islands: £1,431.
After you've been with us a year you can earn over £28,000 including a bonus for meeting your targets. Plus the opportunity to develop your career with higher earning potential.
As part of the Openreach team you'll get 22 days' holiday (with bank holidays on top), a generous pension contribution, sharesave option, maternity leave and lots of discounted products and services (like broadband, BT TV and BT Sport).
Related articles
28 Feb 2020

Over the last few years we've put a lot of effort into improving our business. We've upped our investment in skills, training facilities and hiring, all to make sure that we can build the best possible network, with the highest quality service, to everyone across the UK.

25 Nov 2019

Ex-RAF high flyer, Cheryl Burgess, who now works on Full Fibre broadband delivery, shares her story and career advice as part of our blog series for #BalanceforBetter - the International Women's Day campaign.

09 May 2019

We now intend to reach an extra one million premises within our original timeframe, meaning four million homes and businesses will have access to a full fibre to the premises (FTTP) service over our network by the end of March 2021.