Interested in becoming an engineer?
Find your passion by training for a career in engineering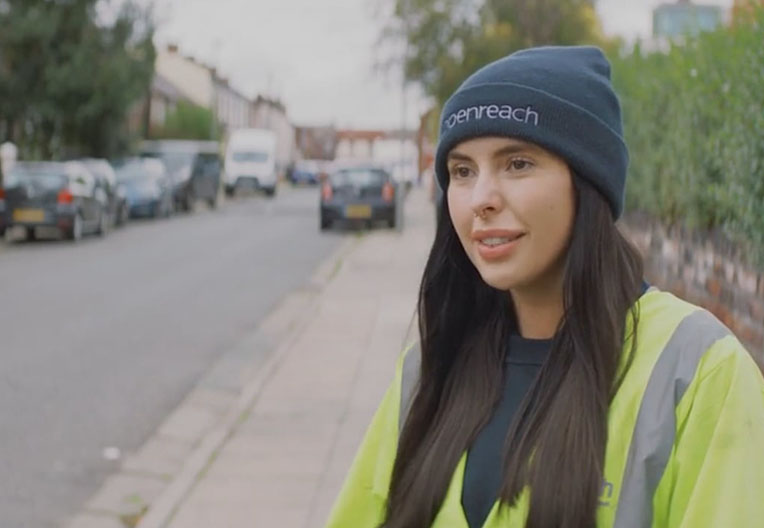 Meet Elle, one of our trainee engineers
Elle says joining Openreach has given her truly life-changing opportunities to learn new things and grow professionally.
We'll equip you with all the skills you need, and professional IT and telecoms qualifications.
A great salary and benefits
You could earn £27,933 as a fully qualified engineer.
Solving problems and giving customers new services can be a real confidence boost.
Search for jobs in your area
Thank you for your interest in one of our trainee engineer roles. Please check back later to apply. Enter your postcode below to check if we have any other vacancies in your area.
What do engineers do?
Our engineers are the backbone of our business. They're responsible for building our network. They also install and maintain broadband for residential or commercial customers on behalf of various phone and broadband providers.

Every day is different
This isn't an office job. So you'll never be tied to one location. Instead you'll be on the road, in your van and out in the fresh air. On Monday you might find yourself out in the countryside working up a telegraph pole. On Wednesday you could be working in one of our telephone exchanges. Then on Friday you might be at a customer's home getting them connected to faster broadband.

What we're looking for
Our engineers come from all walks of life. So if you have the ability to connect with people, and you like getting stuck in and fixing problems, an engineering career could be a great fit for you.
Don't be put off because you haven't done anything like this before. We have world-class training which will give you all the skills you'll need.
All we ask is that you're physically fit, have a full driving licence (with no more than six points), and that you're willing to go the extra mile for the customer. You don't need any formal qualifications, but you must have a basic level of maths and English – we'll check this during the application process, and give you a colour vision test.

A team of people backing you up
Although you'll be doing some of your work alone (like repairing street cabinets), this is a customer-focused role. You'll often be interacting with people and getting together with your team. And there will always be someone available at the end of the phone – like your manager and team mates, and other Openreach teams who are there to help.

Your working hours
Our engineers work 37.5 hours a week. That's usually four or five days a week between Monday and Saturday. And once you've got some experience under your belt, there should be opportunities for overtime.
How to apply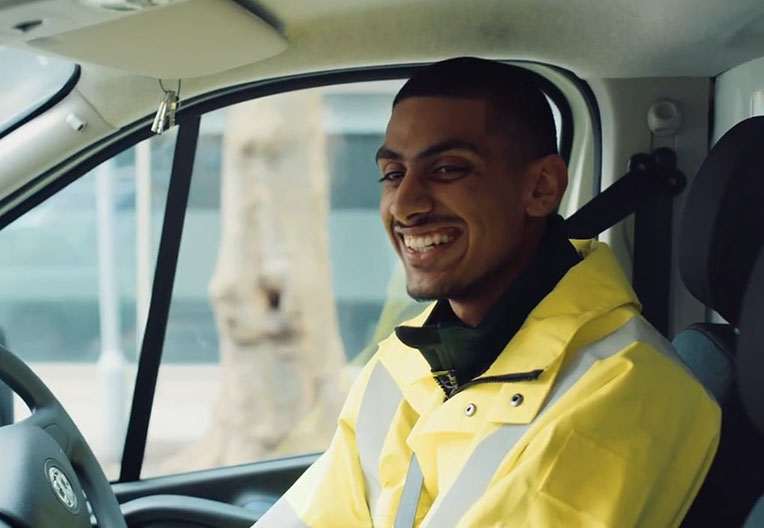 After Openreach fixed his broadband, Arrondeep was inspired to train with us as an engineer
The starting salary for one of our engineers is £21,523. If you're based in London or the Scottish Islands you'll also get these extra allowances:
for London: an extra £3,380 a year (if you're in inner London) or £1,670 (for outer London)
for working offshore on the outer Scottish Islands: £1,431.

After you've been with us a year
The basic salary goes up to £25,394 (plus the allowances mentioned above). You'll also get a 10 per cent bonus for meeting your targets.

On top of your salary
As part of the Openreach team you'll get 22 days' holiday (with bank holidays on top), a pension plan, and lots of free and discounted products and services (like free broadband, BT TV and BT Sport).
Other roles at Openreach
Graduate roles

Just finished university? The Openreach graduate programme could be the start of a great career. Find out what people have to say about it, and how to apply.

Read more

»

See our area management roles

Are you looking for a challenging new position in area management? Find out what we're looking for, the benefits of working for Openreach and how to apply.

Read more

»

See our civil engineer roles

Are you a civil engineer looking for your next challenge? A job at Openreach could be a great fit. Find out what we're looking for, and how to apply.

Read more

»
Related articles
05 Nov 2019

We're pleased to support the This is Engineering campaign, led by the Royal Academy of Engineering, to encourage more young people from all backgrounds to consider engineering careers.

07 Mar 2019

We've unveiled a £485,000 investment in a national fibre training school for Scotland to educate the country's next generation of digital engineers bringing vital broadband services to communities across Scotland.

28 Jan 2019

Openreach is hiring 3,000 new trainee engineers – our biggest recruitment effort ever. They'll help us keep driving the UK's digital revolution.