Our people are behind everything we do
Openreach Limited runs the UK's digital network. We're the people who connect homes, schools, hospitals, libraries, businesses - large and small, broadcasters and governments to the world. It's our mission to build the best possible network with the highest quality of service, and make sure that everyone in the UK can be connected. We're a wholly owned subsidiary of BT Group and our customers are the 650+ communications providers who sell phone, broadband and Ethernet services to homes and businesses.
Openreach is made up of four divisions – service delivery, fibre and network delivery, strategic infrastructure development, and headquarters.
Our 35,000 people are hugely experienced, resourceful and innovative. They tackle complicated engineering problems – from coordinating works with councils, highways agencies, energy suppliers and landowners, to installing and maintaining the complex kit that provides fibre broadband services. They go the extra mile and take on any challenge to build a better, faster and more affordable network that helps our customers stay connected.

More about Openreach's four divisions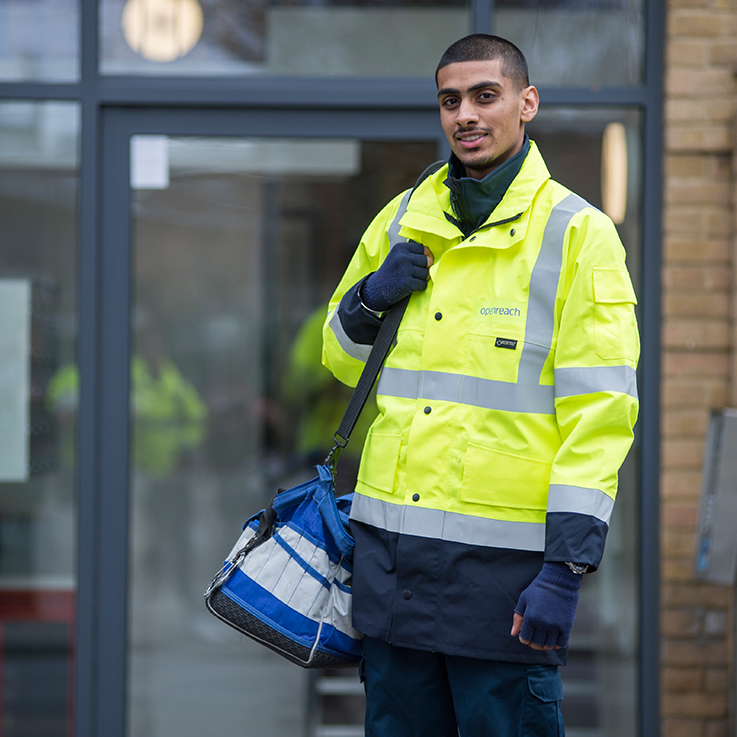 Service delivery
This team looks after our network. You've probably seen them working at the side of the road or at the top of telephone poles.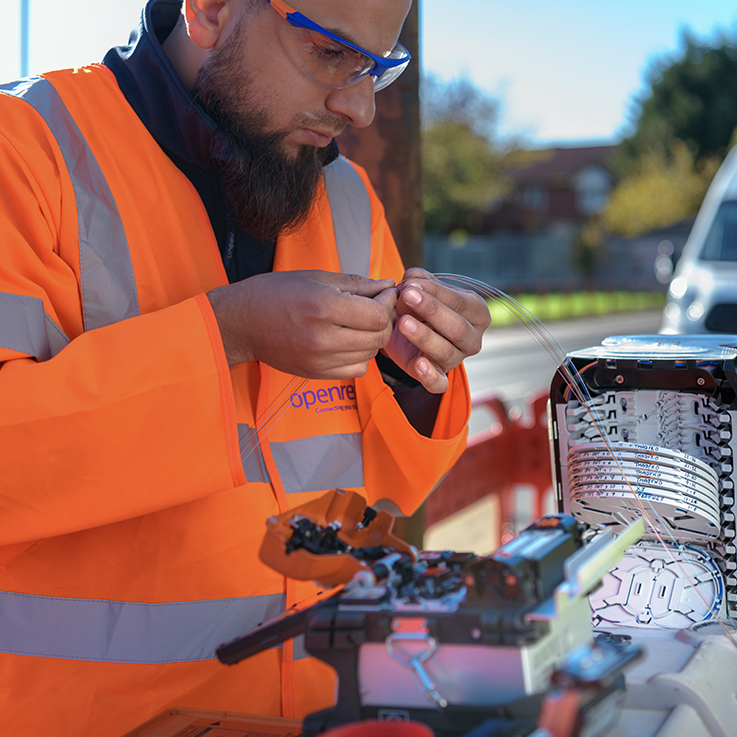 Fibre and network delivery
This team builds our fibre network across the UK. They're everywhere, in whatever environment.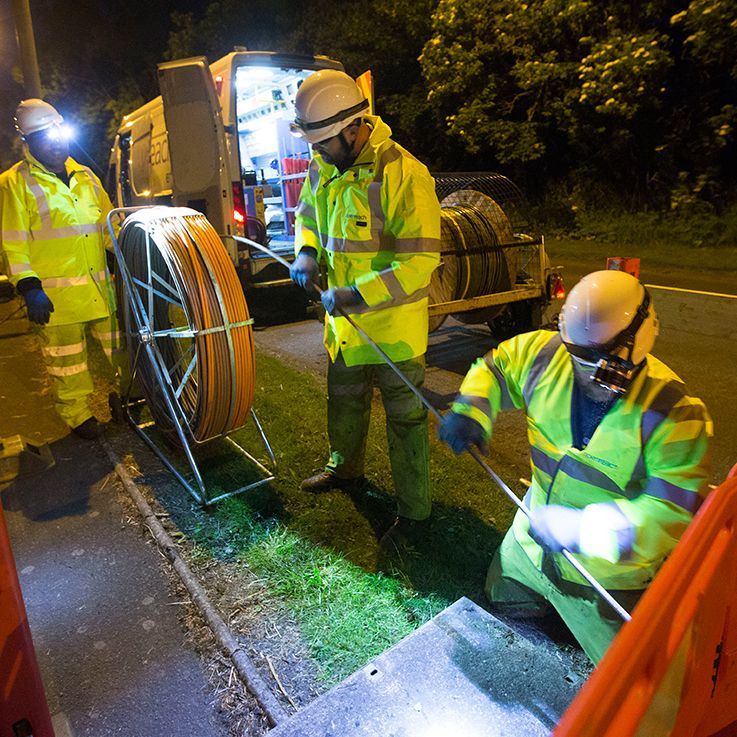 Strategic infrastructure development
This team drives strategic programmes and develops new business.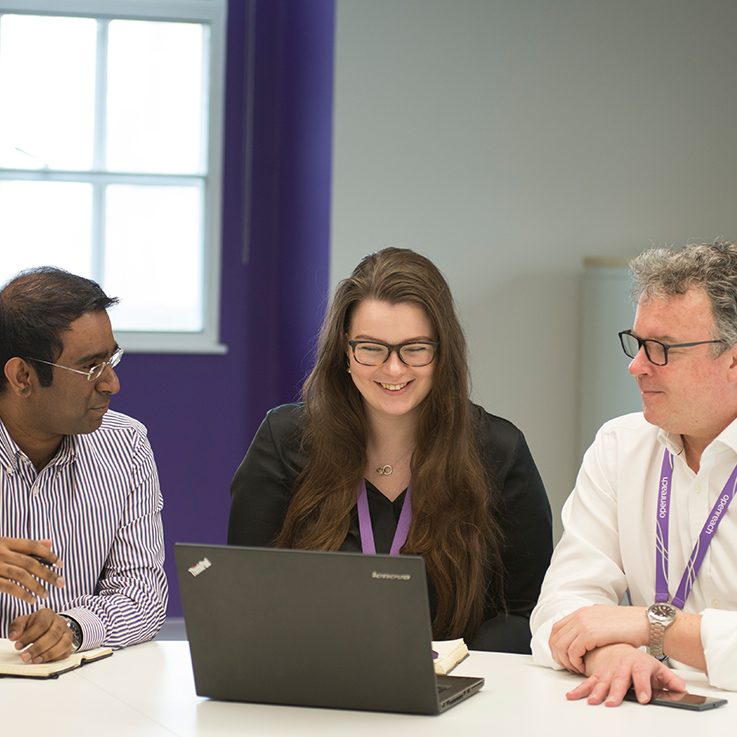 Headquarters
The division that manages the day-to-day running of Openreach.
Find out more about our executive team – who they are, where they came from and what they do for us.
Our board is responsible for setting our strategy and overseeing our performance. The majority of the members are independent. Find out who's who.
Openreach is a wholly owned subsidiary of BT. But we're independently governed. Find out more about what that means.
About Openreach and communications providers
Openreach Limited is a wholly owned subsidiary of BT Group. We look after the copper wires and fibre cables that connect homes and businesses to phone and broadband. Our customers are the 650+ communications providers who sell phone and broadband services to these households and businesses. So when one of our engineers comes to your address to install or repair something, they're working on behalf of the company that supplies your phone or broadband.

Our people
We employ more than 35,091 people who install, support and maintain the wiring, fibres and connections which link tens of millions of homes and businesses in the UK to our customers' networks.

Our network
Our network is the largest in the UK. And we're constantly developing, building and maintaining it to give you the service and speeds you need to run your daily life. We want to make sure that everyone, everywhere in Britain, can be connected, and we do that by building the best possible network to serve them.

We were created in 2006 to maintain and develop the phone and broadband network, and to sell products and services to communications providers (we sell all of them the same things at the same prices, whoever they are). This was part of a legally binding list of undertakings BT gave Ofcom, our regulator, in September 2005.

Becoming independent
In 2017, Ofcom published the Digital Communications Review. The aim of the review was to make sure digital communications markets continued to work for consumers and businesses. As a result of this, BT gave Ofcom a list of voluntary commitments, which included making Openreach a distinct company with its own staff, management, purpose and strategy.

Openreach Limited was then incorporated as a wholly owned subsidiary of BT plc. This means we're independently governed, and has helped us become a more autonomous and customer-focused business.

Communications providers (also called service providers) are the organisations that sell phone, broadband, data and TV services to homes and businesses.

We're a wholly owned subsidiary of BT Group and a legally separate business. This came about as part of an agreement with Ofcom after its Digital Communications Review in 2017. Although we trade on behalf of BT plc, we have our own distinct brand and we're independently governed.

As part of an agreement with Ofcom under its 2017 Digital Communications Review, we're a wholly owned subsidiary of BT Group and a legally separate business. This means we're updating our branding and by accelerating the vehicle rebrand we're targeting completing this by April 2020, nearly a year ahead of our commitment to Ofcom.

If one of our engineers is coming to your home or business for any reason, they'll call or text you first to check you're in, get some details about your address (like where to park), and tell you roughly when they'll get to you. Our engineers use lots of different types of vans, so don't worry if it doesn't say "Openreach" on the side. They all carry an Openreach identity badge though, which they should show you straightaway – if they don't, make sure you ask to see it. If they don't have a badge, don't let them in.

We won't ever ask you for your bank details. So if someone who says they're from Openreach asks for financial details, don't give them any information.
Our company details
Openreach is a wholly owned subsidiary of British Telecommunications plc. BT's registered office is 81 Newgate Street, London EC1A 7AJ, registered in England and Wales No. 1800000.