News

|

FTTP

Fibre for developers
Installing full fibre networks for Scottish housing developments
Installing full fibre networks for Scottish housing developments
Housing developments in Orkney, Shetland and the Western Isles will be among the best connected in Scotland, with access to reliable ultrafast broadband.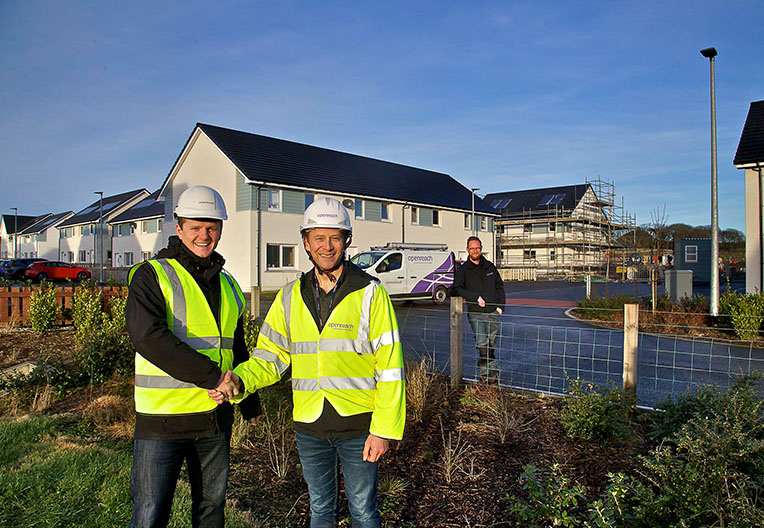 Getting new developments ready for the future

We've worked with local developers to build full fibre networks direct to dozens of new homes in Gott on Shetland, Kirkwall on Orkney, Stornoway on the Isle of Lewis and Bowmore on Islay, as well as Lochgilphead and Oban on the Argyll and Bute mainland.
Engineers have installed around 5,900 metres of new core fibre cabling to reach the sites – enough to stretch across the Skye Bridge a dozen times. The new full fibre networks – installed by us at no cost to the developers – build on the core fibre infrastructure put in place by the Digital Scotland Superfast Broadband project, led in the area by Highlands and Islands Enterprise.
"We're on a mission to bring decent broadband to everyone in Scotland"
Bringing broadband to everyone

Andrew Hepburn, Openreach's fibre delivery director for Scotland, said: "FTTP [Fibre to the Premises] provides an unbeatable service for residential broadband, with lots of capacity for data-hungry services and applications, and it's also great for businesses, giving them all the bandwidth they need to max their online operations and future growth. We're on a mission to bring decent broadband to everyone in Scotland."
Openreach has been working closely with several local developers to make sure the future-proof, ultrafast infrastructure goes in with the bricks to enable smooth network delivery.
Stephen Kemp, managing director of Orkney Builders Limited, said: "In Orkney, we've generally become used to obtaining access to high-speed connectivity only once it's been available elsewhere in the country for some time. High-speed broadband is a major consideration for home buyers, so it's been great to work with Openreach to make sure people moving into our new properties here in Orkney are right at the forefront of the next generation of connectivity."
Get your development on the list
Openreach installs FTTP free of charge to all new housing developments of 30 or more homes and, from the start of November, we've reduced the cost in smaller housing sites of between two and 29 properties by more than three quarters. Developers can register their new sites here.