News

|

FTTP

News

Fibre first

Government
The Government's Future Telecoms Infrastructure Review
We're heartened by the Government's new plan to encourage investment in faster, more reliable 'Full Fibre' broadband infrastructure.
As more and more devices, appliances and services go online, we want to make sure every British home and business can do whatever they want, whenever they want online. And all at the same time. So it's good to see the Government working to promote competition, to tackle red tape and to bust the barriers to investment in our sector.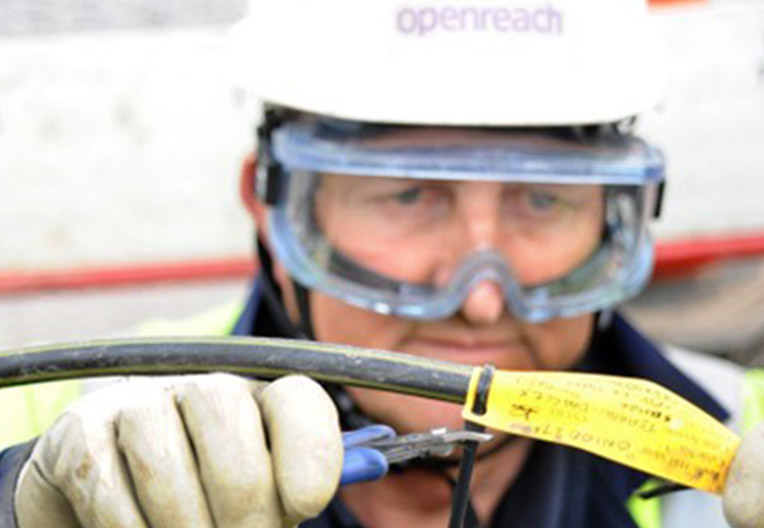 We're ambitious when it comes to Full Fibre broadband

We want to make it available to 10 million homes and businesses and – given we already work on behalf of 600 retail communications providers using our network – we want to be at the heart of enabling competition over Fibre to the Premises (FTTP) technology.
We'd like to go even further but, as the Government acknowledges, the economics of building digital infrastructure are a real challenge. For everyone. Building a future-proofed network and predicting future demand in the long term presents an inherent risk.
Thankfully, the Government has today identified plenty of areas where it can help.
"We're heartened by the Government's new plan to encourage investment in faster, more reliable 'Full Fibre' broadband infrastructure."
We believe no one should be left behind
For a start we want to make sure that digital inequality is a thing of the past. Nobody should be left behind because of where they live, so public investment for full fibre in rural areas is a very welcome move.
Meanwhile, reforms that tailor regulation to local market conditions sound promising. And, by mandating Full Fibre for all new build properties and giving operators a "right to enter" flats, business parks and offices – the Government will be helping builders like Openreach to upgrade our networks faster, smarter and at a better price.
Offering support to switch off our copper network is also helpful. Everyone agrees that running the old and new network side by side would be daft and we'll be working closely with Ofcom to make sure consumers and business are protected in the process. But there's still plenty more that can be done.
How we'll overcome the challenges
One of the biggest drags on investment in digital infrastructure is the current business rates system. It effectively penalises full fibre build across the entire industry, so we're keen to continue working with Government and the industry to achieve some progressive reforms to that regime.
We're also working on ways to encourage higher adoption of our existing superfast and ultrafast services. We've built a Fibre to the Cabinet network that reaches nearly 28 million homes and businesses nationwide, but so far less than 10 million of those have actually upgraded to use it.
Clearly stronger take-up for the platforms we've already built would give us more confidence that consumers and businesses really want the faster, more reliable services we're building.
Ultimately though, we're determined to be the country's dependable full fibre partner. Whether it's supporting the Government, the industry, our wholesale customers or millions of consumers and businesses across the UK – we believe in a full fibre future, and we're working flat-out to build on Britain's position as a global digital leader.