Katie – MD for customer, commercial and propositions – speaks at Channel Live
Openreach MD shares progress at telco industry event
Today I spoke to hundreds of Openreach customers and industry executives at the Channel Live event.
It's a huge gathering for the telco industry and one that we haven't been hugely visible at in the past – but I didn't want to go back over old ground.
I wanted to highlight where we've made real progress, to address the areas where we've got more work to do, in partnership, as an industry.
I hope it was a sign of how Openreach is a very different business to what it was, even 12 months ago.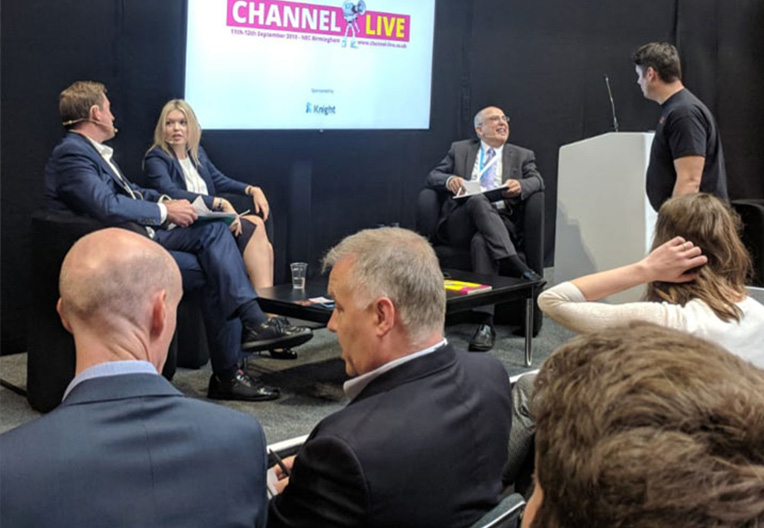 We're really focussed on delivering great outcomes for our customers, their customers and the UK as a whole. So I made three points:
Firstly, that we're hugely ambitious.
We're investing heavily – ahead of demand – to innovate and to future-proof our network, and we're making great progress already, using our scale and expertise. And we're learning every day.
Secondly, that we believe full fibre can be the backbone of Britain's social and economic success for decades to come.
We need to work collectively as an industry to achieve that, and we also need to encourage more of our customers to upgrade and experience the benefits of superfast and ultrafast speeds and eventually gigabit speeds – but we can do it.
And finally, that Openreach is a dependable partner for anyone who wants to collaborate with us.
Whether it's to buy from us, or use our ducts and poles to build their own full fibre networks – we really do need to pull together as an industry to make the government's target for nationwide coverage by 2033 a reality and to ensure that the UK has a prosperous digital future.
When it comes to our ambition, we've already built our full-fibre network to well over 600,000 properties, mainly in rural areas. And now we're building across nine fibre cities.
Eventually we'll be building in more than 40 towns, cities and boroughs and our target – announced in February – is to reach three million front doors by the end of 2020.
But we don't want to stop there. We're on track to build to 10 million premises by the mid-2020s, and ultimately we want to reach the majority of the UK.
Nobody is more ambitious than Openreach on this.
Breaking through the investment barriers
There's been a decent start when it comes to busting the common investment barriers faced by industry, and everyone knows that network builders could go faster if there was less red-tape around street works and access to buildings. But it's also critical that we encourage take-up.
There's no point having a "build it and they will come" attitude. It doesn't work.
"We're investing heavily – ahead of demand – to innovate and to future-proof our network, and we're making great progress already, using our scale and expertise."
There are more than 17 million homes and businesses across the UK that can order a better broadband service over our network today, but they haven't upgraded yet.
So we need to educate our customers about the benefits – the reliability and security; the ability to work from home like you're in the office; to access every entertainment platform going; to manage smart home devices and e-health applications – you name it.
Discounts to encourage customers to upgrade
And we've been playing our part, by offering long-term reductions on our wholesale fibre products which we hope will incentivise our customers to upgrade their customers onto the faster, and more reliable services we've built.
So far, we've been really encouraged by the reaction to that offer. It's a great example of the new, independent Openreach in action, and we believe it's this kind of industry togetherness that's going to be needed to deliver on the Government's ultimate ambition.
We've also been working incredibly hard to improve access to our ducts and poles so that our customers can fulfil their own ambitions when it comes to building Full Fibre networks. That's really important to us, as is the health of the entire industry.
Embracing and enabling competition
Openreach was established to enable competition. It's the reason we exist, and probably the reason why many businesses in this room exist too.
And we welcome competition and open conversations, because that delivers innovation, high-quality services, lower prices and more choice to people.
Everyone in the industry knows that Full Fibre to the premises is a technology that's about more than just speed. It's about providing a consistent, dependable, reliable service to customers that will ensure a prosperous future for us all.
That's why today I wanted to emphasise that the same is true of Openreach.
As we seek to be the national FTTP provider, we'll be helping others to build their networks, and helping our customers and their customers to take advantage of the better network we're building.
That way we'll all reap the benefits as individuals, as businesses and as a country.
Katie Milligan – MD for customer, commercial and propositions