Are you a landlord?
Upgrade your broadband for happier tenants and a popular property
Future-proof, consistent and dependable broadband for your buildings
Attract and retain more tenants by bringing gigabit capable broadband straight to their doors
Are you a building owner, landlord or managing agent? Full Fibre broadband could help you get – and keep – more tenants, meaning better returns on your investment. If your property is in an area we're bringing Full Fibre to, we can include your building in our rollout free of charge. This will enable your residents to enjoy ultrafast broadband.
Get full fibre for your apartments. Use the form below to tell us what you need and we'll be in touch within five working days.
Find out about the benefits of Full Fibre for you and your tenants.
Why a pure fibre connection with Openreach?
Let us bring Full Fibre broadband into your apartment building to get speeds of up to 1Gbps
No 'lock-in' to one supplier
Our network is open, so your tenants can choose who they buy an ultrafast service from
Add value to your property
Having a Full Fibre connection can add value to your property and help you attract and retain tenants.
FTTP Fibre First Towns, Cities and Boroughs Build Programme
The above maps show Openreach's FTTP Fibre First Towns, Cities and Boroughs Build Programme on a 3 months forward looking basis, which is related to the current announced 4 million premises Fibre First Programme. It does not show FTTP deployment related to BDUK, new sites, and other small scale infill. For more information on plans for Town, Cities and Boroughs up to March 2021 please click here.
Openreach has exercised its best efforts to ensure that the maps accurately reflect its relevant FTTP build plans at the time of publication. Details at an exchange level are shown only where Openreach expects that it will build in the greater majority of the relevant exchange. Openreach will keep this information updated on a quarterly rolling basis, including to reflect any possible changes to existing plans which may become necessary due to unforeseen operational obstacles (particularly where build is yet to commence).
*Programme Build Complete refers to the exchanges where build has been completed as part of the FTTP Fibre First Towns, Cities and Boroughs Build Programme, but does not mean that services will be available from this date.
Read more about our "transparency" approach.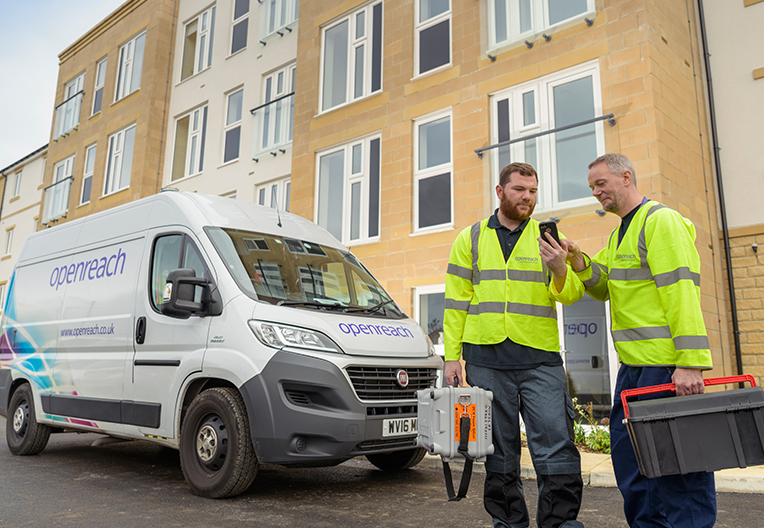 Trident Group upgrades to Full Fibre
Find out why Trident Group chose Openreach to provide Full Fibre broadband for their tenants.
Full Fibre broadband: what you need to know
See how you and your tenants could benefit from Full Fibre broadband delivered straight to your building.

Our step-by-step guide explains how to apply for a Full Fibre connection to your building and what to expect when we install it.
Get Full Fibre for your apartments
Use this form to tell us what you need. We'll get in touch within five working days.