Driving the UK's
digital revolution
Connecting you to the world
We run the UK's digital network. We're the people who connect homes, mobile phone masts, schools, shops, banks, hospitals, libraries, broadcasters, governments and businesses – large and small – to the world.
It's our mission to build the best possible network with the highest quality of service, and make sure that everyone in the UK can be connected.

About us
Openreach is part of the BT Group, but also a legally separate business. Find out what that means, as well as information about our four divisions.

Find out more

»

Openreach Limited is a wholly-owned subsidiary of British Telecommunications plc but is independently governed. Meet our board and exec team and see how we're run.

Find out more

»

Openreach was created in 2006 to maintain and build the phone and broadband networks that connect UK homes and businesses to the world. Read about our history right up to the present day.

Find out more

»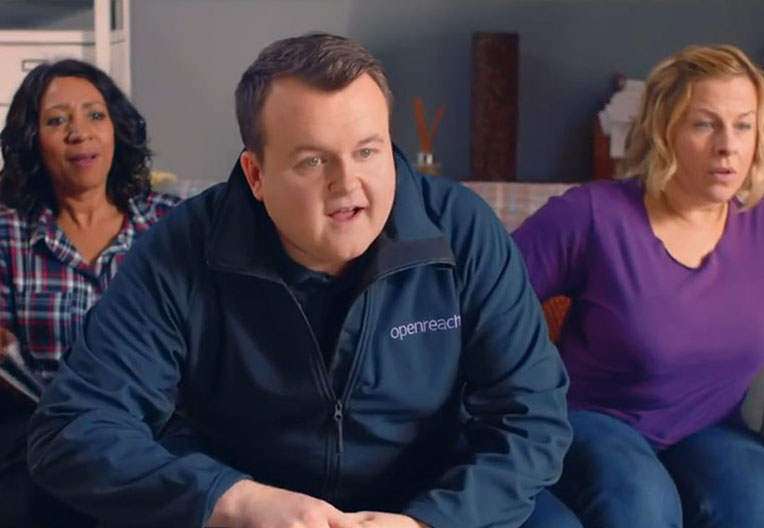 Our engineers build and maintain the network that makes your phone, TV and internet work.
Our performance
Our performance

Openreach's performance is measured against Ofcom's quality of service standards. We publish the results every three months. Read our reports to see how we're doing.

Find out more

»

Connecting with communities

We're proud of our people and the communities we work in. Read about Openreach's commitment to volunteering, fundraising and sustainability.

Find out more

»
Recognising our Performance
27.6m
The number of homes and businesses that get broadband speeds of more than 30Mbps, thanks to our fibre network.
£13bn
The amount we've invested in our network over the last decade – giving people the service and broadband speeds they need at work and at home.
173m km
The length of cable we manage – from Scotland to Cornwall, and Wales to the east coast.
Our people
07 Mar 2019

We've unveiled a £485,000 investment in a national fibre training school for Scotland to educate the country's next generation of digital engineers bringing vital broadband services to communities across Scotland.

04 Mar 2019

Hear from Chris Jones, CEO City & Guilds, on the value of apprenticeships

28 Jan 2019

Openreach is hiring 3,000 new trainee engineers – our biggest recruitment effort ever. They'll help us keep driving the UK's digital revolution.