News

|

Ultrafast

Community Fibre Partnerships
New superfast connection gives Eshott residents the best of both worlds
When it comes to the perfect place to live, it used to be 'location, location, location' now it's 'connection, connection, connection'
And thanks to a great effort by the local community, Northumberland village Eshott has the best of both worlds – an idyllic country setting coupled with superfast fibre broadband. But that wasn't always the case.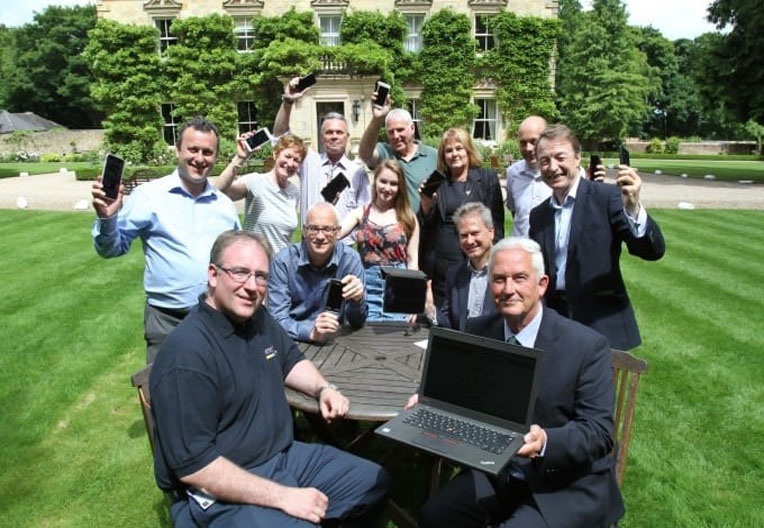 Eshott resident, Andy Godward, who led the campaign for better broadband, said: "It used to be so frustrating. We had broadband at dial-up speeds and had to take it in turns to get online."
In fact, with a growing family and business to run, Andy regularly drove to the nearest town just to get a connection. Unfortunately, the village's isolated location made upgrading the local network a real challenge – and there were several false starts before things fell into place.
"There were a number of red herrings," explains Andy. "Eshott was dropped from the fibre rollout plans and, because there was no fibre line near the village, we had to look at all sorts of alternatives."
These included trials of satellite broadband and bouncing microwave beams from relay stations. But nothing could provide the level of performance needed. It seemed that fibre might never make its way to Eshott until Andy stumbled on a potential solution right on his doorstep. And the community decided to take things into their own hands.
"A local resident had been talking about building a server farm and, in preparation, had a fibre cable laid. So we knew it might be possible to tap into this. The foundation was there – we just had to take the principle and see if it would work for all of us."
"Life-changing sounds a bit over the top, but it really has transformed how we live and work at home." Andy Godward
With a fibre infrastructure tantalisingly close to the village, the residents approached Openreach, BT Group's infrastructure arm, which sent engineers to survey the area and see if a community funded approach was viable. After a period of surveying and planning, Openreach agreed to build new fibre optic cabling and Fibre-to-the-Cabinet (FTTC) technology to the village under a joint funding arrangement. The upgrade gives more than 40 homes and businesses access to broadband speeds up to 50 times faster than previously available.
"We were in a lucky position of having a company in place to manage the village's shared services, and a sinking fund that they could tap into, after the idea was overwhelmingly backed by local residents."
"Life-changing sounds a bit over the top, but it really has transformed how we live and work at home."
Green for go
From getting the green light by Openreach and putting down the deposit to going live with fibre took about 18 months as issues with wayleaves and access were overcome.
And has it all been worth it?
"Life-changing sounds a bit over the top," says Andy, "but it really has transformed how we live and work at home. Broadband is an essential utility now. It's something people look for in a new property. "Now, I can get on the company's VPN instantly and work online, the kids can get on with their homework and we can all stream movies and download music – all at the same time."
Almost total take-up
Within two weeks of becoming available, nearly 75 per cent of homes in the village had gone superfast. And nine months later that figure about 95 per cent.
One of those to take up superfast was fellow resident Oliver Clarke: "The initial delays and false starts were frustrating but we now have access to some of the fastest speeds in the country. We have a choice of providers and we can get all of this for the same price as we used to pay for a slow, intermittent service.
"I'd recommend any village in a similar situation to contact Openreach and find out what can be done. But make sure you have everyone onside. You need to speak with one voice, you need to pool resources and you need to move quickly – don't wait."
So it may have taken longer than they would have liked, but the residents of Eshott are delighted with the result.
Related Articles
FTTP
News
Ultrafast
Community Fibre Partnerships

30 Jan 2018

The Hampshire rural hamlet of Ditcham upgraded to ultrafast speeds with the help of Openreach's Community Fibre Partnership programme, BT's grant scheme and self-dig.

Apply for funding
News
Home customer
Case study
Community Fibre Partnerships
North of England
FTTP
North West
Fibre
Business

23 Apr 2018

Residents and children in Over Peover, Knutsford benefit from faster broadband speeds thanks to a Community Fibre Partnership with Openreach. Read more.

Apply for funding
News
Home customer
Case study
Community Fibre Partnerships
FTTP
Business
Fibre
South East

04 Jun 2018

The historic Somerset village of Lydford-on-Fosse will see some of the fastest broadband speeds in the UK thanks to a partnership with residents and Openreach.