News

|

Apply for funding

Home customer

Case study

Community Fibre Partnerships

FTTP

Business

Fibre
Walkers in Snowdonia set to benefit as fibre broadband takes ultrafast step forward
Residents and visitors to a small community in north Wales are set for an ultrafast broadband boost – thanks to Openreach's Community Fibre Partnership programme.
More than 35 premises in Nant Gwynant will have access to some of the fastest broadband speeds in Europe when engineers from Openreach install the new network using Fibre to the Premise (FTTP) technology.
This new network, that will see each property connected with fibre direct from the exchange, will be capable of providing ultrafast speeds of up to 1Gbps (gigabits per second) - around 24 times the UK average speed and enough to stream 200 HD Netflix movies simultaneously.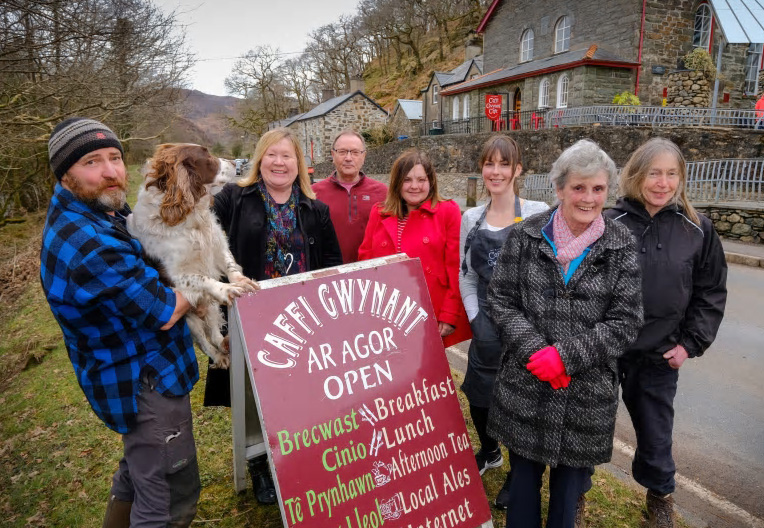 Local business among the first to get faster speeds
Caffi Gwynant, located at the foot of the beautiful Snowdon mountain and popular with visitors and walkers to the area, are among those that will see a major increase to their broadband speeds when the work to build the infrastructure is completed in by the end of next month.
Paula Williams, co-owner of Caffi Gwynant, explains: "We're incredibly excited about the prospect of getting ultrafast broadband at the café."
"People automatically assume that they'll be able to enjoy fast broadband speeds wherever they are in the country – no matter how remote or isolated. Our customers are no different."
"With a fast internet connection as a result of this new infrastructure we'll be able to provide our customers with what they expect. With ultrafast speeds our customers will be able to instantly upload pics of their walks on social media or research the area online rather than relying on a patchy service that can be frustrating. It's great for our business, customers and local community."
Faster broadband lets you do more things at the same time
Fibre broadband makes activities like streaming music, watching TV online and uploading large files much quicker, as well as enabling several members of a household or place of work to be online at once.
The Community Fibre Partnerships scheme is designed to help people in places not included in any current roll-out plans to bring fibre broadband to their local area, working with Openreach to co-fund the installation.
The cost of the Nant Gwynant CFP will be covered by a combination of investment from Openreach and the residents themselves who were able to access Welsh Government ABC vouchers and a BT grant.
Why communities should consider partnering with Openreach
Under the CFP programme, communities can apply for a grant of up to £30,000 towards the cost of getting superfast or ultrafast broadband with Openreach if the new technology will also benefit a local school or learning establishment, or a registered UK charity. Plas Gwynant Outdoor Education Centre is part of the Nant Gwynant CFP which enabled the community to access the BT Grant.
Ceri Fitzpatrick, senior community fibre partnerships manager for Openreach, said: "It's great that we've been able to work with Eira and the Nant Gwynant community to find a broadband solution that works for them. It shows what can be achieved when people work together towards a common goal, and we're proud to be part of that."
"Partnerships like this help us bring high-speed connections to those areas that broadband providers, for a variety of reasons, struggle to upgrade alone. Independent data shows that more than 94 per cent of Wales can already access superfast speeds today, and we're committed to making fibre broadband as widely available as possible.
"That's why we're investing in hundreds of similar community projects across the UK, working in partnership with businesses, schools and residential communities to deliver faster speeds from a wide choice of competing service providers."
Alwen Williams, director for BT Cymru Wales, said: "I'm delighted that we've been able to help the process of bringing ultrafast broadband to Nant Gwynant. The BT grant will go a long way towards helping the community achieve their goal."