News

|

FTTP

Ultrafast

Community Fibre Partnerships
Ditcham digs for ultrafast
Ditcham upgrades to ultrafast speeds with the help of Openreach's Community Fibre Partnership programme, BT's grant scheme and self-dig.
Making the fibre dream a reality
In 2016, the Hampshire rural Hamlet of Ditcham became the first UK community to benefit from a BT grant scheme aimed at bringing superfast fibre broadband to parts of the country, which are hard-to-reach. The Hamlet, and its local school - Ditcham Park - joined the superfast broadband revolution after taking advantage of a BT schools grant. More than £17,500 was awarded to help connect the school and the local houses along the route to the Openreach fibre network. Now, the community is enjoying ultrafast download speeds of up to 330Mbps - more than 50 times faster than its previous broadband service.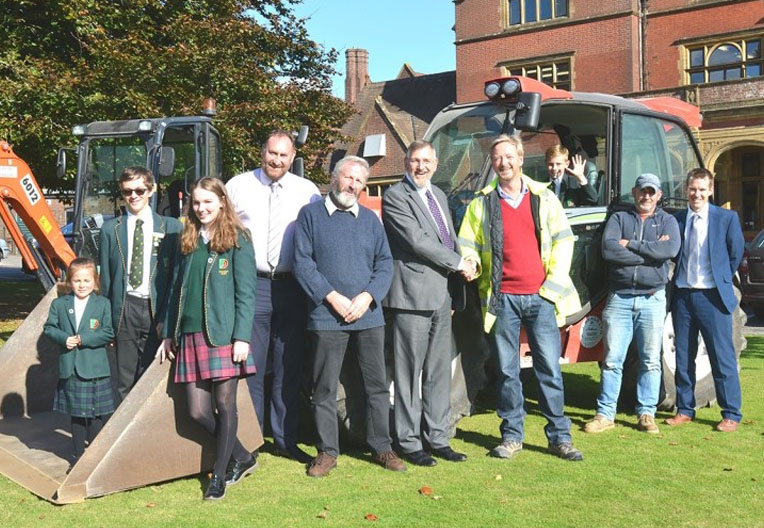 Although the grant from BT was instrumental in making Ditcham's fibre dream a reality, the community's willingness to 'get digging' also made a massive difference, as Ditcham resident and broadband campaigner Chris Taee explains:
"We opted to self-dig after I explained that doing so would save us money and help speed up the fibre deployment process. So, once we started speaking with Openreach through its Community Fibre Partnership programme I stepped in and explained how we'd be able to take charge of all the digging needed to complete the infrastructure."

Added Chris: "Openreach were incredibly supportive from the get-go. I told them we'd be happy to design the route, liaise with all the land-owners and organise the actual digging ourselves, but they would have to supply the necessary ducting and the chambers. And they did so no problem. In fact, they gave us lots of valuable advice as we were planning the dig. For example, they told us we'd need to put in a chamber every 300 yards and extra chambers where the route bended. They gave us confidence that we were doing everything correctly".

Working hand-in-hand with Openreach
Chris, who works as an entrepreneurial property developer, determined that he would need to hire in two sub-contractors to do the digging - one to carry out open field digging and the other to dig roads and soft verges, using a small machine digger.
"Everything functioned flawlessly," he said. "We completed 6.5 kilometres of trenching in less than six weeks. Once we were done, the Openreach engineering team arrived, to install the fibre in the ducts and connected us to the network - which I'm thrilled to say gives us access to some amazing speeds."
Said Chris: "It all happened at lightening pace. I first contacted Openreach in May and, because we did the digging ourselves, and had great support from the local landowners, we were all switched on by late September. I doubt there is any other community scheme that has managed to complete the process that fast."
As the project was co-funded by Ditcham Park School, they were understandably overjoyed to receive the BT Schools grant to partially fund the self-dig project. "Just like Openreach, Ditcham Park School was incredibly supportive of the proposal," said Chris. The School had to find a way of getting better connected, and this proved to be by far the best and most affordable way to get it done.
"The school had been previously quoted a significant sum to get a leased line installed - which would have also incurred a substantial monthly cost. The self-digging and the Community Fibre Partnership programme has saved them circa £100k of capital cost, and another £1,350 or so per month in ongoing charges."
Added Chris: "That's why I'd urge other UK communities without fibre to explore the idea of self-digging. If you've got a can-do attitude, and don't mind getting your hands a bit dirty then, with the right support, you really can make it happen."
Related Articles
Apply for funding
News
Home customer
Case study
Community Fibre Partnerships
FTTP
Business
Fibre

04 Jun 2018

The historic Somerset village of Lydford-on-Fosse will see some of the fastest broadband speeds in the UK thanks to a partnership with residents and Openreach.

Apply for funding
News
Home customer
Case study
Community Fibre Partnerships
FTTP
Business
Fibre

22 May 2018

An Openreach Community Fibre Partnership brings a boost to Nant Gwynant in north Wales, which can now access some of the fastest broadband speeds in Europe.

Apply for funding
News
Home customer
Case study
Community Fibre Partnerships
FTTP
Fibre
Business

23 Apr 2018

Residents and children in Over Peover, Knutsford benefit from faster broadband speeds thanks to a Community Fibre Partnership with Openreach. Read more.