News

|

Community Fibre Partnerships
Everyone's a winner as fast and reliable broadband improves work-life balance
"Radical, completely radical. That's the effect superfast broadband has had on our family. Now, all of us can do what we want when we want – simultaneously." Said Claire Aindow, from Belmont in Lancashire. "What's more, it actually costs less than our old regular broadband service."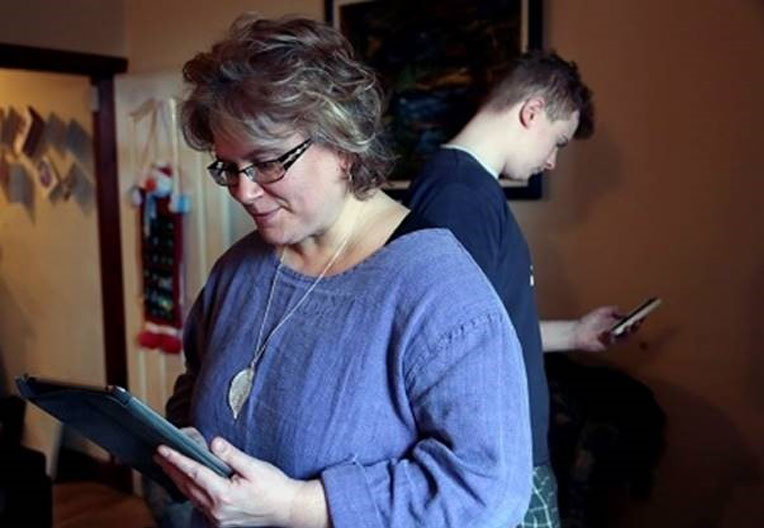 "Our broadband connection used to be quite laughable," explains Claire, who lives in Belmont with her husband and two teenage children. "If my husband or I were working from home and using the internet, then the children's iPads just wouldn't function properly. Similarly, if I was watching a film on Netflix then my husband would get frustrated because he couldn't get on with any work. Sometimes none of us could do anything because the connection was so poor. It's fair to say that, as a family, we felt a great deal of irritation towards the internet," adds Claire.
Claire and her husband run their own video production business. Working from home was often difficult because uploading videos for their clients was an exhausting process. "Uploading a single six minute HD video to a client's Dropbox would be an overnight job using our old broadband connection" says Claire. "In fact, every so often we'd need to revert to old school methods of delivery like putting videos on DVD and sending them by post or courier. But clients don't really expect that any more".
Claire, her husband and children were excited when they spotted a 'Superfast is here' sticker on the street cabinet close to their house. They shopped around and then signed up for a competitive deal – one that was even cheaper than their previous broadband service.
Says Claire: "On the Monday and Tuesday my husband and I were still uploading videos at a snail's pace. Then, on the Wednesday, our superfast connection was switched on. Suddenly, a video which previously took all night to upload now took six minutes. Six minutes!"
"This was a real 'way-hay' moment for us. It was exhilarating"
Now with a reliable superfast connection giving the household download speeds of around 27Mbps, the Aindow family are more than happy.
"It's made such a difference," says Claire. "My husband and I can enjoy a much better work-life balance, streaming or downloading movies is no problem whatsoever and my son, who is studying for an Open University degree, finds it really easy to download course materials. We are all winners thanks to superfast."
Wishing you could get superfast broadband?
If you're in a part of the UK that's not included in any fibre broadband rollout plans, why not consider having a Community Fibre Partnership with us – so we can jointly fund faster internet for you.
Related Articles
07 Mar 2019

We've unveiled a £485,000 investment in a national fibre training school for Scotland to educate the country's next generation of digital engineers bringing vital broadband services to communities across Scotland.

25 Feb 2019

Highlands and Islands MSP Rhoda Grant has been out in the field with our engineers to see the progress on the roll-out of high-speed broadband in her constituency.

Performance
News
Business

20 Feb 2019

A new data analytics tool, Qlik Sense, is helping us to reduce the time taken to install business fibre connections.