Check your broadband availability
The best broadband in the UK
We're continuing to roll out Full Fibre broadband infrastructure across the UK and we're about to start work in Sheering.
The last few months have shown how important it is to stay connected. Whether it's working from home, keeping the kids entertained, streaming your favourite box sets or running your business – broadband has been a critical lifeline.
Full Fibre, or Fibre to the Premises (FTTP), is where a fibre cable runs all the way from our exchange to your front door. It can deliver ultrafast speeds of up to 1 gigabit per second – that's 18 times faster than today's UK average broadband speed. That means you'll be able to say goodbye to buffering, stop worrying about your connection dropping out and keep everyone at home and work connected – all at the same time. You can find out more about this new digital infrastructure on our fibre broadband page.
Use our fibre checker above to view the available service providers in your area.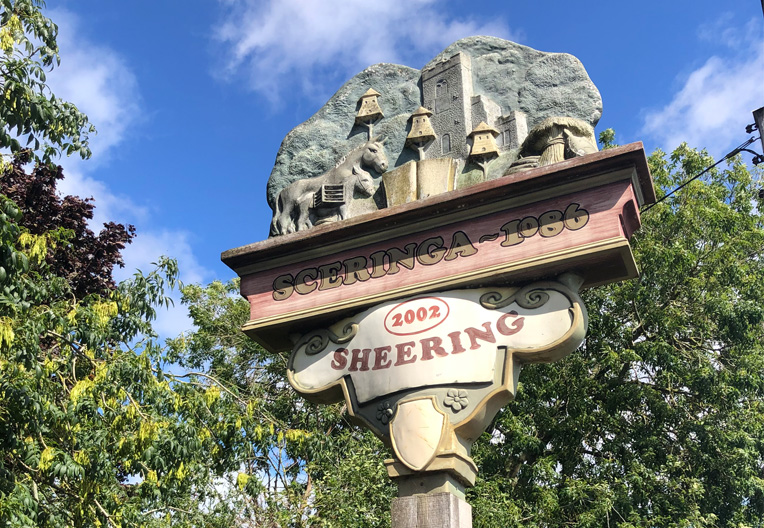 Full Fibre in Sheering
While our engineers are in Sheering they can get your home or business Full Fibre ready, free-of-charge.
Allowing us to connect your property will mean you'll be able to upgrade to our network more easily and quickly through your choice of broadband provider - after the network build is completed. Our engineers will keep disruption to you and your property to a minimum and will complete the work in the shortest possible time. But first we'll need your permission to bring the fibre optic cable to the wall of your property and install a small box on the wall (16.6 cm x 14.4cm) as shown in the photo below.
If you're a tenant, we'll need to get permission from your landlord in order to do this work.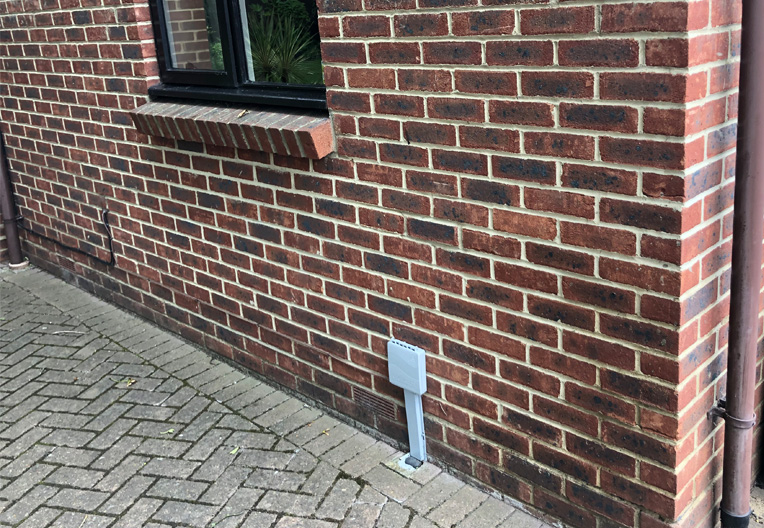 Upgrading to Full Fibre broadband
Once we've installed our equipment you'll be set to upgrade to ultrafast, ultra reliable Full Fibre broadband whenever you're ready.
Just enter your address details into the availability checker at the top of this page for information on how to place your order with the broadband provider of your choice.

Why Full Fibre to the Premises?
More reliable than copper

For families in Sheering, a Full Fibre connection means streaming, downloading and working from home on multiple devices, all at once, without buffering or interruptions.
Potential £8.7bn economic boost to South East economy if fully fibred. Businesses in Sheering can successfully compete in markets all over the UK, and around the world.
Better for the environment
Better connectivity enables more people to work from home. Fibring up the whole of the UK could save 300 million commuting trips - reducing carbon emissions by 360,000 tonnes.
"There has never been a better time than now to upgrade to a Full Fibre broadband service. This new digital platform can help the UK's economy to bounce back more quickly from the Coronavirus pandemic and that can start right here in Sheering. A full recovery from the pandemic is likely to be measured in years rather than months, but there's strong evidence that points to Full Fibre broadband being able to turbo-charge that process."
Clive Selley
Chief Executive of Openreach
The digital upgrade
We're modernising our phone and broadband services across the UK. We're moving from our existing analogue and copper technologies to faster, more reliable, Full Fibre broadband.
Full Fibre is more than just faster speeds, It's future-proofed, which means it has plenty of extra capacity to support our ever-growing demand for data hungry services and applications.
Our traditional copper network is being replaced by Full Fibre, which provides greater speed, resilience and reliability, that homes and businesses can rely on for decades to come.
By December 2025 the traditional analogue phone network, known as the Public Switched Telephone Network (PSTN), will be replaced by newer digital technologies. While this change won't be obvious for most people, there are some important differences in the way telephone calls will be made, which you'll need to be aware of.
Related Articles
29 Jul 2020

Over three million more homes and businesses in the hardest to reach parts of the country to get ultra-reliable, gigabit-ready Full Fibre broadband by the mid-2020's.

News
Fibre
Fibre first
Broadband

11 Nov 2019

Experts at the Centre for Economics and Business Research have studied the link between Full Fibre connectivity and the nation's future prosperity.

07 Oct 2019

As the country's leading digital infrastructure provider, we're determined to help the Government deliver faster, more reliable broadband to as many rural communities as possible.