Your fibre options
We've unveiled a £485,000 investment in a national fibre training school for Scotland to educate the country's next generation of digital engineers bringing vital broadband services to communities across Scotland.

Find out more

»

Highlands and Islands MSP Rhoda Grant has been out in the field with our engineers to see the progress on the roll-out of high-speed broadband in her constituency.

Find out more

»

A new data analytics tool, Qlik Sense, is helping us to reduce the time taken to install business fibre connections.

Find out more

»
There are three ways we connect you to our broadband network
Copper Network (ADSL)

Basic broadband access uses a copper phone line connected to the exchange. Check with a Communications Provider if you can upgrade to FTTC / FTTP.
FTTC
Fibre to the Cabinet increases basic broadband speeds by connecting powerful fibre optic cable to the cabinet, then copper wires to your home or business.
FTTP
The future is Fibre to the Premises (FTTP), where pure fibre optic cables connect you straight to the exchange.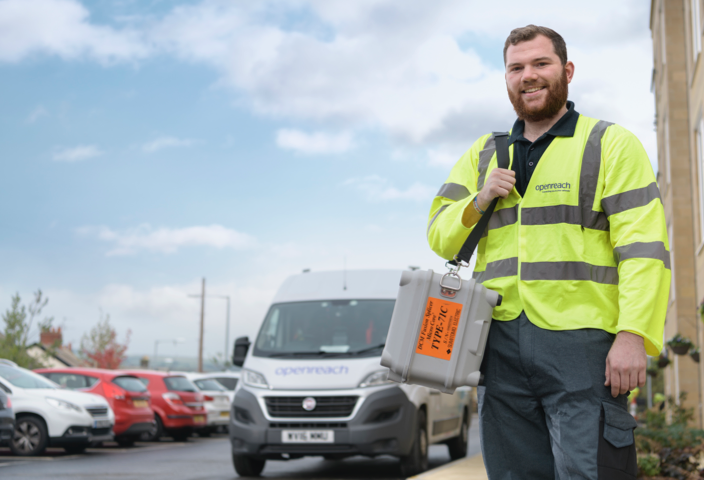 We build the network. You bring it to life.
Whether you're streaming movies or running a business, we're here to keep you connected.
Delivering on our promise
27.2M
Fibre broadband is now available to nearly 27.2m UK homes and businesses
95%
More than 95% of the country can get the kind of speeds that this broadband probides
85mbps
Delivering download speeds of up to 85mbps
Related Articles
07 Mar 2019

We've unveiled a £485,000 investment in a national fibre training school for Scotland to educate the country's next generation of digital engineers bringing vital broadband services to communities across Scotland.

25 Feb 2019

Highlands and Islands MSP Rhoda Grant has been out in the field with our engineers to see the progress on the roll-out of high-speed broadband in her constituency.

Performance
News
Business

20 Feb 2019

A new data analytics tool, Qlik Sense, is helping us to reduce the time taken to install business fibre connections.